'SkinMarks' - Google's New Tattoo That Turns Skin Into A Touchpad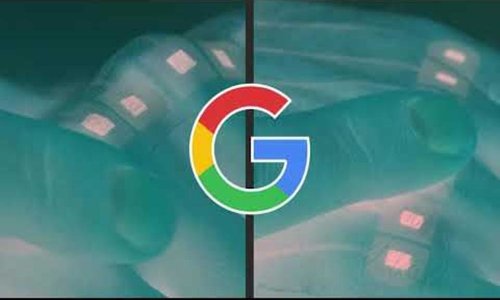 By Aaron Kesel/Activist Post
August 10, 2020
Share this article:
---
Google announced that its working on developing the next futuristic technology beyond smartphones -- tattoos that turn the user into a human touchpad. Meanwhile, scientists are developing something way more sinister using similar skin-drawing technology to track its wearer's movements.
Google is developing smart tattoos that, when applied to the skin, will transform the human body into a living touchpad via embedded sensors in the ink. No this isn't science fiction, the wearable project is called "SkinMarks."
SkinMarks utilizes rub-on tattoos to create the next generation of wearable technology devices, CNET reported, citing white papers and demo videos.
So how does the technology work?
The sensor-driven tattoos are applied to a part of the body, preferably one where you can swipe up and down with ease like an arm. The sensors can then be triggered by traditional touch or swipe gestures as we perform daily on smartphones.
However, there are a few more specific gestures related to the appendages of humans.
"You could squeeze the area around the tattoo or bend your fingers or limbs to activate the sensors."
The project is in part being conducted by researchers at Saarland University in Germany who wrote in a white paper that the benefit of using skin as an interface "is tapping into the fine motor skills that human beings naturally have."
SkinMarks is partly being funded through Google Faculty Research Awards.
Interacting with your own skin and limbs also means that you would be able to do actions without looking; this is also applicable possibly for VR.
The tattoos are made by screen printing conductive ink onto tattoo paper which rubs away after use. Some of the prototype tattoos include cartoon drawings or light-up displays. "Through a vastly reduced tattoo thickness and increased stretchability, a 'SkinMark' is sufficiently thin and flexible to conform to irregular geometry, like flexure lines and protruding bones," the researchers wrote.
Although Google's skin tattoo isn't a spying device yet, other researchers led by Cunjiang Yu, Bill D. Cook Associate Professor of Mechanical Engineering at the University of Houston, have developed a similar form of electronics known as "drawn-on-skin electronics," allowing multifunctional sensors and circuits to be drawn on the skin with an ink pen. They then use this technology as a wearable tracker for biometrics data. While Google's idea is for fun, it could take a quick and disastrous Orwellian turn.
"It is applied like you would use a pen to write on a piece of paper," said Yu. "We prepare several electronic materials and then use pens to dispense them. Coming out, it is liquid. But like ink on paper, it dries very quickly."
The researchers report in Nature Communications that the technology allows for collection of more precise, motion artifact-free health data, solving various long-standing problems of collecting precise biological data through a wearable device when the subject is in motion, according to EurekAlert.
"The imprecision may not be important when your FitBit registers 4,000 steps instead of 4,200, but sensors designed to check heart function, temperature, and other physical signals must be accurate if they are to be used for diagnostics and treatment," EurekAlert writes.
Read that again slowly and look around you with what's happening right now globally. Is it really out of the realm of possibility to suggest this technology could be used for contact tracing or monitoring COVID patients?
Believe it or not, smart tattoos aren't new, Google and Motorola had a patent for a lie detector utilizing a skin neck tattoo going back as far as 2012. Exactly like the current SkinMarks project, that patent stated that the tattoo was only temporary with an embedded microphone.
There is no information available whether or not Google abandoned its project to be the world's lie detector with a rub-off tattoo.
If this sounds like something you have read in the Book of Revelation you are correct.
The Book of Revelation warns that during the Tribulation every person will be required to accept a mark which will signify worship of a one world leader (imagine if a built in lie-detector was part of this technology) and be necessary for commerce:
"And the second beast required all people small and great, rich and poor, free and slave, to receive a mark on their right hand or on their forehead, so that no one could buy or sell unless he had the mark -- the name of the beast or the number of its name. Here is a call for wisdom: Let the one who has insight calculate the number of the beast, for it is the number of a man, and that number is six hundred sixty-six". Revelation 13:16-18
Many Christians are concerned that acceptance of such technology is conditioning people for when the actual 'mark of the beast" is implemented.
What often starts off as voluntary can just as easily become mandatory and whereas tech itself may be neutral, in the hands of the wrong person it could be extremely dangerous. Imagine the technology of today in the hands of Hitler.
Christians have long debated the meaning of the "mark of the beast". It still remains to be seen if the mark will be digital tattoos, microchips under the skin or some other form of biometric payment using the hand such as Amazon Pay, but there is no denying it, our generation appears to be the first in history to have the technology to fulfill this prophecy.
Originally published at
Activist Post
- reposted with permission.
---