The Final Prophecies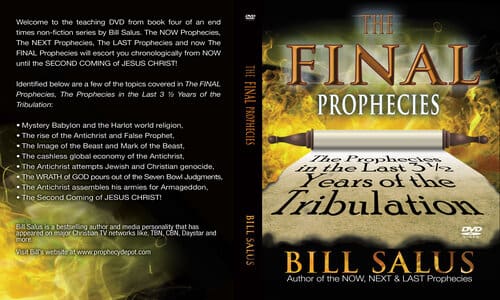 By Bill Salus
October 31, 2020
Share this article:
---
Picture this: It's midway through the Seven-Year Tribulation Period and the Jews are performing animal sacrifices in their rebuilt third temple. Worldwide, an overflowing scourge of wars, pandemics and famines plague the planet. Amidst the chaos, humanity cries out for help and a one-world religion empowered by supernatural signs and wonders emerges and responds.
Meanwhile, the Antichrist becomes the world's #1 political hero. He appoints ten kings to set up a utopian society on earth. When it looks like things are getting better, two prophets on the streets of Jerusalem predict that the worst is yet to come! In this scenario above, the first 3.5 years of the Tribulation Period have passed and it's time to prepare your loved ones for The FINAL Prophecies
This DVD focuses on the last 3 ½ Years of the Great Tribulation and reveals how the greatest story ever foretold ends.
Here are just a few of the prophecies explored:
• Satan and the fallen angels are cast down to the Earth
• The Antichrist beheads Christian believers
• The Antichrist dies, resurrects and exalts himself as god
• The False Prophet forces people to worship the image of the Beast
• The Global Religion gets desolated by the Ten Kings
• The Mark of the Beast initiates a global cashless economy
• The Two Witnesses get killed, resurrected and ascend to heaven
• The Wrath of God comes upon a Christ rejecting humanity
• The Antichrist desecrates the Temple and persecutes the Jews
• The Antichrist assembles his armies to wage war against God
Here are additional subjects Bill covers on both the DVD and the accompanying book.
- Prophecies at the Midpoint of the Tribulation Period
- The War in Heaven
- The Death and Resurrection of the Antichrist
- The Ten Kings in the Tribulation Period
- Revelation 17: Desolation of the Harlot and the MYSTERY of Babylon
- The Woman in the Wilderness of Revelation 12
- What Happens to the Harlot World Religion After Her Desolation
- The Death, Resurrection and Ascension of the Two Witnesses
- The Desecration and Desolation of the Tribulation Temple
- The Antichrist Exalts Himself Above Every god
- The False Prophet and the Image of the Beast
- The Mark, the Name and the Number (666) of the Beast
- The Mark of the Beast and the Global Economy of the Antichrist
- The Mark of the Beast and the Global Religion of the Antichrist
- Introduction to the Seven Bowl Judgments
- The First Four of the Seven Bowl Judgments
- The Fifth Bowl Judgment
- The Sixth Bowl Judgment
- The Seventh Bowl Judgment
- The Beast and his Armies are Defeated
- The Instructions to Believers Before Armageddon
- The MILLENNIUM Prophecies
Watch The Trailer Below:
---