NASDAQ Threatens To Drop Companies That Don't Hire LGBT Board Members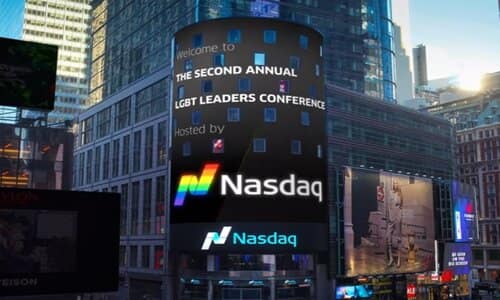 By Tony Perkins/Family Research Council
December 29, 2020
Share this article:
---
According to NASDAQ, what happens in the bedroom now matters in the board room! In a bombshell announcement, the stock exchange is threatening to drop companies who don't meet certain LGBT, race, and gender quotas on their boards of directors.
It's the latest shoe to drop in the march to trample the free market and replace it with woke activism. And with Joe Biden as president, they'll have their best shot at success yet.
Among their demands, the exchange wants to require companies to have "at least one woman on their boards, in addition to a director who is a racial minority -- or one who self-identifies as lesbian, gay, bisexual, transgender or queer."
Corporations that don't meet the standard would have to justify their decision persuasively enough to stay on the registry. Regardless, everyone would have to hire at least one "diversity director" within the first two years.
NASDAQ's spokesperson says the idea came from a recent survey, where it discovered that three-quarters of its companies weren't "diverse" enough. Most boards are "white and male." "Around 80 or 90 percent of companies had at least one female director, but only about a quarter had a second one who would meet the diversity requirements, a person familiar with the review said, adding that it was difficult to measure because of inconsistencies in the way companies report such data."
Conservatives, who've seen radical political correctness creep into corporate America for years, warned that this would only be the beginning. Tom Fitton, president of Judicial Watch, sued California this year over a state law mandating greater boardroom diversity.
"This is NASDAQ getting into woke ideology, and it's outside the law." No one should be able to dictate to American CEOs how to run their companies. That's not how capitalism works. Nor can anyone -- including NASDAQ -- force people to disclose their sexual preferences.
Apart from the obvious constitutional problems, ordering employers to appoint LGBT-identifying board members is no easy task for 3,000 companies. Although it seems like there's a gay, lesbian, or transgender-identifying character on every channel or commercial these days, the actual reality is far different.
This population, which seems to dominate political and cultural conversations, is actually quite small. In 2018, Gallup's surveys found that LGBT-identifying adults made up less than five percent of the country. Finding thousands of board members with the right qualifications and sex lives would be a tall task for a lot of CEOs. Of course, those pushing this agenda at NASDAQ are not really concerned about legitimate qualifications.
Not that a Joe Biden administration wouldn't make them try. Under a liberal SEC chairman -- who would have to approve this requirement before it went into effect -- a diversity mandate would almost certainly be met with enthusiasm. "[Current chair] Jay Clayton is not going to touch this on his way out the door," one corporate lawyer told the New York Post. "Why would he? There will be questions of constitutionality from the folks who don't want this."
On the other hand, experts say, if Biden presses the issue (and his outspoken support for this kind of extremism suggests he would), the controversial policy could go into effect within months. And the pressure, as NASDAQ made quite clear, would ramp up for others to do the same.
"We would welcome the opportunity for our peers to follow suit and see this as a good step forward for all of us," an exchange spokesperson told the Post. "This is a step forward, but we would welcome the opportunity for our peers to take an active role here as well."
That's a chilling thought in corporate America, where so much autonomy has already been crushed in the name of political correctness.
Markets operate in losses and gains. If NASDAQ's capitulation to woke ideology succeeds, look for the financial profits of shareholders to be exchanged for the cultural profits of the Left.
---