Semiconductor Apocalypse Could Send Economic Shockwaves Across U.S.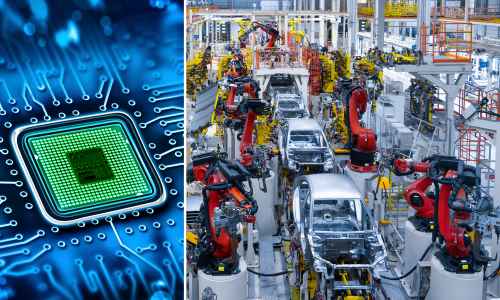 By Robert Wheeler/Organic Prepper
April 13, 2021
Share this article:
---
America is about to see a drastic rise in the price of consumer goods from food to technology. I've written a great deal about the coming food shortage and the increase in prices for essential items. However, much less attention has been given to the rise in other items.
Specifically: technology.
One potential problem is the cost of semiconductors. Unbeknownst to many Americans, and this is partly why consumer spending is doing as good as it is (though doing terribly), there has been a recent semiconductor price surge.
The cost of semiconductors is going to begin showing up in other consumer products. Which will, of course, send shockwaves through the economy as consumer confidence and spending will start to drop even further.
Microchips are the brain of basically every electronic device, and we're running out of them.
Global chip shortage is a massive problem for a world increasingly dependent on technology.
For the United States, the chip shortage is a huge problem. Currently, the surge in chip prices has not affected consumers directly. The stimulus money being injected into the economy has been able to keep spending up as well. But that's going to change.
While the average person may not see the importance of semiconductors and their prices on the economy, both Trump and Biden's administrations have acknowledged the issue as one of National Security. In July 2017, Trump signed an Executive Order regarding the security of U.S. supply chains caused by decades of deindustrialization, Free Trade, and lopsided trade policy.
Shortage prompts Biden to order $37 billion to review supply chain shortages
President Biden recently signed an executive order calling for a review of the global supply chains. Below are his comments at the signing regarding the semiconductor shortage.
This semiconductor is smaller than a postage stamp, but it has more than 8 billion transistors -- 8 billion transistors, 10,000 times thinner than a single human hair in this one chip. These chips are a wonder of innovation and design that powers so much of our country. It enables so much of our modern lives to go on -- not just our cars, but our smartphones, televisions, radios, medical diagnostic equipment, and so much more.
We need to make sure these supply chains are secure and reliable. I'm directing senior officials in my administration to work with industry leaders to identify solutions to this semiconductor shortfall and work very hard with the House and Senate. They've authorized the bill, but they need $37 billion, short-term, to make sure we have this capacity. We'll push for that as well. But we all recognize that the particular problem won't be solved immediately.
Manufacturers can't keep taking the blow for consumers
Manufacturers have been eating the increased costs keeping the increase in prices from reaching consumers. But chip prices are expected to rise every quarter this year. Most companies are not likely to continue to hold back the costs, especially with tighter and tighter profit margins for themselves.
Manufacturers generally order semiconductors six months in advance. Choke points in the supply chain are driving up prices and creating shortages. In the third quarter, when the orders to replace inventories are finally delivered, that's going to change, according to Andrew Zatlin, founder of SouthBay Research.
The semiconductor shortage will heavily affect the auto industry
Automakers are going to struggle. For example, at General Motors around 5% of the cost of goods sold comes from semiconductors. G.M. only has 11% margins, and a surge in chip prices will cut into that margin significantly. Smaller businesses that sell to Amazon and Walmart will be hit with tighter retail margins and forced to raise prices even higher.
From there, the shockwaves will spread. And, although the Fed is hoping the jump in inflation will be "transient," there isn't any reason to believe it will be. Every single manufacturer with tight profit margins is going to have to raise its prices.
In other words, the world should prepare for serious sticker shock.
And it isn't just the sticker stock that could be an issue. Getting your vehicle repaired at all could become an issue as more and more systems become reliant on electronic components. A Jeep driver in North Carolina reported:
"When I was leaving for a long trip, the Bluetooth on my vehicle stopped working. The service department told me that the repair was under warranty but the only problem was that the part had already been back-ordered for 5 months. They didn't foresee getting the part within the year and ended up having to repair my vehicle using aftermarket parts, and even those took several weeks to acquire."
At this rate, we may not have to wait for an EMP to render our late model year vehicles useless.
One-Year Delay On Network Router Orders As Chip Shortages Worsens
Initially centered in the auto industry, the semiconductor shortage has now spread to a range of other consumer electronics, including computers, smartphones, tablets, headphones, and appliances.
The latest news is that internet routers could become the next victim of chip shortages disrupting global supply chains and may pose a problem for households and businesses who need an internet connection to survive in today's digital economy.
Sources told Bloomberg that internet service providers report delays of up to one year for network routers due to chip shortages. This is doubled previous wait times, the source added.
In today's hybrid work environment, internet routers are among the most critical devices to keep businesses and employees connected. If a router shortage develops, it will prevent an internet service provider from adding new customers to its network. Nevertheless, existing customers wouldn't have their routers serviced upon malfunction or upgraded if they need more speed.
Karsten Gewecke, head of European regional business for Zyxel Communications Corp, a Taiwan-based router-producer, said remote work spurred by the virus pandemic led to a massive demand pull for home broadband equipment. The chip shortages couldn't have come at a worse time as more people work from home.
Zyxel recently urged customers to order routers well in advance because the lead time for semiconductor components from Broadcom has doubled since last year. Zyxel is a major supplier of routers across Europe.
Adtran, a U.S. network equipment maker, warned customers about upcoming supply chain risks and has more than double its inventory to avoid chip shortages.
Gewecke said no internet service provider had exhausted their inventory of routers, but supplies will be tight for the next six months. "We have been very close several times," he said. "It could still happen."
Reliance on Chinese suppliers could lead to defeat for the U.S.
Loren Thompson of Forbes points out:
"The moment is fast approaching when America's military will be unable to equip itself for modern warfare without relying on Chinese suppliers. So if the war is with China, there's a good chance the U.S. military would be defeated."
Biden's Executive order mentions semiconductors specifically, as Forbes reports:
Semiconductors are ubiquitous in advanced technology, from smartphones to smart bombs. A generation ago, about a third of global semiconductor production occurred in the U.S.
However, the U.S. still accounts for a third of global demand, its share of production has fallen to 12%, and virtually all packaging is concentrated in Asia. U.S. semiconductor companies such as Nvidia NVDA +6.9% and AMD have increasingly outsourced fabrication to Asia.
The world's emerging leader in advanced processors is Taiwan Semiconductor ON +4.7%, a key supplier to China and is located on an island claimed by Beijing as part of greater China.
As I wrote previously, our reliance on China is an outright national security crisis.
A semiconductor apocalypse looms on the horizon for the U.S.
Suppose the recent tensions between the U.S. and China are growing worse by the day. In that case, any confrontation between the two could see the U.S. at a distinct disadvantage, with the U.S. military being unable to procure the necessary materials to operate sufficiently and the majority of the American public, whose society has become so dependent on semiconductors to function.
---