LGBT Nation: US Embassies Around World To Fly Rainbow Flag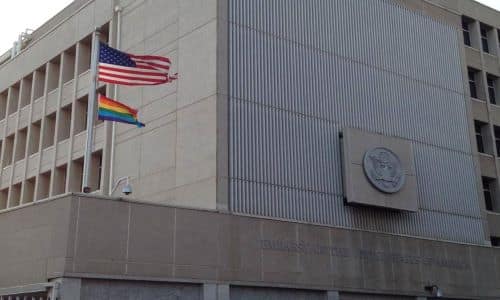 By PNW Staff
April 26, 2021
Share this article:
---
Secretary of State Antony Blinken has given approval for U.S. embassies and consulates around the world to fly the rainbow LGBT pride flag on the same pole as the American flag.
Blinken's directive reversed the policy of the Trump administration under former Secretary of State Mike Pompeo, who refused requests from embassies to fly the rainbow flag and the American flag together.
Blinken also authorized diplomats to unfurl the rainbow flag ahead of May 17, which is the International Day Against Homophobia, Transphobia and Biphobia. June commemorates Pride month in the United States and many other countries.
In 2019, then-Vice President Mike Pence defended the Trump administration's refusal to allow a sexuality-related flag to fly on the same pole as the flag representing the nation.
"As the president said on the night we were elected, we're proud to be able to serve every American. We both feel that way very passionately, but when it comes to the American flagpole, and American embassies, and capitals around the world, one American flag flies," he told NBC News.
Franklin Graham had previously commented on the flag controversy by saying that "the gay pride flag is offensive to Christians and millions of people of other faiths, not only in this country but around the world. The U.S. flag represents our nation--everyone--regardless of race, religion, or sexual orientation".
While many claim flying such a flag displays inclusivity, it actually is promoting exclusivity. Promotion and pride in one particular lifestyle and sexual behavior over another, one that many Christian Americans find offensive. That is not inclusive, it is divisive.
Does the flagpole now become a political symbol for every group with a particular cause? How do you allow one particular symbol but not another? Is a BLM flag next? How about a vegetarian flag?
One can only imagine the uproar if a Christian flag was allowed to fly with the American flag despite a majority of this nation still claiming to be Christian.
---