Tips On Choosing Your Sunday's Best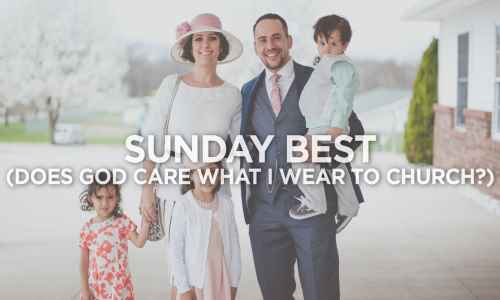 By
Share this article:
---
Dressing for church on Sunday doesn't come naturally to everyone. If you weren't raised in a Christian home, then you may not have even attended church very much in your life.

Choosing the proper attire is an important part of any formal meeting, and church is definitely considered a formal matter. If you need a little guidance on your Sunday wardrobe, look no further. Here is a quick look at some tips that will help you choose what to wear next time you go to church.

Things to remember about dresses and skirts

The first notable statement that should be addressed is that your attire largely depends on the type of church you are visiting. Some churches are very casual, and you are welcome to wear whatever you want to a Sunday meeting.

When it comes to dresses and skirts, however, modesty is the key term to remember. Church is not the place to display your goodies, so avoid super short or low cut options when picking out a skirt or dress.

Choosing the right pants to wear

Pants can be controversial for women to wear at times. Again, it depends on the church you are attending. If pants are acceptable attire for women, avoid wearing cut up jeans or leggings to your gathering.

For men, a wrinkle-free pair of slacks is always a good option. Steer clear of the pleated pants, though. They are terribly out of style, and you want to look good while still following the unspoken dress code.

Choosing the right shirt to wear

Women have a range of options when choosing the right top for their Sunday ensemble. It's easier just to know what to avoid when deciding on your top half. No low-cut or see through blouses.

For men, a nice button up or polo shirt will do the trick. Choosing a shirt with a collar always takes your outfit from casual to formal. A collar isn't required though. A nice t-shirt covered with a stylish sweater will also work.

Picking out the best shoes for your outfit

The shoes you choose should mesh well with your outfit. If your outfit is formal, your shoes should be formal. A nice pair of shoes can really put the icing on the cake. Stick with black, so you can match them to just about anything, and try to avoid super high heels.

Acceptable accessories for the occasion

Accessories are certainly necessary to top off your whole ensemble. Bracelets, necklaces, earrings, and other jewelry just help fine tune your look. Avoid any offensive symbols, and you should be fine.

Men should always make sure to wear a nice belt with their pants. If you're wearing a tie, you could add a fancy tie clip or tack to your outfit for style.
---