Soaring Food Prices Are Just Beginning & Could Lead To Social Unrest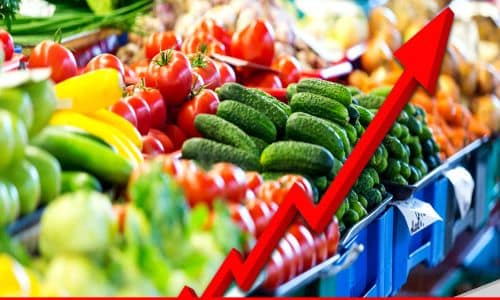 By Tyler Durden/Activist Post & Michael Synder/Economic Collapse Blog
April 30, 2021
Share this article:
---
With prices already soaring, global inflation is about to go into overdrive as the leading food price indicator, the Bloomberg Agri spot index hit the highest level in six years.
In a nutshell, this is a problem since food is a large component of CPI baskets in Asia, and "this large inflationary impulse in the region that houses more than half the world's population should result in higher wage costs in the factory base of the world. As CPI and PPI rise in Asia, it will feed through globally in the months ahead."
Today, DB's Jim Reid picked that chart as his "Chart of the day", repeating what readers already know, namely that Bloomberg's agriculture spot index has risen by c.76% year-on-year, noting that "that's the biggest annual rise in nearly a decade, and there are only a couple of other comparable episodes since the index begins back in 1991."
Reid then patiently tries to explain that the importance of this record surge "extends far beyond your weekly shop, as there's an extensive literature connecting higher food prices to periods of social unrest." Indeed, the last big surge from the middle of 2010 to early 2011 coincided with the start of the Arab Spring, for which food inflation is regarded as a contributing factor.
While this is hardly new - we discussed it in "Why Albert Edwards Is Starting To Panic About Soaring Food Prices" and in "We Are Edging Closer To A Biblical Commodity Price Increase Scenario" - Reid also reminds us that emerging markets are more vulnerable to this trend, since their consumers spend a far greater share of their income on food than those in the developed world.
The DB strategist then goes all-in and says what everyone is thinking, namely that "this trend of higher food prices leading to social unrest extends far back into history and surrounds many key turning points.
The French Revolution of 1789, which overthrew the Ancien Régime, came after a succession of poor harvests that led to major rises in food prices. It was a similar story at the time of Europe's 1848 revolutions too, which followed the failure of potato crops in the 1840s and the associated severe famine in much of Europe. And the 1917 overthrow of the Tsarist regime in Russia took place in the context of food shortages as well."
So while it remains to be seen what the consequences of today's surge in food prices could be, Reid cautions that "given the hardship that's already occurred thanks to the pandemic, a fresh wave of unrest would be no surprise on a historical basis."
More From The Economic Collapse Blog:
Food prices are outrageous now, but they are only going to go higher.
Earlier today, I came across an NBC News article entitled "Get ready for higher grocery bills for the rest of the year". I thought that it was strange that a piece put out by the corporate media sounded like it could have come straight from my website, because I have been sounding the alarm about higher food prices for quite some time.
Surprisingly, the NBC News article was generally right on point. Thanks to a variety of factors, food prices have been rising aggressively, and that is going to continue for the foreseeable future.
According to the Labor Department, consumer prices overall were up 0.6 percent from February to March...
Consumer prices shot higher in March, given a boost by a strong economic recovery and year-over-year comparisons to a time when the Covid-19 pandemic was about to throttle the U.S. economy, the Labor Department reported Tuesday.
The consumer price index rose 0.6% from the previous month but 2.6% from the same period a year ago. The year-over-year gain is the highest since August 2018 and was well above the 1.7% recorded in February.
0.6 percent may not sound like that much, but if you multiply that figure by 12 months you get an annualized rate of 7.2 percent.
Of course the government has changed the way the inflation rate is calculated dozens of times over the years, and at this point everyone knows that the official number greatly understates what is really happening in the economy.
In fact, John Williams of shadowstats.com says that if the rate of inflation was still calculated the way that it was back in 1980, it would be over 10 percent right now.
So why are food prices increasing like this?
Yahoo News recently posted an article that listed four explanations...
1. Plummeting food production
2. Transportation tumult
3. More eating at home
4. Wild weather
Moving forward, the pandemic will continue to suppress global food production, commodity prices will likely keep climbing, and increasingly wild weather patterns will certainly cause even more damage to crops.
All of these factors are making it more expensive for food companies to operate, and as NBC News has noted, food companies are starting to pass along those costs to consumers...
Issues like higher gas prices, increasing transport costs that get passed on to consumers, especially for items like bread, are only going up as driving increases faster than oil production.
So grocery prices are likely to remain on the higher end of estimates for at least the rest of the year, Olvera said. Producers may eventually increase their output in order to capture the heightened demand, but that won't happen until toward the end of this year, Olvera said.
Of course it isn't just the United States that is wrestling with these problems.
Food prices are actually rising far more rapidly in much of the rest of the world, and we recently learned that global food prices spiked for a tenth month in a row during March...
Global food commodity prices rose in March, marking their tenth consecutive monthly increase, with quotations for vegetable oils and dairy products leading the rise, the Food and Agriculture Organization of the United Nations (FAO) reported today.
The FAO Food Price Index, which tracks monthly changes in the international prices of commonly-traded food commodities, averaged 118.5 points in March, 2.1 percent higher than in February and reaching its highest level since June 2014.
Those at the very bottom of the economic food chain are being hurt the most by rising food prices.
We have already started to see food riots in some areas, and one relief organization is warning that millions of people in East Africa are now on the verge of starvation...
Over 7 million people across six East African countries are at the cusp of starvation as communities have faced existential threats from violence, flooding, the pandemic and locust infestation, the evangelical humanitarian organization World Vision has warned.
Even during the best of years, we really struggle to feed the entire planet, and 2021 is definitely not going to be a great year for global food production.
The good news is that there is still plenty of food in our supermarkets right now, and that means that we have a window of opportunity to get prepared now for what might be on the horizon.
---