Transanity - Biological Male Rapists Being Put Into Female Prisons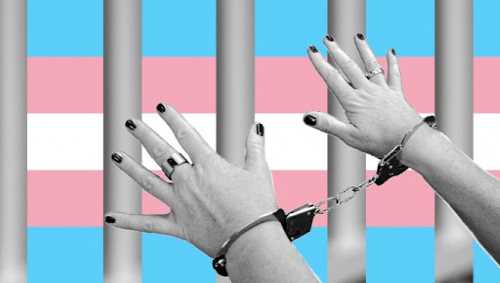 By Jonathon Van Maren/Bridgehead.ca
August 6, 2021
Share this article:
---
Those of you who have been following the transgender debate will know by now that one particularly insidious effect of our new collective insanity is that biological males--often rapists or murderers--are being locked up in female prisons if they identify as women. Or, perhaps more accurately, women are locked in with them. Women have already been sexually assaulted as a result.
A particularly egregious case is that of 39-year-old YouTuber Chris Chan, a man claiming (unconvincingly) to be a woman since 2014 and going by the name Christine Weston Chandler. The vlogger, who is best known for creating the comic series Sonichu, has 50,000 YouTube subscribers. He was recently arrested in Virginia for allegedly raping his 79-year-old mother, who has dementia.
The transgender YouTuber is currently being held without bond at the Central Virginia Regional Jail on suspicion of incest and rape--incest alone carries a potential jail sentence of 12 years. Chandler's arrest came just days after a phone call was leaked on an instant messaging platform, on which a person believed to Chandler seemingly admitted to having sex with her elderly mother, claiming on the call that the relationship was consensual and ongoing.
Adding to a growing outbreak of female sex criminals, Chandler is listed as female in the police report--and will be housed with the female inmates.
This is increasingly common. Last month, feminist writer Julie Bindel recorded a horrifying story of one female inmate's experience in the Daily Mail:
Her sense of shock, and the awful aura of menace that closed in on her, still haunt former prisoner Amy Jones. Jail should have been a place free from the predators who had sexually assaulted and raped her in her childhood, but the terrifying presence looming over her suggested anything but.
The prisoner who sexually assaulted Amy -- we cannot legally identify her, so we shall call her J -- is a transgender woman, with a Gender Recognition Certificate (GRC), and therefore referred to by the female pronoun, but still had male genitalia.
Amy was equally well aware that J still had male genitalia because she often intimidated her and fellow female prisoners at HMP Bronzefield in Ashford, Middlesex, by exposing them. Moreover, J was serving time for a serious sexual assault on a child and was clearly a danger to other inmates. Yet she had secured a coveted job as a cleaner at the prison gym where Amy also worked. And it was while she was in the gym's lavatory block that J assaulted her in 2017.
'What were the officers even thinking, letting her clean toilets in which women would be in a state of undress and alone? Why was there a child sex offender with a penis cleaning the toilets of the gym in a women's prison?'
This is happening because we have decided that women are collateral damage as we rebuild society according to the ever-evolving ideology of gender activists. This male rapist--who is referred to as female even by his cowed victim--even insisted on being able to shower with the women. Vulnerable women are being locked up with sexual predators, and there is almost no protest.
And now a man who allegedly raped his own mother will be locked up with female prisoners. Trans activists say this is right and just. It is not. It is wicked.
---