Palestinians Hailed for Developing 'Innovative' Car-Ramming Terror Tactic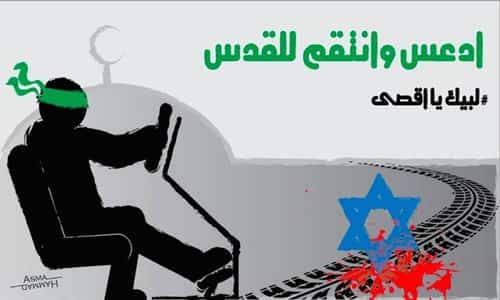 By Lea Speyer/Algemeiner.com
July 18, 2016
Share this article:
---
As jihadists around the world expressed their joy over Thursday evening's terror attack in southern France, one ISIS sympathizer hailed Palestinian terrorists for pioneering the use of vehicles to attack civilians, the Middle East Media Research Institute (MEMRI) reported on Friday.
"Killing by ramming using civilian cars and trucks is an idea born from the Maqdisi [Palestinian] mind, which has an innovative nature of thinking up jihad tactics," read a posting on a pro-ISIS forum online. "Yesterday they taught us [about] the explosive vest, and many plans for street fighting, and today they taught us this tactic. May Allah bless Jerusalem and the environs of Jerusalem, and may Allah bless all of the Levant...Oh Aqsa, we are coming."
Vehicular terrorism has become a common method employed by Palestinian Jihadists over the past year. According to Israel's Ministry of Foreign Affairs, since September 2015, 46 car ramming attacks have been carried out against Israelis, both injuring and killing scores of civilians and security personnel.
Over the last several years, terror groups -- especially ISIS and al-Qaeda -- have called on followers to carry out vehicular attacks. In a September 2014 message, ISIS spokesman Abu Mohammed al-Adnani said, "If you cannot [detonate] a bomb or [fire] a bullet, arrange to meet alone with a French or an American infidel and bash his skull in with a rock, slaughter him with a knife, run him over with your car, throw him off a cliff, strangle him, or inject him with poison."
On Thursday evening, Mohamed Lagouaiej Bouhlel, 31, a Frenchman of Tunisian descent, plowed his truck into bystanders who were watching a fireworks display in the French Riviera city of Nice in celebration of Bastille Day. The driver was subsequently shot dead by police after he attempted to open fire on the crowd and security officials.
At least 84 people -- 10 of them children -- were killed and over 200 were injured. As reported by The Algemeiner, at least six members of France's Jewish community are among the injured and missing.
Since the Nice attack, Jihadists have openly been offering praise, claiming the event was part payback against the West as well as a warning of more horrific things to come.
According to MEMRI, many terror sympathizers shared gruesome images of the attack online, with captions such as "Nice attack: We warned you"; "It's beautiful"; "We want Paris before Rome." Pro-ISIS channel Kawasir Al-Nasher posted a message in English that read: "Oh crusaders, we told you...The next attack is coming soon, we are everywhere, Allah Akbar."
ISIS media operatives of the French-Arabic group Nashir for Design distributed several online posters and images with the caption, "Inshallah we will conquer your lands, you will become Muslims despite yourselves or you will pay the capitation tax in humiliation, otherwise the sword will slice your necks. It is Allah's promise."
Posting photos of dead children in Syria, the group warned, "This is what your planes do to our children, so accept what is happening to you...It is only the start, we are years and years behind!"
---