Leftist Indoctrination Includes LGBT Sexual Role Playing For Students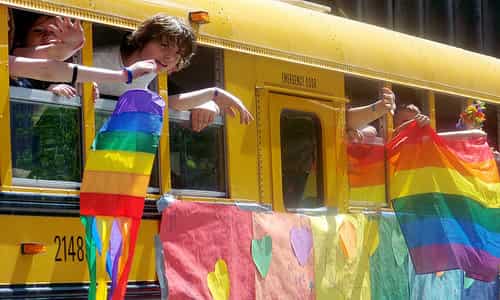 By Meg Kilgannon/Family Research Council
October 01, 2021
Share this article:
---
Richfield, Minnesota parents and citizens have reported for duty, standing up to inappropriate and overly explicit content in their school system's sex ed curriculum.
At this week's school board meeting speakers were civil, clear, and strong in their rejection of Advocate for Youth's 3Rs curriculum for their community, which is a notorious sex education curriculum that teaches children how to become sexually active.
As we observed in our new FRC publication, Advocates for Youth is an example of comprehensive sexuality education (CSE). Comprehensive sexuality education programs seek to change society by changing sexual and gender norms and teaching youth to advocate for their sexual rights.
Most CSE programs promote acceptance of diverse sexual identities and orientations and have an almost obsessive focus on sexual pleasure, instructing children and youth at the earliest ages on how to obtain sexual pleasure in a variety of ways.
In Minnesota, parents were objecting to role playing assignments where students negotiated with each other for sex. Students are assigned partners in scenarios where sexual activity is discussed and the students decide whether or not they will have hypothetical sex.
Disguised as a lesson on giving "consent" for sexual activity these kinds of situations are awkward for students and teachers, inappropriate for educational settings, and demeaning to participants.
The manual for the program states that should some students "have a homophobic response" to being asked to role-play LGBT characters, "it's important to stop what you are doing, notice the interaction, and ask for the class members to reflect on what's happening and why. Direct the students back to your class ground rules -- and reinforce the agreement to be respectful -- and that making homophobic comments is not respectful."
Moral convictions of students who are involved will clearly not be respected and any objection to trans relationships, homosexuality -- or any extramarital sex -- would be strongly discouraged.
To add insult to injury, studies have proven these programs fail to reduce unprotected sex or delay sexual debut, which are a few of the primary reasons for implementing sex education in schools. As reported in Alpha News: "Programs like 3Rs are not effective," said Julie Quist, a Child Protection League board member.
"The Institute for Research and Evaluation conducted a comprehensive study on the effectiveness of programs such as this," she told the Richfield School Board. "Out of 60 school-based studies, no credible evidence of effectiveness was found for sustained reductions in teen pregnancy or STDs. There was no evidence of effectiveness for increasing consistent condom use. Failure rates included 88% failure to delay teen sexual initiation and 94% failure to reduce unprotected sex. 12% of these programs found significant negative effects on adolescent sexual health and/or risk behavior."
"Claims that explicit sex education has been proven effective are not supported by the evidence," Quist concluded.
This didn't stop the school board chairman from defending 3Rs while admitting the school board didn't know what was in the program. Like so many other school systems, elected officials rely on health education experts in the district to recommend programs. Frustration with this attitude and blame shifting is leading more and more parents to consider running for school board themselves.
Parents who oppose objectionable material in schools are often relegated to the sidelines by school officials who convince them that no one else cares, the material is standard, or the book has won awards and is on the approved list of XYZ authority on children's literature. Getting taken seriously is an uphill battle. Many parents become demoralized, isolated, and stop complaining.
But when parents see other parents speaking truth to power, the effect is, well, powerful.
A mom in Fairfax, Virginia saw a video of a mom in Texas complaining about these books, and that's how she got the idea of checking her school library. Her fears were confirmed when she learned that the objectionable books are in fact available in school libraries open to students as young as 11.
How can this happen, you ask? How can inappropriate books be shelved in school libraries and classrooms across the country? Aren't parents watching? Doesn't anyone vet and approve the books?
The answer is simple: it's complicated.
Generally, the process for having books approved for the library or classroom use involves some level of "community input." But when you have a school board that's made up of progressive school board members, the people that they're going to select from the community are people who reflect their progressive values. This means that the parent or community voice on those book approval boards tend to have a similar philosophy and social goals.
In the same way that Silicon Valley is captured by one dominant type thinking -- progressive -- so is the nation's educational infrastructure. Their ability to understand the radical nature of some of the material is diminished because they are trapped inside their own woke bubble.
Parents can see that a book like the book that mom read on Thursday is wildly inappropriate for students of any age. That particular book is not even appropriate for adults. And the fact that some of the school board members would defend this book by saying that it's only available for high school students shows just how much parental supervision is required for our nation's schools.
---