Drag Queen Story Hour For Children Comes To Church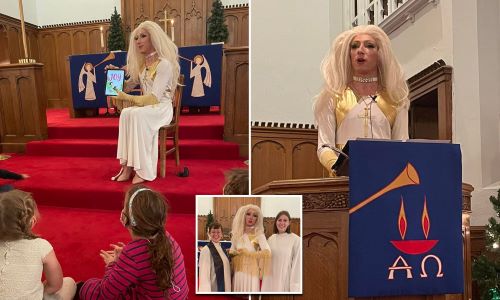 By PNW Staff
January 11, 2022
Share this article:
---
Pastor Aaron Musser of St. Luke's Lutheran Church of Logan Square in Chicago recently dressed in full drag for the Sunday service, wearing a long white dress emblazoned with a golden cross on its chest, a long blonde wig, and full makeup in order to lead the children's message.
The pastor began the message by calling the children up to the front to sit with him and asked if they'd ever seen a drag queen before.
The kids responded in the negative.
"I have an awesome story to share with you today," Musser said. "I am also a boy most of the time when I'm here, but today, I'm a girl."
His message to the children was clearly not your typical children's Bible story, but an agenda to indoctrinate vulnerable children with his Queer Theology.
Musser's actions while shocking to some are part of a long established trend of LGBT activists that have infiltrated the church, including it's leadership.
At the forefront of this push has been the Evangelical Lutheran Church in America (ELCA) which has taken more steps to promote Queer & Progressive Theology than possibly any other denomination.
In September of last year it appointed it's first openly transgender bishop, The Rev. Megan Rohrer to lead one of the church's synods, which means she will have direct leadership over 200 congregations.
With her appointment it was announced that the bishop should be addressed with the pronouns "they/their".
Rohr was the first transgender person to be ordained by the ELCA in 2006 and now makes "history", the pro-LGBT group Extraordinary Lutheran Ministries said. "We anticipate the day when all queer ministry leaders will be called to ministry settings without hindrance or barrier and will be affirmed in their God-given calls".
According to this group, there are already over 400 queer ministers in the ELCA at this point.
The ELCA is known for its strong theological shift in the last 15 years towards an "inclusive" theology, except when it comes to Israel.
Last year the Danish Bible Society, which is also run by the Evangelical Lutheran Church, came under heavy fire for the Danish "translation" of the Bible that virtually wipes out "Israel" from the New Testament.
In the Greek New Testament, the word "Israel" occurs more than 60 times. However, it is found only once in the new Danish version called Bibelen 2020. That's right, just once. And that one occurrence is a direct quote from an Old Testament verse. Otherwise, "Israel" is gone.
The reason for this, the society argues, is that Christian readers must not connect "Israel" in the New Testament with the nation of Israel today. The ELCA has long promoted the idea of "replacement theology", also called supersessionism, which essentially teaches that the church has replaced Israel in God's plan. Adherents of replacement theology believe the Jews are no longer God's chosen people, and God does not have specific future plans for the nation of Israel.
The presiding "bishop" of the Evangelical Lutheran Church of America, The Rev. Elizabeth Eaton, has also expressed her belief that although Hell may exist, it is entirely empty because "God doesn't give up on those who reject Him."
Two years ago, over 30,000 ELCA teenagers attended the ELCA's national youth gathering. Popular ELCA pastor Nadia Bolz-Webber (who loves to swear during her sermons and tells her congregants that there is nothing wrong with porn) led the students to say after her "I renounce the lie that queerness is anything other than beauty".
At the youth gathering an 11-year-old boy who thinks he is a girl was put on stage to promote transgenderism.
This past summer the ELCA in convention passed an interfaith resolution stating that we do not know what God thinks of non-Christian religions. A delegate got to the microphone to offer an amendment, saying that we do know because John 14:6 says that Jesus is the only way of salvation. His amendment was voted down by 97 percent.
The church also raised some red flags with its promotion of praying by addressing God as "Mother" instead of Father on its official Facebook page as well as via Twitter:
"Mother God, you have fed us with the nourishment of your spiritual food. Raise us up into salvation and rid us of our bitterness, so that we may share the sweetness of your holy word with all the world," the ELCA tweeted as part of their #Bread4theday series of Twitter posts.
The tweet has gotten a fair amount of negative attention. Hans Fiene, a conservative pastor who oversees the popular Lutheran Satire YouTube channel, responded with a simple message to people who still value Biblical literacy:
"Leave the ELCA," he succinctly replied when retweeting the ELCA post.
Thankfully many have headed his call. The ELCA had over five million members when it was first launched in 1988. It currently has 3.3 million members and its decline has been accelerating as it continues to adopt many unbiblical practices.
The scriptures warn against associating with such people as fellow believers; "having a form of godliness, but denying the power thereof: from such turn away....ever learning, and never able to come to the knowledge of the truth" 2 Timothy 3:5-7
Sadly, the ELCA are not alone in their Queer Agenda push and many other churches are following suit.
Last month the Anglican Church in Canada introduced a new liturgy full in transgender ideology which supports and outlines the blessing and affirmation of gender transitions.
The liturgy text endorses people physically changing their genders and even says it honors God.
"Taking steps physically or spiritually to manifest our gender identity more fully is to participate in God's commandment to tend and love all that God has made," a deacon is supposed to say.
The presider also asks for God's blessing for "the gender transition process."
There is even a special prayer for the surgery part of transitioning.
Not to be outdone Anglicans in the UK have been promoting their alternative for Baptism for those who have transitioned.
The "Renaming Ceremony" seizes on the theme of "rebirth" and the tradition of conferring a name in Christian Initiation. "Change of name" is treated as tantamount to change of sex.
The idea being that there are "echoes in the Bible" of such a practice, as when Abram became Abraham, Sarai Sarah, Jacob Israel, and Saul Paul. None of them apparently noticed that Abram did not become Sarah nor Jacob Rachel.
In the "Renaming Ceremony," the name-change is justified because it "is a recognition of a pre-existing truth that has been obscured." Transgender ideology puts huge weight upon the culture, but, in this instance, the "pre-existing truth" is not "male and female God created them" but some hidden, self-discovered reality which even God has been apparently complicit in obscuring.
Clothes are also important to the Renaming Ceremony. The rubric provides that candidates are to be dressed in gender neutral clothing but bearing symbols of their birth gender. Symbols of their birth gender are then put under a cloth and a kind of a baptismal candle is then extinguished. Symbols of their newly assumed "gender" (wherever it happens to be among the fifty shades) will then be taken up and a new candle lit.
In a true baptismal rite, a candle is lit as a symbol of "the light of Christ." The lighting and extinguishing of candles in the "Renaming" ceremony (associated with some kind of putting on and taking off of "genders") is more symbolic than they realize.
Those choosing to adopt such ideologies have traded the light of Christ for a false gospel and a false light that will eventually lead only to darkness.
---