Pakistan's Government And Imran Khan: A Story Far From Over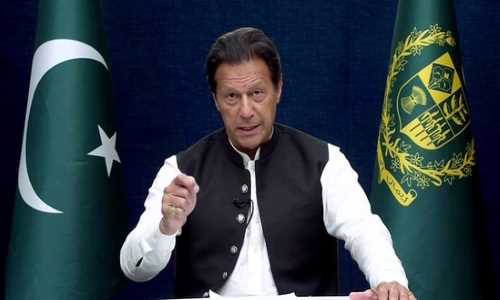 By
Share this article:
---
Since he was removed from office by parliament five months ago, former Pakistani Prime Minister Imran Khan has used rallies to highlight his popularity. These rallies have attracted enormous audiences, which has sent a message to his opponents that he is still a significant political force within the country.

Peshawar is the headquarters of the very conservative Khyber Pakhtunkhwa province, which borders Afghanistan. Most modern-culture activities, such as playing at online casinos and CSGO Betting, are banned in the province. On Tuesday, Khan spoke in front of approximately 25,000 followers in Peshawar, a city in the northwest part of the province.

As the finale of his effort to push the government of Prime Minister Shahbaz Sharif to convene a snap election, Khan said he would soon organize a large-scale march to Lahore, Pakistan's capital city. Some political observers believe that Khan might win the election due to his rising popularity. Sharif responded negatively to the call for early elections by stating that the next election should occur in 2023 as planned.

The Pakistani Government's Restricting Viewership Of Khan's Speeches
Due to directives issued by the country's media regulating commission, television stations did not broadcast the speech that took place on Tuesday in real-time, as they had done during Khan's previous addresses. Supposedly as a response to his recent statements that were critical of the military and the court, the authorities have restricted streaming of his live speeches and rallies. Additionally, viewers had difficulty viewing the address on YouTube and finding clips on other social media platforms.

Since his removal from office, Khan has said that the present administration came to power due to a scheme hatched by the United States, which supposedly opposed Khan's more independent approach to foreign policy. The United States has categorically rejected Khan's claims.

Khan Is Facing Terrorism Charges And Is Out On Bail
Khan had held the position of Prime Minister for over three and a half years before being removed from office in April. A coalition of political parties removed Khan via a vote of no confidence in the parliamentary leadership. At a gathering held in Islamabad one month ago, the former cricket star-turned-Islamist politician is said to have made open threats against law enforcement and a judge. As a result, he is now facing terrorist accusations, which adds a new dimension to his return campaign. At the time, Khan was quite critical of the government for the detention of his close aide Shahbaz Gill, who was suspected of encouraging soldiers to rebel against high-ranking army generals.

Under Pakistan's 1997 anti-terrorism legislation, which gives police broader powers to search for and combat potential terrorist threats, Khan may spend many years behind bars. At this time, he is out on a kind of interim bail that protects him from arrest until the 12th of September. According to several analysts, Khan remains a significant political influence even when serving in the opposition. Pakistan is an Islamist country where activities such as betting on CSGO Odds are illegal.

Khan's Claims That The U.S. Hatched A Plan To Oust Him From Office
During his address on Tuesday, Khan lashed out at American leaders in Washington again, claiming that his departure from power resulted from a scheme coordinated by the United States and Sharif. Both parties have refuted Khan's repeated claims made against them.

Khan originally had strong relations with the armed forces upon his ascension to office in 2018. His problems started when he fought against the nomination of a new intelligence head proposed by the army leader, General Qamar Javed Bajwa.

Even though the problem was eventually handled, experts claim that Khan and Bajwa have never been able to rebuild their relationship and that Khan continues to think that Bajwa was involved in the alleged conspiracy to remove him from power. Khan said on Tuesday that his political adversaries attempted to put a rift between him and the Pakistani army, which has historically played an outsized role in Pakistani politics. This outsized role has led to many restrictions placed on the public, such as a youtube-ban for six years which ended in 2016, and restrictions on CSGO Betting Sites.
---