Kamala Harris Leading The U.S. Delegation To Asia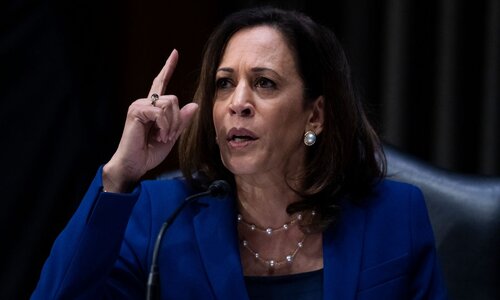 By
Share this article:
---
While some in the U.S. might be busy betting on their Bundesliga predictions of the week, some official news has come out of the White House regarding Kamala Harris.

The United States presidential delegation that will go to Japan for the official burial of former Prime Minister Shinzo Abe, who was recently assassinated, will be led by Vice President Kamala Harris. According to the official, announcements on the participation of more members of the delegation will be made at a later time. Media publications in Asia stated that U.S. authorities had started preparing the groundwork for the vice president's visit and that these reports were confirmed by other U.S. officials.

From the 25th through the 29th of September, Harris will be traveling around Asia. Her first stop will be in Tokyo, Japan, and her second will be in Seoul, South Korea. Harris will have meetings with top government officials and civil society leaders in a series of engagements that will emphasize the strength of the United States' partnerships with Japan and the Republic of Korea.

News publications were informed by a person who was aware of the preparations that Harris is anticipated to meet with both the Prime Minister of Japan, Fumio Kishida, and the President of South Korea, Yoon Suk Yeol. According to the source, President Joe Biden approached Harris with the directive to head the group.

Joe Biden Was Terribly Saddened By The Loss Of A "Friend"
Abe, who was 67 years old, passed away in July after being shot while delivering a speech for a political campaign on the street in Nara, Japan. Biden lamented the loss of his "friend" and said at the time that he was stunned, angry, and terribly saddened by the news of his passing away.

After his passing, Vice President Joe Biden issued an order mandating that the American flag be lowered to half-staff at the White House and on all other government sites for a period of two days. Later that same day, he went to the Japanese embassy to sign a condolence book.

Harris Preparing For Her Second Trip To Asia In Office
In addition, this trip will be the vice president's second trip to Asia while she has been in office. Harris is the first person of African-American and South Asian descent as well as a woman to occupy the post in the United States.

A number of events were held by Harris with the intention of strengthening relationships with regional partners. The events also focused on regional security issues in the midst of concerns over China's territorial claims in the South China Sea and economic priorities, including supply chain issues like global chip production, climate change, and the COVID-19 pandemic. The officials saw this trip as an opportunity to build upon the significant work that was accomplished during her previous trip and to make another excursion into the international scene. While soccer fans might be busy betting on their Bundesliga picks, this can be exciting news.

Harris's travels have also taken her to many locations in Latin America and Europe, in addition to Asia. During her time in office, she has met with some of the most influential people in the world.

Joe Biden's Previous Travels To Asia Amid U.S. Interests
At the beginning of 2022, President Biden traveled to Asia and used a high-level conference of leaders from the Indo-Pacific region to, in part, admonish China about its stance on Taiwan. Since his trip, there has been a steady increase in the level of animosity that exists between the United States and China. After House Speaker Nancy Pelosi's trip to Taiwan in August, China spent several days conducting military maneuvers that effectively surrounded Taiwan.

When reporters asked President Biden whether he would meet Chinese President Xi Jinping at the G20 conference that will take place later this year in Indonesia, he responded by saying that if the Chinese President is there, he is sure he'll see him. In contrast, an official from the White House stated that the events that Harris will participate in during her trip at the end of this month would signal the U.S.'s unwavering commitment to a free and open Indo-Pacific, as well as their shared economic and security interests in the region and around the world.

While sports bettors might be fully committed to enjoying betting on their Bundesliga predictions today, this news story might be worth keeping an eye on.
---