Sourcing Liquidation Goods: What You Need to Know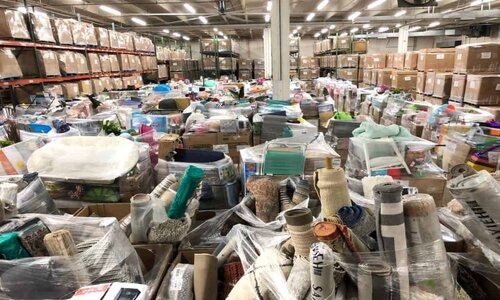 By
Share this article:
---
Liquidation marketplaces acquire unwanted inventory from manufacturers and retailers and auction them off at a fraction of their retail price. These customer returns, overstock, shelf-pulls, or end-of-life products can no longer be sold on traditional marketplaces, so they are offloaded to liquidators and wholesale suppliers.
Liquidated goods are sold by pallet or truckload, and they are an excellent source of cheap inventory for resellers to sell at significant markups to generate profits. The reselling industry is thriving, with many opportunities for entrepreneurs to succeed within the business model.
If you want to try your hand at buying liquidation goods to resell, this guide has everything you need to know about sourcing liquidation goods, including the best practices and tips to get the most out of your inventory.
Where Do You Find Liquidation Goods?
You can source liquidation goods from various marketplaces. The most common is purchasing overstock inventory directly from manufacturers and retailers. The items are sold as-is, at a steep discount, since they need to be cleared out quickly.
Overstock merchandise is generally new and carryover items that retailers can no longer sell at full price. These items are usually in good condition and can be a boon to resellers as they can place significant markups on them. Walmart liquidation pallets often contain new merchandise still sealed in their original packaging, which means they should be easy to resell.
Customer returns may be damaged or defective, while others may be unwanted. According to the National Retail Federation, customer returns amounted to $761 billion in 2021 (16.6% of total sales).
Order cancellations are another source of liquidation goods. Sometimes buyers will cancel an order before shipping, but the supplier has already acquired the item and is preparing it for delivery. Retailers may choose to liquidate these goods instead of relisting them on the market.
Closeouts are similar to a clearing-out sale, in which the remaining items in stock are sold at discounted rates to unload them quickly. Often these items will be phased out, or the retailer has no plans on acquiring new stock.
Liquidation goods can be a great way to acquire cheap inventory, but it's important to be aware of the potential risks. The items are sold as-is, which means there are no guarantees about their condition and quality. The inventory may also be old or outdated, making them difficult to market and sell.
This is why you must do your due diligence before you purchase liquidated goods and only buy from reputable sources.
How To Start Your Business With Liquidation Goods
Buying liquidation goods is the best way to start a reselling business. You don't need much capital, and with research and careful consideration, you can find high-quality items that can generate high profits.
Here are some simple tips to help you start your business on the right track:
1. Get a Resale Certificate To Buy In Bulk
A resale certificate exempts businesses from paying taxes on the merchandise they purchase, as they will eventually collect taxes when they sell the items to their customers.
This is a valuable document for businesses that purchase inventory in bulk, as it significantly reduces expenses and increases the scope for profits. If you want to pursue a reselling business and specialize in buying and selling overstocked items, returns, and end-of-line merchandise, a resale certificate will do wonders for your future success.
This simple certificate will make you very competitive in the liquidation marketplace, and it should be one of your main priorities long before you purchase your first liquidation pallet.
2. Examine Product Manifests Thoroughly
Before you purchase liquidation goods, you must carefully examine the manifest to ensure that you get items you know you can sell. The manifest lists all the items included in the shipment, their condition, quantity, model, serial numbers, functionality, and retail price.
With this information, you can determine if you can market and sell the items in the pallet or truckload and generate healthy profits.
Carefully reviewing the manifest will help you avoid surprises and get the best possible deal on your chosen liquidation goods.
3. Choose a Niche To Specialize In
If you want to dip your toes in the liquidation world, it's best to focus on a certain niche. You can learn everything about the products and better understand your target market. This expertise will do wonders for your future operations—you will know how much certain items are truly worth, how much of a markup you can add and still be able to attract customers, and how best to market your inventory to generate consistent revenue.
You can specialize in consumer electronics, clothing, pet accessories, office furniture, grocery items, or luxury goods. Choosing a specific category will make it easier to build your brand, too.
4. Consider All Expenses When Pricing Your Goods
When pricing liquidation goods to resell, you must consider all of your expenses. This includes the base cost of the products, shipping, handling, and storage. You must also factor in other costs, such as taxes, marketing, logistics, labor, and office admin.
Adding everything up will ensure that you are pricing your goods correctly and not leaving money on the table. You can maximize your profits and operate a successful reselling business with the right pricing strategy.
5. Be Patient
Joining your first liquidation auction can be quite nerve-wracking. The key is to be patient. You will spot pallets with unbelievably low bids, and you may be tempted to snatch them up as quickly as possible—temper that instinct and let your strategic mind take the lead.
Crunch the numbers and determine your budget for pallets in your niche. Before you place a bid, think about the types of items you know you can sell and at what prices. You don't want to be stuck with unsellable inventory, no matter how cheap they are.
Liquidation Goods Can Jumpstart Your Business
Reselling liquidation goods is a business model with significant scope for profits. As long as you are mindful of the items you are purchasing, you can unload inventory as quickly as you acquire them and enjoy long-term success in the industry.
Best of luck!
---