The Importance of Recycling Disposable Food Trays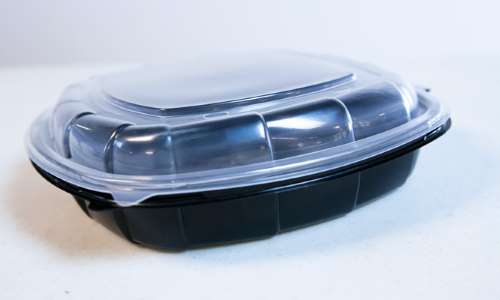 By
Share this article:
---
In today's fast-paced world, it is becoming increasingly difficult to keep up with the demands of our daily lives. One of the consequences of this lifestyle is the increase in the use of disposable products, such as food trays. These trays are designed to be used once and then discarded, but their environmental impact can be significant. A few examples of this are takeaway food boxes, like fish and chip boxes, and Styrofoam clamshell packaging. And as we all become more aware of the impact waste is having on the planet, more of us, including businesses, will be looking for ways to reduce the impact these materials are having on the planet. Below. will discuss the importance of recycling disposable food trays and the benefits of doing so.
Environmental Impact of Disposable Food Trays
Disposable food trays are typically made from paper or plastic, both of which have significant environmental impacts. Paper trays are often coated with a layer of plastic to prevent them from becoming soggy and disintegrating, which makes them difficult to recycle. Plastic trays, on the other hand, are made from petroleum, a non-renewable resource that takes hundreds of years to decompose. When these trays are not recycled, they end up in landfills or incinerators, where they contribute to air and water pollution.
Benefits of Recycling Disposable Food Trays
Reducing Landfill Waste
One of the most significant benefits of recycling disposable food trays is reducing the amount of waste that ends up in landfills. Landfills are becoming increasingly full, and many are close to capacity. By recycling food trays, we can divert them from landfills and reduce the amount of space that is needed to store waste.
Conserving Natural Resources
Recycling food trays also conserves natural resources. When we recycle paper or plastic, we reduce the need to extract new raw materials from the environment. This reduces the environmental impact of resource extraction and helps to conserve natural habitats.
Reducing Energy Consumption
Recycling also helps to reduce energy consumption. It takes less energy to recycle materials than to create new products from raw materials. For example, recycling aluminium cans uses 95% less energy than producing new cans from raw materials.
Saving Money
Recycling can also save money. When we recycle materials, we reduce the amount of waste that needs to be disposed of, which can save on disposal costs. Additionally, recycled materials can be sold for use in new products, generating revenue for recycling facilities and reducing the cost of producing new products.
How to Recycle Disposable Food Trays
Recycling disposable food trays is relatively easy. Most paper and plastic trays can be recycled in your local recycling program. It is essential to check with your local recycling facility to ensure that they accept the type of tray you have. Plastic trays may need to be cleaned before recycling to remove any food residue.
If your local recycling program does not accept food trays, there are alternative options. Some companies offer mail-in recycling programs for food trays, and there are also recycling programs available through online retailers. These programs allow you to mail in your used trays, and they will be recycled for you.
Recycling disposable food trays is an essential step in reducing our environmental impact. By recycling these trays, we can conserve natural resources, reduce landfill waste, and save energy and money. It is easy to recycle food trays, and there are several options available, including local recycling programs, mail-in programs, and online recycling programs. By taking the time to recycle our disposable food trays, we can all do our part to create a more sustainable future.
---