World Vision: Hamas Funding Only Latest Anti-Israel Mission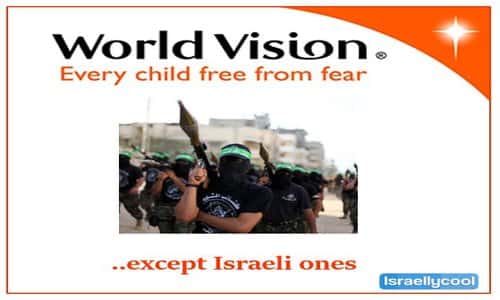 By Tom Olago
August 10, 2016
Share this article:
---
How would you react to the possibility that your generous offerings and gifts to a Christian outreach organization did not alleviate the sufferings of the sick, hungry, poor, orphaned, widow or refugee? Instead, they were used to buy weapons that would shed the blood of innocent people, including women and children, in heinous terrorist attacks.
That's the awkward perception that World Vision International, perhaps the world's largest Evangelical Christian humanitarian aid organization, finds itself on the receiving end of today.
A recent article Yossi Aloni for Israel Today reported the revelation that 60 percent of World Vision's annual budget for the Gaza Strip was diverted by Hamas to the tune of $7.2 million per year. Much of that money was given in cash to Hamas militants, while even more was used to finance the construction of terror tunnels and to purchase weapons.
All of this was reportedly discovered during a lengthy investigation beginning in mid-June, when Israel arrested Mohammed El-Halabi, World Vision's Gaza branch director, on suspicion of terrorist activity.
Aloni narrated the chronology of subsequent events in his analysis starting in 2005 when Hamas dispatched El-Halabi to infiltrate World Vision. Shortly after being employed by World Vision, El-Halabi began to use his position to benefit the Islamist terrorist organization, primarily by diverting funds meant as aid to strengthen Hamas' terrorist arm.
The investigation revealed that the main method used to divert money to Hamas was to put out fictitious tenders for World Vision-sponsored projects in the Gaza Strip. The "winning" company was made aware that 60 percent of the project's monies were to be designated for Hamas. In this way, El-Halabi ensured a steady flow of cash into Hamas coffers.
El-Halabi regularly transferred to Hamas equipment that he had ordered on behalf of World Vision, supposedly for agricultural aid. The equipment included, inter alia, iron rods, digging equipment, pipes and building materials, and was used in fact to construct Hamas military outposts and to dig terror tunnels.
Another regular method of acquiring equipment for Hamas was to disguise Hamas warehouses as World Vision warehouses. Trucks bringing supplies to the Kerem Shalom Crossing between Israel and Gaza would unload their goods at Hamas warehouses instead of legitimate World Vision warehouses. Hamas operatives would pick up the supplies in the dead of night.
Every month, El-Halabi distributed thousands of packages of food, basic commodities and medical supplies to Hamas terrorists and their families, commodities that World Vision had intended to go to the needy.
Leo Hohmann in a WND exclusive report narrated that, following El-Halabi's arrest, his indictment includes 12 counts of security violations of passing information to the enemy, membership in a terror organization, funding terrorism, participation in an unlawful association, and contact with foreign agents.
The fact that Hamas, which is an offshoot of the Muslim Brotherhood, has infiltrated the world's largest international Christian aid group, World Vision, confirms the worst fears of Brotherhood experts such as Dr. Mark Christian, a former imam with family ties to the Brotherhood who left his native Egypt in 2003.
"From the Brotherhood's point of view there is nothing better than to deceive and get involved with organizations that make it look like they are going to help the poor kids of Gaza when in reality no kid is getting helped and it is all going to the terrorist actions to kill Jews," said Christian, who heads up the Global Faith Institute based in Omaha, Nebraska.
But the organization started changing in the 1970s, he said. "...That's when you started seeing Christian leaders becoming more accepting of other religions, and the Muslim Brotherhood around that same time started to internationalize their goal of spreading Islamism around the world and they discovered they could deceive a lot of these naïve Christian leaders."
Could El-Halabi's case of infiltration be just one isolated incident? Hardly, according to Carl Gallups, a Baptist pastor in Florida who is also an author and host of a weekly radio show.
"This, no doubt, is not the only such instance. I would imagine there are several other Christian institutions where the tentacles of radical Islam have gained their foothold," Gallups said.
"America's pastors, churches, and civic leaders had best get their collective heads out of the sand and wake up to the times in which we are now living. Without strong leadership in Biblical and constitutional principles of truth and righteousness - and rule of law ... we are doomed."
Perhaps America should follow Australia's cue - they finally woke up and smelt the coffee. According to Rachel Kaplan in a report for Israel National News, Australia has suspended funding to humanitarian NGO World Vision, pending investigations into the nature of its funding to the Hamas terror organization in Gaza.
But it would seem that much damage has already been done - despite prior security alerts.
Kaplan stated that Israeli legal organization, Shurat HaDin, says it blew the whistle on World Vision years ago - but no one was listening: "In 2012 [we] notified the Australian government that its aid money being administrated by World Vision was being transferred to front charities of Palestinian terror groups in Gaza. Both the Australian government and World Vision denied [our] warning."
Shurat HaDin President, Nitsana Darshan-Leitner, posed the poignant question: "Who knows how many of Hamas' missiles and stabbing attacks were funded by World Vision after they were put on notice that they were financing Palestinian terror? The assistance to Gaza by foreign aid organizations is directly responsible for the murder of scores of Jews in Israel."
To make matters worse, the El- Halabi case is seemingly just the tip of the proverbial iceberg. Foreign Affairs Ministry Director Dore Gold was quoted stating that "the investigation revealed much information concerning additional figures in Gaza who exploited their work in humanitarian aid organizations and UN institutions, on behalf of Hamas."
In view of the extent of co-operation, could this whole scenario have been discovered - then a blind eye turned to it afterward? Is there a chance that the El-Halabi scandal was intended to remain covered up due to an anti-Semitic view from World Vision?
Van Zile is Christian Media Analyst for the Committee for Accuracy in Middle East Reporting in America. In a recent blog post published in the Times of Israel, he alluded to a history that the World Vision has had that suggests a strong - and deliberate - discrimination against Israel.
According to Van Zile, when it comes to Syria, the organization talks about the suffering children endure as a result of that country's civil war in a non-political and non-polemical manner. World Vision takes a decidedly different approach, however, when it comes to dealing with the suffering of children in Jerusalem, West Bank, and Gaza.
When publicizing its work in these areas, World Vision rarely misses an opportunity to blame Israel for the suffering it confronts. Interestingly enough, World Vision materials rarely make any mention of the role Hamas has played in putting children in danger.
He queried: "Why is it that World Vision staffers feel free to level such ugly and one-sided accusations at Israel but won't even mention the Assad Regime or Islamists in Syria by name?"
Van Zile's view is that whatever motivates this double standard, the message for its American donors is clear:
"World Vision has, for one reason or another, enlisted in the propaganda war against the Jewish state...World Vision has allowed its good name and resources to be used to demonize Israel in a shameless and ugly manner. People who donate money to World Vision - whether they mean to or not - are supporting an organization whose staffers propagandize against Israel while giving Islamists kid glove treatment", he concluded.
World Vision has contributed extensively to other anti-Israel endeavors in the years since. For instance, the organization bankrolled a program called "Christ at the Checkpoint," which aimed to portray Israel to American Christians as the embodiment of all evil.
The program appealed to this audience's most basic emotions: they were asked to imagine Jesus himself being harassed by Israeli soldiers at a border checkpoint. This was, in fact, anti-Semitism of the worst order, playing into the idea that the Jews abused the son of God and now they are abusing other poor souls.
Furthermore, there are concerns that World Vision no longer exists to execute the mandate of spreading the gospel of Jesus Christ while helping to meet the needs of the less fortunate. Hohmann in his report for WND noted that in a 2007 interview with Guy Kawasaki, World Vision CEO Richard Stearns admitted that World Vision does not evangelize anyone.
"As a Christian organization, we are motivated by our commitment to Christ to love our neighbors and care for the less fortunate. That's why we do what we do. We don't proselytize," Stearns said. "We do not force our religious beliefs on anyone, and we don't discriminate in our delivery of aid in any way. If the people we serve want to know why we are there, we tell them."
In essence, preaching the love of God without specifically pointing to the actual God of that love, Jesus Christ. A strange position and a far cry from the Apostle Paul whose clear message in 1 Corinthians 9:16 was: "For though I preach the Gospel, I have nothing to glory of: for necessity is laid upon me; yea, woe is unto me, if I preach not the Gospel!
Not to mention Jesus' own admonition: Then Jesus answering said unto them, Go your way, and tell John what things ye have seen and heard; how that the blind see, the lame walk, the lepers are cleansed, the deaf hear, the dead are raised, to the poor the gospel is preached (Luke 7:22).
---