Searches For 'Real Estate Market Crash' Highest In Internet History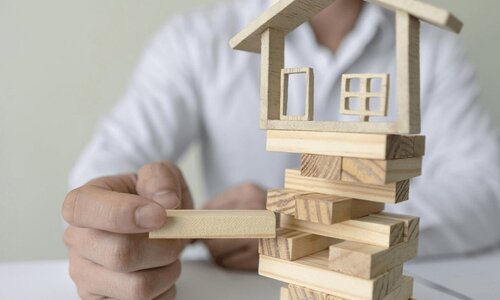 By Tyler Durden/Activist Post
October 01, 2022
Share this article:
---
Analysis of Google Trends data reveals that searches for "real estate market crash" exploded 284% in the United States as of September 2022 - the highest level in Google Trends history.
The analysis by the Malibu real estate experts at RubyHome reveals that search interest for 'real estate market crash' exploded within the past month, an unprecedented increase in Americans looking for information and prognostication about the real estate market, according to Google search data.
This comes at a time when the US housing market sees mortgage rates rising at the fastest pace in history, surging above 7% after touching 6% just two weeks ago!
Pointing out the obvious, RubyHome CEO Tony Mariotti said that "we know home sales are down. Tuesday's report from Case-Shiller confirmed the broad price reductions, which also showed U.S. home prices continued their deceleration in July at their fastest rate in the history of the index. We're keeping an eye on this because market activity is seasonally low - we'll know a heck of a lot more about how soft the market is come next spring."
"Mortgage rates continue to rise beyond the Federal Reserve's reported 6.29% on September 22. However, we've seen this accelerate; mortgage approvals on 30-year fixed loans this week reached 7% for some of our buyers. Going forward, if this trend holds, buyers will afford smaller homes unless they are cash buyers."
"Sellers who've been holding out for pandemic-inflated prices are going to have to eventually lower their prices. This is just a psychological shift taking place - one that takes a few months to play out."
Perhaps most startling, however, is the price-to-income (PI) ratios on homes. Using a median new home price of $438,067 and average hourly earnings of $27.32 puts the PI ratio at 16,035.
For context, this is the highest the figure has been since the Great Recession, when it was 14,923. Relative to wages, home prices are beyond reach for a majority of working Americans, meaning the demand for homes is unlikely to return without a substantial correction to real estate prices.
Furthermore, rent prices are up almost 30% from last year, primarily attributed to single-family rentals. This reflects the fact that many would-be home-buying families are opting to rent instead of committing to a down payment on a house.
Adding to the general downward forces on home prices is a return of housing inventory. July's housing supply level was previously only reached during the peak of the 2008 housing crisis. The limited supply of homes for sale has, for many economists, been one of the major barriers to a true housing crash.
A return to housing inventory may reflect that some homeowners are panic selling in fear of losing value on their property -- or out of economic necessity. Either way, basic economics tells us low demand and high supply is a recipe for falling prices.
Originally published at
Activist Post
- reposted with permission.
---