End Of Free Speech? New Zealand Says Govt Alone To Be Single Source Of Truth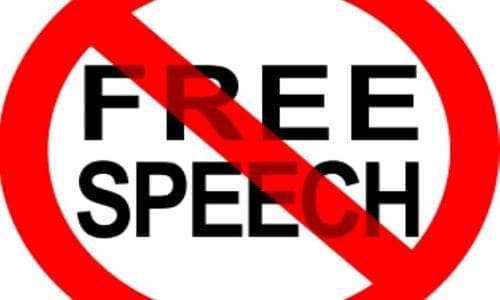 By PNW Staff
October 05, 2022
Share this article:
---
New Zealand Prime Minister Jacinda Ardern has been blasted for comparing free speech online to "weapons of war" in a recent speech to the U.N. that critics called "authoritarian."
"How do you successfully end a war if people are led to believe the reason for its existence is not only legal but noble," she said last week.
"How do you tackle climate change if people do not believe it exists? How do you ensure the human rights of others are upheld, when they are subjected to hateful and dangerous rhetoric and ideology?"
Ardern acknowledged that taking away free speech is a threat to society. But, she argued that disinformation is just as dangerous and, therefore, censorship is justifiable.
Ardern further connected free speech to war and chaos, suggesting censorship brings peace and order.
"The weapons may be different but the goals of those who perpetrate them is often the same. To cause chaos and reduce the ability of others to defend themselves. To disband communities. To collapse the collective strength of countries who work together."
Last year, Ardern said any information people seek regarding COVID-19 and vaccines should be directly from her government and no one else.
"We will continue to be your single source of truth. We will provide information frequently. Everything else you see, a grain of salt."
"Unless you hear it from us, it is not the truth," she added.
Independent journalist and The Intercept co-founder Glenn Greenwald called out Ardern on Twitter.
"This is the face of authoritarianism - even though it looks different than you were taught to expect. And it's the mindset of tyrants everywhere," Greenwald wrote. "This is someone so inebriated by her sense of righteousness and superiority that she views dissent as an evil too dangerous to allow."
Diesel Jack Media CEO and author Nick Palmisciano appeared to sarcastically skewer Ardern's ideas.
"Yes, please bring on the government disinformation service. What could possibly go wrong? It's not like we ever see government officials abuse their power to their own ends," he wrote.
RedState deputy managing editor Brandon Morse warned, "This is the authoritarians admitting that your free speech is a threat to their rule."
Ardern is not the first leader to propose censoring the Internet from 'disinformation'.
In March, Canada's Foreign Affairs Minister Melanie Joly made an ominous call to censor the internet, claiming it's needed to fight Russian "disinformation."
"We've banned Russia Today and Sputnik on the broadcasting side," Joly said. "We've pushed digital platforms to also ban them, but we need to do more."
Earlier this year, the Liberals re-tabled Bill C-10, the broadcasting act that would limit what Canadians can see on the internet, on platforms like Youtube, in a move strikingly similar to what happened in China under the Chinese Communist Party.
The U.K. is currently debating an Online Safety Bill that, if passed, will let officials "directly silence user speech, and even imprison those who publish messages that it doesn't like," according to the Electronic Frontier Foundation.
The European Union adopted a Digital Services Act that "will most likely result in a shrinking space for online expression, as social media companies are incentivized to delete massive amounts of perfectly legal content," cautions Jacob Mchangama, executive director of Copenhagen-based human-rights think tank Justitia.
For its part, Germany's NetzDG law "conscripts social media companies into governmental service as content regulators," Diana Lee wrote for Yale Law School's Media Freedom and Information Access Clinic. It has also inspired copycat legislation in over a dozen countries. "In a global free speech race to the bottom, the NetzDG matrix has been copy-pasted by authoritarian states to provide cover and legitimacy for digital censorship and repression," notes Justitia.
Many online companies, including Amazon, Meta, and Google, have also signed on to Ardern's international censorship project.
---