Are Online Casinos Replacing Land-Based Casinos for Good?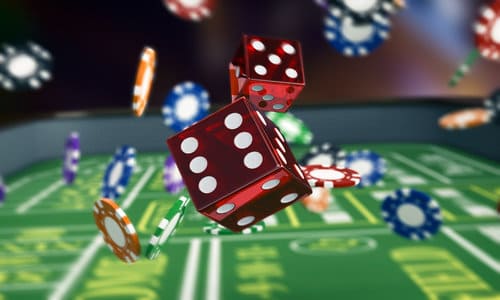 By
Share this article:
---
Gambling is a hobby that goes back to the Ancient world, and maybe even further back. Throughout history, men and women have been placing wagers on various outcomes, whether it be games of luck, skill, athleticism, or even just social events. And that practice remains incredibly popular to this day.
And though our love of gambling has not changed, the games we play certainly have. Moreover, the gambling venues have developed as well. From street games, to gambling dens, to the glamorous casino, we've certainly come a long way.
However, in the hustle and bustle of the Information Age, gambling has managed to keep up with a certain demand. Which is how we've come to online casinos. But, just what is an online casino, how does it work, and will these websites eventually replace land-based establishments? That's what we are going to find out in this article.
What are Online Casinos?
Online casinos are exactly what they sound like. Websites that harbor a huge library of games, from slots, to blackjack, roulette, baccarat, and, of course, poker. The most popular games on these websites tend to be slots. In order to replicate the randomness of the land-based machines, they incorporate random number generators, which ensure a fair and safe game.
Online casinos first appeared in the 1990s. To many, they viewed the iGaming industry as a sub-category of the greater casino industry. However, decades later, iGaming has become its own, fully-formed, multi-billion-dollar market. The growth has spurred many to ask the question: "Will online casinos supplant their land-based predecessors?"
Are Online Casinos Replacing Land-Based Establishments?
Online casinos continue to grow annually. Many are worried that online casinos will become their sole option for gambling. Well, we are here to assuage your fears. As of 2022, iGaming is still billions of dollars behind land-based gambling.
Cities like Las Vegas, Macau, Atlantic City, and Monaco are still generating a lot more revenue than any online casino could. So, at least for now, there is no need to fear that online casinos will supplant land-based gambling any time soon.
However, it is a distinct possibility that online casinos may just overcome land-based ones in the future. With developments in VR, AI, etc. the industry will only become more immersive and a lot more advanced.
Pretty soon, we might be able to put on a headset and be transported into a digitally-rendered world, where we interact with folks from all over the world through avatars. To some, the prospects of developing AI may sound horrific. Most of us, however, are waiting with baited breath for a better iGaming industry.
Why Some Prefer Online Casinos?
Since online casinos are on the rise, it is only fair to discuss why some may prefer iGaming. The most obvious reason is that they are a lot more convenient. Why travel to a casino, when you can get the same level of excitement in your own home?
Another reason behind iGaming's popularity has to do with bonuses and promotions. Online casinos tend to offer a lot of promotional bonuses, that help improve the players' odds. Some of the most popular ones include:
As the name suggests, you might earn this bonus just by signing up for a website and making your first deposit. Often times, casinos pay out welcome bonuses in the form of free spins, match deposits, or refund bonuses.
A lot of online casinos have VIP clubs. For a monthly fee, you can join the club, and the casino will reward you with monthly benefits.
Another popular kind of promotion is the loyalty bonus. As you might assume, a loyalty bonus gives out small awards annually, as a reward for the customers' loyalty towards the site.
Finally, the preference for online casinos has a lot to do with comfort. People like the idea of gambling while relaxing on the couch, wearing their pajamas. You don't need to dress up or look presentable. And if you get hungry, you can just order a pizza. It does sound fun, if you think about it.
Why Some Prefer Land-based Gambling
While online casinos are growing in popularity, there is no denying that most people still prefer land-based gambling. But, if iGaming is so convenient, then why would anyone prefer going to a casino? Well, the truth is, land-based casinos still have a lot of advantages over their online counterparts. Let's take a look at the most prominent benefits of land-based gambling.
To many, casinos are not a gambling venue. The establishment is more of a hangout, that comes with the added benefit of gambling. There is a reason that gambling has become a popular trope for bachelor parties. Because most people don't go to the casino by themselves. It is most often a group activity, done to get in touch with old friends, or strengthen bonds with new ones.
And while you can gamble with friends at online casinos, it just does not hit the same way. There is something about sitting at the same table, having a drink, and looking over at your buddy to see their face that online casinos can't recapture.
Many casinos offer free drinks. The reason is simple; inebriated people don't make the best decisions. However, if you know how to pace yourself when drinking and gambling, free drinks is a great addition to the gambling experience.
You could look at this as a subsection of the social aspect. However, meeting new, like-minded, friends is a good reason why some prefer land-based gambling over online casinos. The best part is that gambling has become a lot more popular among women. In other words, the diversity of people you can meet has grown. Who knows, someone could even find their soulmate in the casino. Strangers things have certainly happened.
Conclusion
Online casinos are in no way replacing land-based gambling. They are simply offering an alternative for people who prefer to stay at home, or simply don't have the time to visit a casino. Both industries come with their pros and cons, and enjoying one doesn't lessen the importance of the other.
---