Teacher's Day 2023 - Why It Is Celebrated And Ideas To Make It More Special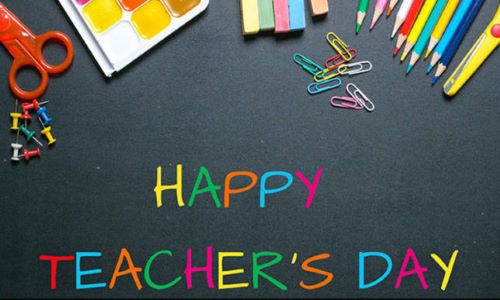 By
Share this article:
---
A teacher does not only mean an individual who is teaching you at school or college. Your teacher can be anyone by whom you are learning, getting knowledge, and inspiration. They are the ones who guide us not only by educating but also by teaching us life values and morals.
Teachers play a significant role in our lives because, with their wisdom and Knowledge, they help us build a promising careers and achieve success. Besides, by giving the right education, they help to build a civilised and standard society. Thus, if you want to learn why we celebrate the day and make it more special for your mentor on this Teacher's day, then without wasting any time, just go along with this article.
Why Teacher's Day Is Celebrated?
Every year in India, on 5th September, the birth anniversary of Dr. Sarvepalli Radhakrishna is celebrated Teacher's day. Dr. Radhakrishna was a revered scholar who was also a Bharat Ratna recipient and the first vice president of India. He had a master's degree in philosophy and made Indian philosophy recognised on a global scale.
Dr. Sarvepalli had an excellent academic career, and he used to teach at Chennai Presidency College and Calcutta University. Besides he was also the vice chancellor of Andhra Pradesh University from 1931 to 1936.
In 1962, Dr. Radhakrishna became the second president of India after Dr. Rajendra Prasad. Thus, during his tenure, his students and friends requested him to celebrate his birthday. However, with his humble and generous nature, he urged, " Instead of celebrating my birthday it would be an honour for me if 5th September is celebrated as Teacher's day." Since then, Teacher's day has been celebrated all over India on 5th September.
Ideas To Make Teacher's Day More Special
Teacher's day is celebrated with full joy and excitement in schools and colleges. The day marks the beautiful relationship between teachers and students. Moreover, it is the right time to appreciate your teachers for their contribution to your life. Hence, below are some ideas that will help you to make it more special for your teacher.
1] Plan Classroom Decor
Get some balloons and ribbons and decorate the class for your teacher. This can be a great idea to surprise your teacher and appreciate him or her. Moreover, use colorful chalk to write a quote for your teacher on the blackboard or to make a beautiful drawing that depicts the teacher-student relationship.
2] Get Flowers And Cake
Another way to make your teacher feel special can be by gifting him or her a lovely flower bouquet and a scrumptious cake. These can be overwhelming Teachers day gifts to make their day. The refreshing fragrances of flowers and the deliciousness of the cake will ensure that the day becomes fabulous for your teacher.
3] Stage Performances
With the help of your classmates, you can give stage performances to your teachers. You can think of dance, drama, music, and other performances. This will be a fabulous idea to make their day special and entertain them with your talents and skills. Besides, you can also ask your teachers to participate, giving them the opportunity to show their skills and talents.
4] Plan A Outing
If you want something out of the box to make Teacher's day special, then planning a class trip can be an awesome idea. You can plan a picnic, visit an amusement park, or do excursions with your teachers. It will give you a chance to create some exciting and cheerful memories with your teachers and make your bond firmer with them.
5] Organise Fun Games
You can make teacher's day remarkable for your mentors by organising some fun games for them. For example, musical chairs, passing the ball, bottle spins, and much more can be exciting games to play with your teachers. These games will be superb for having a gala moment with them and make their day unforgettable.
6] Giving A Treat
Giving a wholesome treat to your teachers can be another amazing idea for Teacher's day. You can ask all your classmates to prepare delicious treats for teachers and bring them on the day. Your teachers will really love such a heartfelt gesture from all of you. Besides, they will enjoy devouring different delicious delights and items that all students made for them.
Final Thoughts
It was the humble decision of Dr. Sarvepalli Radhakrishna, because of which we got the opportunity to thank our teachers every year. Without our teachers, we will not have proper guidance and lack the right education and knowledge. Besides, they not only help us in our studies but also give us life lessons and an understanding of right and wrong. Hence, their role in our lives is as significant as that of our parents, and we must appreciate, realise their importance, and give them the respect they deserve.

---