New Push To Celebrate Special LGBT Days All Year Long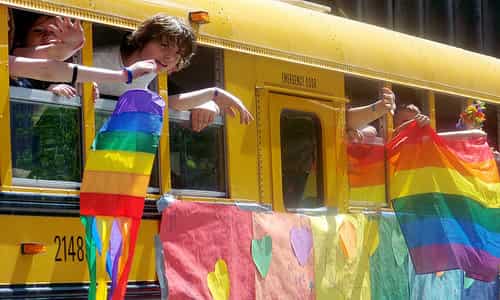 By PNW Staff
January 05, 2023
Share this article:
---
Celebrating gender ideology is a major part of most school systems and now the Gay, Lesbian, Straight Education Network (GLSEN) organization wants to make sure the 2023 school calendar year is promoting as many special days and holidays as possible.
This falls right in line with the recent Centers for Disease Control announcement urging teachers, administrators, school health staff, and others to become an "awesome ally" by advocating for LGBT causes in school.
Among the many days to celebrate is "International Transgender Day of Visibility," which is supposed to be celebrated on March 31st. It is followed by "Lesbian Visibility Day" which is supposed to take place on April 26th.
May is packed full of celebrations, with the "International Day Against Homophobia, Transphobia, and Biphobia" on May 17th. The month also features "Agender Pride Day" on May 19th and "Pansexual and Panromantic Awareness Day" on the 24th.
June has been labeled "Pride Month" while GLSEN encourages people to celebrate "Non-binary People's Day" on July 14th and "International Drag Day" on July 16th. No doubt Canadian Prime Minister Justin Trudeau will have a special message for students on that day after becoming the first world leader to participte in a drag show on National TV.
"Bisexual Awareness Week" runs from September 16th to the 23rd. The 23rd itself is supposedly "Celebrate Bisexuality Day."
October is to be celebrated as "LGBTQ History Month" as well as "National Coming Out Day" on October 11th and "International Pronouns Day" on October 21st. There is also "Asexual Awareness Week" from the 23rd to the 30th and "Intersex Awareness Day" on the 26th.
November is "Trans Awareness Month" and that the 6th is "Trans Parent Day." The 7th to the 11th is titled "Solidarity Week" and the 8th is "Intersex Day of Remembrance." Meanwhile, the 13th through the 19th is labeled "Transgender Awareness Week" and the 20th is supposedly "Transgender Day of Remembrance." GLSEN also claims that December 8th is "Pansexual and Panromantic Pride Day."
Is it any wonder that some areas such as Montgomery County, Maryland's largest school district, has seen an increase of 991% in Trans-Identifying Students over the last 2 years or that 22% of the US student population at large now identify as LGBT?
Expect these numbers to only grow unless parents fight back but many are coming to realize that homeschooling may be the only chance we have left to salvage the next generation.
---