Mockups Of Iranian Military Sites Bombed in US-Israel Military Exercise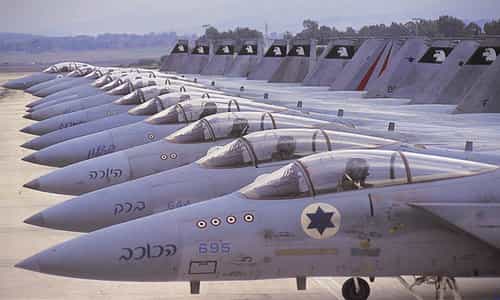 By Adam Eliyahu Berkowitz/Israel 365 News
January 26, 2023
Share this article:
---
Israel and the US are currently engaged in a massive joint military exercise which, according to recent reports, involve bombing targets set up in the Negev to simulate Iranian nuclear sites.
On Monday, the Israel Defense Forces (IDF) and U.S. Central Command (CENTCOM) launched Exercise Juniper Oak 2023.
A total of 1100 Israeli soldiers are participating in this exercise along with 6400 US soldiers. Apart from this, there are 142 aircraft including B-52 heavy bombers, F-35s, F-15s, F-16s, F/A-18s, AC-130 Hercules transports, and AH-64 Apache helicopters. Of these, 100 aircraft belong to the US armed forces.
The exercise includes drills to practice suppression of the enemy's air defense, air interdiction and strike coordination, and reconnaissance missions. The bombers will drop live ammunition in southern Israel.
The Times of Israel quoted a senior US defense official as saying that the purpose of 'Juniper Oak 2023' is to send a message to Iran that the ongoing war in Ukraine cannot distract the attention of the US from the Middle East.
On Tuesday, Channel 12 news reported that imitation Iranian nuclear sites in the Negev desert will be subjected to 100 tons of explosives. Channel 12 did not name the source of this information and a US official speaking to American media said there would be no mockups of Iranian targets during the drills. The US official stated that the exercises were not focused on a particular adversary but were meant to send a message to Iran and China.
Gen. Michael "Erik" Kurilla, the commander of US Central Command (CENTCOM), hinted at this when he told NBC News that "it would not surprise me if Iran sees the scale and the nature of these activities and understands what the two of us are capable of doing."
A US Navy carrier strike group and six Israeli ships are also part of this exercise. Israeli Navy missile boats and a submarine will maneuver in tandem with an American aircraft carrier. Artillery systems from both nations will take part.
The exercise will include dozens of rocket launches, during which long-range rockets will be launched from the American HIMARS.
According to US defense officials, this is the biggest exercise between the US and Israel so far. It is scheduled to conclude on Friday.
Israeli Prime Minister Benjamin Netanyahu has warned of a possible military confrontation with Iran, saying that Israel "won't wait until the sword is on our neck" and that "no Israeli leader would accept a radical Iranian regime with nuclear weapons". It is presumed by most intelligence agencies that Israel would attack Iran before it's able to obtain fully operational nuclear weapons.
A timeframe for such a scenario is unclear but the gap is closing quickly as any type of nuclear agreement remains at a standstill.
---