Say What? Church Calls Police To Stop Member From Opposing LGBT Promotion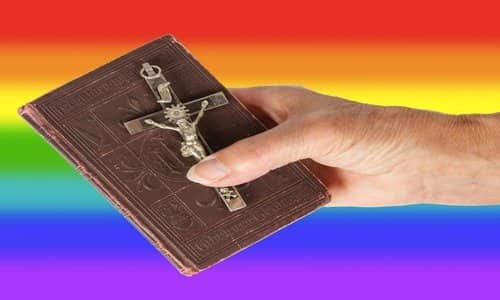 By Bob Unruh - WND News Center
February 03, 2023
Share this article:
---
A bishop in the Church of England has called police and reported a member to police.
Because the member holds biblical beliefs!
It is Decision Magazine that has documented the situation involving the attack, from the Anglican bishop of Coventry, England, on church member Sam Margrave.
Christian Concern explained that Margrave already has been the target of death threats from LGBT activists because he has argued on social media against Queer Theory, which targets Christianity and Judaism with the goal of "smashing heteronormativity," the belief that a normal relationship is between a man and a woman.
His offense that was a triggering event for the bishop was when he, as a lay member of the Church of England's governing general synod, proposed last year a debate on the issue the LGBT agenda.
The report explained, "His motion proposed that the synod, 'affirming that God loves all people, nevertheless considers that the 'Pride' rainbow flag, activity and events, and what it represents in terms of the ordering of lives and relationships is contrary to the word of God."
He cited a long list of biblical references in support, including 2nd Timothy 4:3, Genesis 5:2, Mark 10:6-9, Matthew 19:3-12, Leviticus 18:22, Romans 1:24-27, Genesis 2:24, 1 John 2:15-17, Romans 6, 1st Corinthians 4:6, Jeremiah 23:16-17, Luke 17:1-2, Matthew 18:6-9, Ezekiel 3:18-19, 2nd Timothy 3:1-4, 2nd Corinthians 5:17, 1st Corinthians 13:4, and 1st John 2:3-6.
Therefore, his motion suggested, "(a) call[s] on the House of Bishops to state that support for Pride (including use of the rainbow flag; and blessing, participation in, publicizing, resourcing and endorsement of Pride events or flags) is incompatible with the Christian faith, its agenda being contrary to scriptural teaching, Church doctrine and Canons of the Church of England ..."
The bishop, besides notifying police of Musgrave's dangerous biblical beliefs, told him, "The Diocesan Secretary has had no option, in view of a number of complaints received, to report your offending tweets to the West Midlands Police and is in continuing conversation with them. They have advised her that they have been able to speak to you but that you continue to deny you have done anything wrong."
Musgrave's response?
"I am shocked, appalled and deeply hurt that the bishop and diocese has resorted to reporting me to the police and has essentially thrown me under the bus. For standing against the sexualization of children and the secularization of the CofE, I have been repeatedly harassed and threatened. The impact on my well-being has been immense and the people in the Church who should be supporting me the most have closed ranks against me. ..."
Decision reported he explained his goals were to protect children and "give a voice to parents by standing against the sexualization and grooming of children."
Christian Concern said when Margrave was reported, police left threatening messages: "If we do not hear from you today, we will visit your house."
Margrave told Christian Concern, "It appears you simply cannot challenge or question Queer Theory and Pride events without serious consequences and even threats to your life. The CofE should be supporting me in raising this, not reporting me to the police. The CofE is supposed to be a prophetic voice on issues of morality, but instead they are aggressively siding with the world rather than Scripture."
Originally published at WND News Center - reposted with permission.
---