Microsoft 365 GCC High and Compliance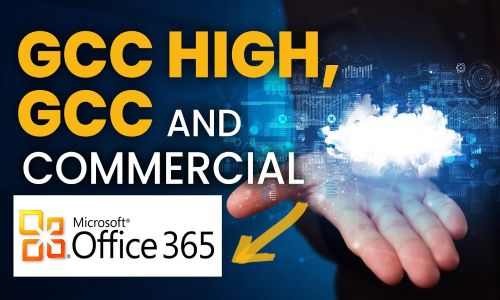 By
Share this article:
---
The modern world evolves at a terrifying pace, with new threats to cybersecurity appearing on a widespread basis. This is a significant problem for the world as a whole – and an even bigger problem for defense industries with higher demands regarding data sensitivity and information security. The demand for comprehensive collaboration platforms with sophisticated data protection measures is at an all-time high, expecting a combination of security, compliance, and data management in a single package.
This is where Microsoft 365 Government Community Cloud High (GCC High) comes into play, offering a robust solution tailored to these specific needs. Microsoft 365 GCC High is a crucial advancement in cloud computing, designed to cater to the unique needs of government agencies, contractors, and organizations dealing with controlled unclassified information (CUI). With its strong feature set and strict security measures, Microsoft 365 GCC High provides a secure collaborative environment that allows public sector entities to fully leverage cloud technology without compromising data protection or compliance.
Microsoft 365 comes in four different versions:
Microsoft 365 Commercial
Microsoft 365 Government Community Cloud (GCC)
Microsoft 365 GCC High
Microsoft 365 DoD
The most comprehensive option is the original Microsoft 365, known as "Commercial," which is widely used by enterprise customers. The other versions have fewer features to ensure they meet strict compliance and security standards required by government, defense, and the defense industrial base (DIB).
Microsoft 365 GCC High serves as a middle ground between the less restrictive GCC solution and the highly rigorous Microsoft 365 DoD solution. It's specifically designed for organizations in the Defense Industrial Base (DIB) that require a cloud service compliant with regulations like ITAR and EAR, mandating that all data stays within the U.S. borders and is supported by vetted U.S. personnel.
Microsoft 365 GCC High is built on Azure Government and adheres to multiple compliance frameworks such as FedRAMP High, NIST 800-171, CMMC L1-3, and CUI on behalf of the Government, along with DISA IL 5, among others. However, it does sacrifice some features available in GCC. For instance, Cloud App Security and Microsoft Defender ATP have reduced functionality in GCC High, and features like Compliance Manager and Calling Plans are unavailable.
The reasons for omitting certain features and apps from Microsoft 365 GCC High are as follows:
Certain security applications, by their very nature, may not be able to meet the requirements set by the Department of Defense, which is more common in this category than in other app groups.
Each application and feature must undergo testing in both GCC High and DoD clouds to ensure they meet the stringent security and compliance requirements.
Some applications in the package have dedicated staff who have undergone background screening, such as Department of Defense IT-2 before being allowed to support and develop those apps.
DoD contractors face various compliance requirements, which differ depending on whether they use M365 Commercial, Government, or DoD versions. For instance, all four versions of Microsoft 365 can meet CMMC 1 and FCI compliance requirements. However, for the more stringent CMMC 2.0 compliance or when handling Controlled Unclassified Information (CUI), Microsoft recommends using GCC High due to its superior security and compliance features.
The same could be said for specific NIST compliance frameworks such as 800-171 and 800-53. Both of these standards can technically be met using all four versions of Microsoft 365, but the usage of Microsoft 365 GCC High is usually recommended for better security and more strict compliance.
On the other hand, DFARS 7012 compliance can only be achieved using the GCC version or higher, although there was a time when GCC High was the sole option for meeting this requirement. Given ITAR's strict regulations on data and service location, Microsoft suggests that M365 GCC High is the minimum platform to ensure compliance.
However, it is not uncommon for specific frameworks to require additional software in order to meet strict security requirements of standards such as CMMC or NIST. For example, a Zero-Trust approach can be used to secure file access within Microsoft 365 applications to ensure secure collaboration with the usage of CUI and FCI while also maintaining complete Microsoft 365 CMMC compliance.
By implementing Attribute-Based Access Control (ABAC) policies, which are a part of the Zero Trust security model, you can enhance your control over sensitive data. ABAC policies evaluate various attributes related to both data and users, instead of relying solely on user roles, to determine access.
These policies assess attributes of files, like their security classification and permissions, along with user attributes such as security clearance, time of access, location, and device used. This comprehensive evaluation helps determine who can access, edit, save, download, print, and share files and when they can do so.
This approach provides government agencies and defense suppliers with precise, real-time control over data access and usage. It allows security adjustments in real-time based on specific conditions. If a user's actions seem suspicious or don't align with the established parameters, access can be denied, or limited access can be granted.
For instance, if an authenticated user tries to access a sensitive file outside of business hours, using a personal device in a different country, the system will deny access, effectively preventing a hacker who might have stolen credentials from gaining entry. These kinds of security measures allow for a much more secure approach to data without compromising the collaborative aspect of this field of work.

---