CIA Chief: Iran Could Produce Weapons-Grade Uranium Within Weeks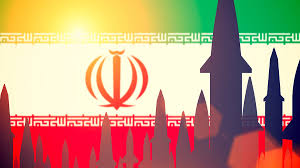 By JNS.org
February 27, 2023
Share this article:
---
Iran could enrich uranium to weapons-grade within weeks, but the United States does not believe Tehran has made the decision to do so, said CIA chief William Burns on Saturday.
Burns was speaking to CBS News' "Face the Nation" just days after U.S. nuclear watchdog inspectors detected uranium enriched to 84 percent in the Islamic Republic, just below the 90% mark considered to be "military grade."
"To the best of our knowledge, we don't believe that the supreme leader in Iran has yet made a decision to resume the weaponization program that we judged that they suspended, or stopped, at the end of 2003," said Burns in the interview, which airs in full on Sunday.
"But the other two legs of the stool, meaning enrichment programs, they've obviously advanced very far," he continued. "They've advanced very far to the point that it would only be a matter of weeks before they could enrich to 90% if they chose to cross that line, and also in terms of their missile systems, their ability to deliver a nuclear weapon once they develop it, has also been advancing as well," he said.
"We don't see evidence that they've made a decision to resume that weaponization program, but the other dimensions of this challenge, I think, are growing at a worrisome pace too," he added.
The International Atomic Energy Agency said on Monday it was in talks to clarify how Tehran had accumulated the material.
Earlier this month, the IAEA chastised Iran for modifying the connection between the two groups of advanced centrifuges at its Fordow plant. The change was discovered during an unannounced inspection on Jan. 21 at the Fordow Fuel Enrichment Plant (FFEP), a location built into a mountain where inspectors are beefing up checks after Tehran said it would drastically increase enrichment.
A diplomat cited by Reuters implied that the 84% enriched uranium was found at the same site as the reconfigured cascades, or clusters, of centrifuges.
Israeli Prime Minister Benjamin Netanyahu last week said that history has shown that in the absence of a credible military threat or actual military action, rogue nations cannot be stopped from becoming nuclear powers.
Netanyahu based his conclusion on the recent history of countries that pursued nuclear weapons.
"You had one, that's called Saddam Hussein's Iraq. It was stopped by military force--ours. You had a second one, that is called Syria, that tried to develop nuclear weapons. And it was stopped by a military action--ours. There was a third country, Muammar Gaddafi's Libya.
It wanted to pursue nuclear weapons and it gave it up due to the threat of a military action--yours [the United States]. There's a fourth country, North Korea, that sought to develop nuclear weapons, and it wasn't challenged. They weren't stopped, because there was no threat of military action. And so they developed this capacity," said the prime minister.
"Now we have Iran," he continued. "Iran seeks to develop nuclear weapons. It was actually stopped for a year ... in 2003, when they thought, right after the Gulf War, when they thought that you, America, would take action against them. So they stopped, then converted [their nuclear drive] into a secret program, disguised by various civilian so-called research organizations. But they continued," he said.
Albeit, he noted, with some delay due to sanctions and "various actions" taken by Israel.
And even the sanctions, he continued, "came about because the Americans were saying, 'This crazy guy in Jerusalem [Netanyahu] is going to bomb them unless we do something.' So that's how Iran came to the table ... and did a lousy 2015 nuclear agreement."
These examples show that the only things to have actually stopped rogue nations from developing nuclear weapons are a credible military threat, or actual military action, he said.
Israeli media reported last week that following a series of five secret meetings, Prime Minister Benjamin Netanyahu instructed the heads of Israel's security forces to significantly ramp up preparations for a strike on Iran's nuclear installations.
Originally published at
JNS.org
- reposted with permission.
---