Fighting Back: 30,000 Petitioners Defend Persecuted Christian Police Officer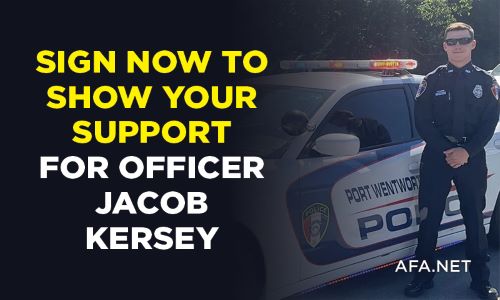 By Dan Hart/Washington Stand
March 09, 2023
Share this article:
---
In a massive show of public support for former Georgia police officer Jacob Kersey, over 30,000 petitions will be delivered to the mayor and city council of Port Wentworth on Friday, March 10, calling on the city officials to apologize for infringing on the First Amendment rights of Kersey. The 19-year-old was pulled from duty and pressured to resign his position in January over a Facebook post he wrote on his personal account upholding a biblical view of marriage.
Former Congressman Jody Hice, now senior advisor to Family Research Council President Tony Perkins, Bishop Garland Hunt of The Father's House, and former Atlanta Fire Chief Kelvin Cochran will join Georgia pastors in delivering the petitions in support of Kersey.
The saga began in early January when Kersey was called in by his superiors and told that he could lose his job unless he removed a post he wrote on his personal Facebook page, which stated, "God designed marriage. Marriage refers to Christ and the church. That's why there's no such thing as homosexual marriage." After Kersey refused, he was placed on administrative leave while a department investigation was conducted.
The police department later claimed that his post raised "concerns" regarding the "objectivity and the performance of your job duties when a member or suspected member of the LGBTQ+ community is involved." Nevertheless, the department found no evidence "to establish a violation of any policies." Following a subsequent meeting with his superiors, Kersey decided to resign his position "after he was told he could face termination for future social media posts that others find offensive."
After Kersey's story broke, Family Research Council began a petition for members of the public to sign in support of the former police officer's First Amendment rights. The petition has so far garnered close to 31,000 signatures.
"I'm just really humbled," Kersey told The Washington Stand. "The fact that God, in his divine plan, saw fit to use me as a vessel in this, to stand for religious liberty and to stand for biblical truth. The fact that over 30,000 Americans would take the time to sign and stand with me in both of those things is comforting, and I know there's many more Americans out there who would agree with all of us."
Kersey went on to describe how he saw God at work through his controversial experience with the Port Wentworth Police department.
"I think God has really used this situation to continue to sound the alarm on the attack on religious liberty," he observed. "Mine's not the only case. Obviously you have Coach Kennedy, you have the fire chief Kelvin Cochran, and others like Jack Phillips -- this is just another story to join those individuals. I think it's just God using it to sound the alarm to hopefully wake people up."
Kersey further expressed his view that his situation could present an opportunity for the church in America.
"It's a challenge for the church, pastors and spiritual leaders, especially here in Georgia, to consider what's important," he told TWS. "Is it important to stand for biblical truth and religious liberty or is it important for them to fill the pews? I think that's really where we're at right now here in the state of Georgia, and I think a lot of pastors, not just here but across the nation, are being challenged with that as well. What is important to them? I think I've seen God at work in both ways. He's encouraged his people, he's challenged his people, and I think he is empowering his people to be bold and stand for the truth in love."
As for his future plans, Kersey expressed openness to God's promptings.
"I'm trusting God for next steps, and that's something I'm still praying about," he explained. "The Lord can do above all we can ask, think, or imagine, so the answer I might give you now if the Lord opens doors and he works his plan, especially through this event where we deliver those petitions, there's no telling what the Lord's going to do through this. ... I'm trusting God to open the right doors and lead me down the right path. Right now, what's important is to share this story in order to encourage people."
When asked if he had any words of advice for those considering taking a public stand for their faith but are afraid of the backlash they might receive, Kersey emphasized a grounding in Scripture.
"I encourage everyone to check their motives," he underscored. "We need to know why we are doing what we're doing. I think the reason why any believer stands up for the word of God is because that is our map, that is our guide, that is the way that God has set for us to live -- to shine, and to be salt. So, we have to ensure that we are tethered to Christ first, since he is at the center of everything we do, before we do it. If we've done that ... we have no reason to fear."
Kersey continued, "So when Satan tries to bring whatever it is against us, to silence us, to make us cowards, to make us fear, we have to remember we're not trusting in our own ability, we're not trusting in our own wisdom and our own knowledge, we're trusting in what the word of the Lord says and his promises and his Holy Spirit. ... Don't cower, don't fear, don't hide your light under the bushel, but instead 'put it on the lampstand for all to see, that you may give glory to your Father in Heaven.'"
As a millennial, Kersey went on to address the growing epidemic among many in his generation who are struggling with mental health and personal identity issues.
"There definitely is an identity crisis," he remarked. "Especially for young people, I think it is vitally important that we remember that our identity is in Christ. For the early church, they really struggled with losing their identity ... but Paul clearly said, 'There's no slave or free, there's no Jew of Gentile, there's no barbarian or Scythian, but we are all one in Christ.'
For the church today, when you come to know Christ, there's no porn addict, there's no liar, there's no drunkard, there's no homosexual, there's no transgender, there's no American, there's no Chinese, there's no Russian -- we are all one in Christ. If we find our identity in the things of the world, then we are going to still be longing for something, because what we need is Christ. Christ fills that identity."
"So my encouragement to young people is: discover your identity in Christ," Kersey concluded. "And remind yourself of that day in and day out. Because Satan's going to continue to try to help you find your identity in other things, and we have to reject that. We have to find our identity in Christ, and we can begin to discover that when we read the word and allow the Holy Spirit to speak to us."
---