Growing Controversy As More After School Satan Clubs Spread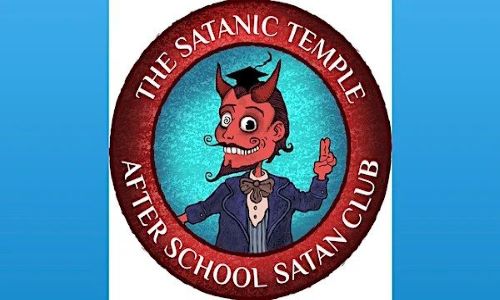 By PNW Staff
March 09, 2023
Share this article:
---
The Satanic Temple's After School Club at Paonia K-8 in Colorado held its first meeting on Monday after a parent requested the club for her son.
The club is the first of its kind in the state and was initially announced on Feb. 21 on TST's Twitter account, according to The74. The club's first meeting was held on Monday and was initially requested by a parent who complained that other students had allegedly told her child that he would "burn in hell" because his family was agnostic.
June Everett, TST campaign director for the After School Satan Club program and ordained minister of The Satanic Temple, told the Daily Caller News Foundation that the first meeting was a great success.
"We had 7 children in attendance, and you could hear the laughter from clear down the hall coming from the room," Everett said. "The school principal was welcoming and very professional, there were no protestors on site, and we all had a great time. We played games, did some coloring projects, and made bookmarks!"
In a flyer for the meeting on TST's Twitter account, it says that the club does not try to convert students to "any religious ideology."
However, TST has stated in the past that its clubs are designed to be a direct response to any religious after-school clubs, and Everett told the DCNF that a parent must request the club before they will approach a school.
"ASSC does not go to schools without a parent or guardian request, and ASSC does not go to schools that do not have another religious club operating after hours," Everett said.
Many religious groups have denounced the clubs, some arguing that Satanism is the "antithesis of religion" and called on parents to "wake up" to what is going on in their children's schools. While TST has said that it only wants to be on "equal footing" with religious groups, some religious advocacy organizations claim that interpretation "undermines the credibility of religion."
Kurt Clay, assistant superintendent of the Delta County School District, told the DCNF that the school only requires after-school groups to meet the requirements to use the school grounds "unless they do not meet the requirements of our policies."
"First, this is not a school-sponsored club in any form," Clay said. "TST uses the word club in their title but the school does not sponsor this as a school activity. By policy, the school's job is to stay neutral and treat all equally."
Everett told the DCNF that the reaction to the club has been "mixed as to be expected" despite receiving "tons of support."
The 2001 Supreme Court ruling Good News Club v. Milford Central School paved the way for After School Satan Clubs to exist in public schools. The High Court ruled that schools cannot discriminate against religious organizations offering a club on its facilities.
"Evangelical after school clubs have created the need for Satanic after school clubs to offer a contrasting balance to student's extracurricular activities," according to the Satanic Temple.
Several schools are currently fighting over to whether to allows Satanic clubs and the legal implications.
An after-school Satanists club in Pennsylvania is threatening legal action after local district leaders denied them the ability to convene on their school grounds.
The American Civil Liberties Union (ACLU), together with its Pennsylvania chapter, sent a letter to the Saucon Valley school district demanding that they allow the After School Satan Club, or ASSC, access to school facilities in accordance with the US constitution's first amendment right to practice religion freely.
The ACLU alleges that the Satanist club was initially approved to use district facilities, but that approval was rescinded after district officials received pushback from community members. The club's requested meeting dates were subsequently denied.
According to the Satanic Temple they are just getting started and have recently launched a club at Golden Hills Elementary School in Tehachapi, a city in Kern County about 115 miles north of Los Angeles. Some other active After School Club locations include; Moline, Illinois, Lebanon, Ohio, Wilmington, Ohio, Eaton, Ohio, Chesapeake, Virginia and Endwell, New York.
---