Widespread Civil Unrest Is Growing All Over The Globe - Just Wait Until Summer!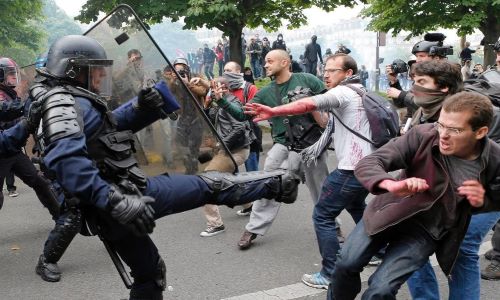 By Michael Snyder/Economic Collapse Blog
March 09, 2023
Share this article:
---
Angry citizens are taking to the streets all over the world, and often they are lashing out in wild and unpredictable ways. The eruptions of civil unrest that you will read about below are all happening for different reasons, but they all have one thing in common.
People are deeply frustrated with the direction that things are going, and they have lost faith in the ability of their elected representatives to solve their problems. Unfortunately, this is just the beginning.
For years I have been warning my readers that we will eventually see civil unrest on a scale that we have never seen before. Could it be possible that we are now entering the leading edge of that storm?
On Tuesday, the streets of Paris were turned into a war zone as French citizens expressed their displeasure with the pension reforms that French President Emmanuel Macron seems determined to implement...
Violence erupted on the streets of Paris today as thousands took to the streets across France to protest against pension reforms.
Riot police fought running battles with demonstrators in the capital city on a so-called Black Tuesday of industrial action across the country.
The worst trouble was close to the Port Royal metro station, where hundreds of riot police used tear gas and baton charges. As projectiles rained down on them, bins were set on fire and bus stops destroyed by so-called Black Bloc anarchists.
A lot of people out there believed that Emmanuel Macron would emerge as a great leader that would be capable of uniting all of Europe behind him.
That is obviously not going to happen.
A few days before the protests in Paris, farmers in Belgium literally rolled 2,700 tractors into the heart of the capital of the European Union...
Convoys of tractors brought traffic in Brussels to a standstill Friday, as thousands of Belgian farmers protested the Flemish regional government's plans to limit nitrogen emissions from agriculture.
Some 2,700 tractors rolled into Brussels from the Flanders region, according to police estimates, filling the streets with a cacophony of honks as farmers vented their anger over the planned cuts, which they say threaten to put many of them out of business.
I fully support what those farmers are trying to do.
What the EU is doing to farmers is literally insane, and I can definitely understand why they are so upset.
Elsewhere in Europe, demonstrations against NATO involvement in the war in Ukraine are getting larger and larger...
Thousands of demonstrators gathered in Brussels and Paris to show support for Ukraine on Saturday, while a demonstration against supplying Ukraine with weapons attracted 10,000 people in Berlin and London
Down in South Africa, an unprecedented energy crisis literally has the entire nation on the verge of "collapse"...
South Africa is on the verge of "collapse" amid rolling blackouts and warnings a total power grid failure could lead to mass rioting on the scale of a "civil war".
Western embassies including the United States and Australia have advised their citizens in the country to stock up on "several days worth" of food and water and be on high alert during extended blackouts sweeping the country.
Sadly, what I have shared so far is just the tip of the iceberg. Economic conditions continue to deteriorate all over the globe, and we are being warned that a lot more civil unrest is on the way...
Growing social inequality and the cost-of-living, foundering faith in governments and institutions and increasingly polarized politics, together with a rise in activism and environmental concerns, are the main factors expected to fuel ongoing incidences of unrests, strikes, riots and civil commotion (SRCC) around the world, according to a new report from insurer Allianz Global Corporate & Specialty (AGCS).
According to Verisk Maplecroft, a UK-based risk consulting and intelligence firm, 101 of the 198 countries tracked on its Civil Unrest Index saw an increase in their risk of civil unrest between the second and third quarters of this year.
The report said that nations such as Peru, Kenya, Ecuador, and Iran have seen discontent emerge on their streets because of rising costs. According to Verisk's index, Sri Lanka saw the most significant decrease in government stability.
Some of the nations most at risk of civil unrest are middle-income countries, which had the funds to offer social protection during the COVID-19 pandemic but are now struggling to maintain spending vital to their populations, the researchers wrote.
Richer countries in the European Union face the same risks, with dissatisfaction likely to rise in Switzerland, the Netherlands, Germany, and Bosnia and Herzegovina due to fallout from the war in Ukraine.
"Russia's invasion of Ukraine is supercharging food and fuel prices and stoking a cost-of-living crisis across the globe," the firm wrote. "However, the worst effects are yet to kick in."
"The next six months are likely to be even more disruptive," the report's summary said.
Here in the United States, a "frenzied 150-strong mob" of Antifa radicals viciously attacked a police facility in the Atlanta area on Sunday...
A frenzied 150-strong mob of Antifa 'terrorists' descend on Atlanta's 'Cop City' construction site before hurling Molotov cocktails and destroying machinery in newly-released aerial footage of Sunday's riots.
The group, filmed by a police chopper's heat-sensitive cameras, march through scrub and woodland around the Atlanta Public Safety Training Center before unleashing havoc and setting fire to a power line.
Police officers protecting the site are forced to stand off as the mask-clad attackers overrun the site, which has been a hotbed for Antifa violence since last spring, and target machinery. The officers are then pelted with rocks and fireworks by the thugs, many of whom travelled from outside of Georgie to take part in the violence.
Meanwhile, crime continues to spiral out of control in major cities all over the nation.
In New York City, the police are actually asking businesses to require customers to take off their masks before entering because masked thieves have become such a problem...
The New York Police Department is advising businesses to ask patrons to take off their masks before entry in light of the high number of thefts and robberies across the city.
Removing masks should be made a "condition of entry," NYPD Chief of Department Jeffrey Maddrey said at a press conference last week, noting that criminals have been taking advantage of masks to avoid detection on surveillance cameras.
"People are coming up to our businesses, sometimes with masks, sometimes masks, hoods and latex gloves, and they're being buzzed in, they're being allowed to enter into the store and then we have a robbery or some kind of property being stolen," Maddrey said.
Isn't that ironic?
For such a long time, authorities in New York were so determined to get everyone to put masks on.
But now they are desperate to get everyone to remove the masks because crime has gotten so bad.
This is the world that we live in now.
The thin veneer of civilization that we all take for granted on a daily basis is rapidly disappearing, and chaos in the streets will be a normal part of life from this point forward.
---