Surprise! - Study Shows US Aid To Palestinians Increases Terrorism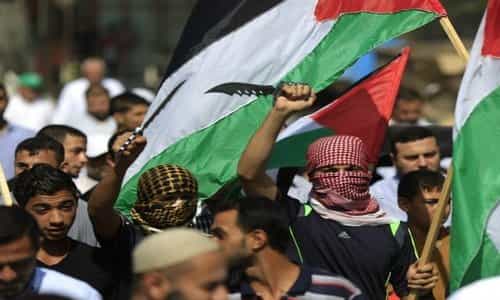 By Ariel Kahana/JNS.org
March 17, 2023
Share this article:
---
An Israeli nonprofit that studies Palestinian society has found a troubling possible linkage between U.S. aid to the Palestinian Authority and the scope of terrorist attacks against Israelis.
Palestinian Media Watch released a study this week that analyzed statistics taken from periodic reports published by the U.S. Congressional Research Service, from 2011 (the year the nonprofit exposed the P.A.'s terror-rewarding pay-for-slay policy) through 2022.
It found that when aid to the P.A. dropped, such as during the Trump administration, attacks against Israelis also decreased. However, when such aid was high, such as during the Obama and Biden administrations, more Israelis were killed.
There are three sources of U.S. aid to the P.A.: the Economic Support Fund, the Bureau of International Narcotics Control and Law Enforcement Affairs, and U.S. aid to the United Nations Relief and Works Agency for Palestine Refugees in the Near East (UNRWA).
Between 2009 and 2017, the Obama administration provided the P.A. with $6.4 billion in aid. In that time, 140 Israelis and foreigners residing in Israel were killed in terrorist attacks, an average of 17.5 a year.
Over the next four years, the Trump administration gradually decreased aid to the Palestinians to as little as $670 million. Within that time period, 42 Israelis and foreigners were killed in Palestinian terrorist attacks, an average of 10.5 people a year.
Since the Biden administration took office in January 2021, the P.A. has received a billion dollars in aid. In that time, 46 Israelis and foreigners have been killed, an average of 23 a year. In January and February this year, when U.S. aid to the P.A. continued unabated, 14 Israelis and foreigners were killed in Palestinian terrorist attacks.
Maurice Hirsch, head of Legal Strategies at Palestinian Media Watch, said, "The correlation is also annual. In a year when extensive economic aid to the Palestinians flows, the number of attacks increases, and vice versa. The Palestinians interpret American support, as far as it is expressed in financial aid, as approval for terrorism and the murder of Israelis. In fact the more blood on their hands, the more they are rewarded.
"U.S. support is ostensibly dedicated to promoting peace, but in practice, the Palestinians see its support as an opportunity to promote terrorism. While U.S. aid to the Palestinians flows freely, Palestinian terrorists feel empowered and kill Israelis. Only when the U.S. demonstrates moral clarity and stops the aid, the Palestinians will understand that terrorism does not pay," he said.
The study findings follow on the heels of a news report that a luxurious neighborhood for Palestinian terrorists is being built on a mountain in Samaria.
The residential neighborhood will feature 100 detached homes ("villas" in local parlance) exclusively for Palestinians who served at least five years in Israeli prisons for terrorism-related offenses.
Originally published at
JNS.org
- reposted with permission.
---