Sharks Goalie Reimer Continues The Sea Change In NHL Pride Debate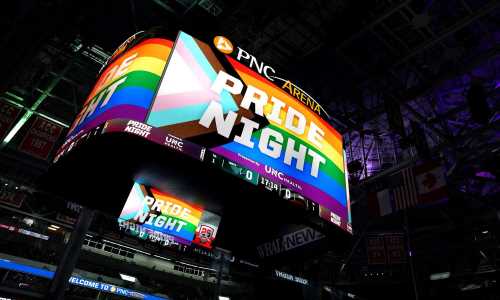 By Suzanne Bowdey/Washington Stand
March 23, 2023
Share this article:
---
Turns out, the rainbow-colored sushi wasn't the biggest buzz at San Jose's "shark tank" Saturday night. Unfortunately for the NHL, neither was the team's Pride Night. What was supposed to be a return to the league's woke normal managed to prove that -- at least for some players -- there's no going back.
When the Sharks decided to snap the string of teams who were opting out of rainbow-themed gear for players, Commissioner Gary Bettman had to be secretly rejoicing. The news that San Jose would buck the rebellious trend must have come as a relief to league officials, who've had to deal with a fair share of outrage from the LGBT community. With the decisions of the New York Rangers, New York Islanders, and Minnesota Wild, the NHL has had more PR messes to clean up than Madison Square Garden's custodians.
But Bettman's celebration turned out to be premature, thanks to a gutsy goaltender named James Reimer. The 6'3" net-minder was every bit the cultural giant Saturday when he declined to wear the Sharks' Pride gear that night. In a heartfelt statement released by San Jose, Reimer explained:
"Under the umbrella of the NHL's Hockey Is For Everyone initiative, the San Jose Sharks have chosen to wear jerseys in support of the LGBTQIA+ community tonight. For all 13 years of my career, I have been a Christian -- not just in title, but in how I choose to live my life daily. I have a personal faith in Jesus Christ who died on the cross for my sins and, in response, asks me to love everyone and follow him. I have no hate in my heart for anyone, and I have always strived to treat everyone that I encounter with respect and kindness.
"In this specific instance, I am choosing not to endorse something that is counter to my personal convictions which are based in the Bible, the highest authority in my life.
"I strongly believe that every person has value and worth, and the LGBTQIA+ community, like all others, should be welcomed in all aspects of the game of hockey."
While three teams scrapped their Pride uniforms before this, Reimer was only the second player to take an individual stand in public. The Philadelphia Flyers' Ivan Provorov was the first, citing his faith as a reason he would sit out a pre-game skate in January. His jerseys sold out forty-eight hours later.
In some ways, Provorov's decision was the hardest. Being the first to blaze that trail, to reject the cultural mob, exacts a unique price. But in Reimer's case, the media seems to be taking it very personally that a North American would rebuff the Left's orthodoxy. Local reporters scorched him for being Canadian, a place where LGBT advocacy is apparently as plentiful as maple syrup.
Ascribing motives to Provorov and other teams that have no basis in fact, SF Gate's Gabe Lehman claimed, "Other NHL teams have had to cancel similar Pride-themed jersey plans after players refused to wear them. However, those cancellations were partially believed to be caused by Russian players fearing for their safety in their autocratic home nation, where homophobia is official state law." But, he complained, "Reimer isn't Russian. He's from Canada, a country that legalized same-sex marriage years before the United States."
Provorov was abundantly clear two months ago that his decision was rooted in religion, not Russian repression. As for the other three teams' players, they have the luxury of anonymity since their head offices did the right thing and stood together -- refusing to single any skaters out.
That doesn't matter to the insatiable Left, who ripped Reimer from every direction. The ever-inclusive You Can Play Project responded that faith is never a good reason to reject the status quo. "Religion and respect are not in conflict with each other," it insisted, "and we are certainly disappointed when religion is used as a reason not to support our community. Wearing pride jersey, like any celebration jersey worn, is not about the personal feelings of an athlete -- rather the communication from the team that a community is welcome in the arena..."
But professional athletes shouldn't have to wear a polyester sandwich board for a political message they disagree with to accomplish that. Frankly, the NHL is already tripping over itself to pledge allegiance to the rainbow flag, so if anyone feels unwelcome at these games or in this sport, it's the non-conformists, the Christians, and conservatives.
Would these same activists be willing to drape skaters in a Christian flag against their will? Maybe force them to show up at an altar call after? Of course not, because they are the ones defining what "respect" is. And respect, to them, is nothing less than full acceptance.
Family Research Council's Joseph Backholm blasted the incredible double standards at work. "It's unreasonable to say that respect requires a willingness to promote someone else's beliefs. This is no different than asking players to wear Trump hats on MAGA Night or skate with an AK-47 for Second Amendment Night. The disrespect is in the request -- not the decision to decline."
In a press gaggle Saturday, Reimer tried to expand on his rationale, rereading his statement and inviting the media to ask questions. "I feel like I've treated you guys with respect and dignity," he told the group of reporters. "And that's kind of how I treat everyone. ... But the other side is that I just can't, you know, publicly or and personally endorse something that goes against, you know, my beliefs. ... Again, if I had a gay teammate, I hope I would be the first one to shake his hand when he comes in and treat him like I would any other teammate."
Reimer went on for a full 17 minutes, reiterating at one point, "This wasn't an easy decision for me. You know, I'm not scared to stand up for my faith in Christ, but I wrestle with it because I know the initial reaction of putting out a statement like this ... can come across offensive or a slap in the face and obviously ... that's not something that I intend. I mean, I'm by no means perfect in any way, but I want to show that I truly do love and care [but] I just can't publicly and personally endorse it. ... My faith in Christ is who I am. ... And at the end of the day, you can't worry too much about what other people think of you."
One writer asked if Reimer was worried about his decision affecting his livelihood, considering that he's a free agent at the end of the season. "I think I'd be lying if I said that it didn't," he answered truthfully. "I'm sure there are people in management or ownership that ... won't look favorably on this. And I get that, and I understand that and respect everyone's right to think and believe whatever they want about me. But at the same time, I hope that there's another handful of people in management and ownership that ... respect me for standing up for what I believe in."
No matter what those managers decide or how this affects James's career, one thing's for sure: the impact of his courage on the league, its fans, and other athletes will outlast any trophy or save percentage. For once, the millions of people who've sat in the stands and endured this cultural onslaught have a voice -- and, thanks to Provorov, another hero.
---