Ezekiel's Bones Live - Nearly Half Of The World's Jews Live In Israel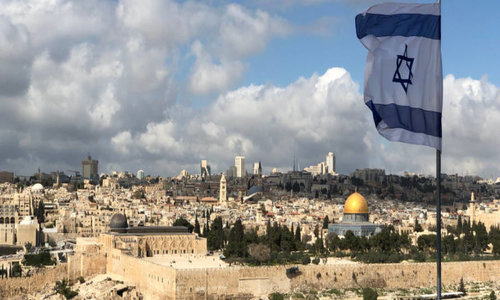 By JNS.org
April 18, 2023
Share this article:
---
At the start of 2022, there were a total of 15.3 million Jews in the world, 7 million of whom, roughly 46% of all Jews worldwide, resided in Israel, Israel's Central Bureau of Statistics revealed on Sunday.
In 1939, on the eve of World War II, Jews numbered 16.6 million, and 449,000 (3%) resided in the Land of Israel. Just under 10 years later, in 1948, the world's Jewish population had diminished to 11.5 million; of them, 650,000 (6%) lived in Israel.
Among Diaspora Jews, about 6 million live in the United States, 442,000 in France, 392,000 in Canada, 292,000 in Britain, 173,000 in Argentina, 145,000 in Russia, 118,000 in Germany and another 118,000 in Australia, according to the report.
Ahead of Holocaust Remembrance Day, which begins on the evening of April 17, the CBS also revealed that 147,199 Holocaust survivors or victims of antisemitic actions during the Holocaust are currently living in Israel.
Of those survivors, 61% are women and 39% are men.
A small number, 4.5%, immigrated to Israel before the establishment of the state, between 1933 to 1947; 31.7% immigrated during the large aliyah wave following the state's establishment (1948 to 1951); 29.7% immigrated between 1952 and 1989 and 34.1% came since the 1990s, during the wave of aliyah from the former Soviet Union.
In a 2021 survey, 87% of Israel's survivors said they were either "satisfied" or "very satisfied" with their lives, similar to the 88% of Jews and others above the age of 75. However, 17.3% of Holocaust survivors said they felt lonely often, compared to 12.6% of Jews and others 75 and older.
Some 70,000 people from 95 different countries immigrated to Israel in 2022 with the assistance of the Jewish Agency for Israel, in cooperation with the Ministry of Aliyah and Integration.
It was the most olim in 23 years and a dramatic increase from 2021, when about 28,600 immigrants arrived in the country.
Jewish Agency data for the period between Jan. 1 and Dec. 1, 2022, shows that 37,364 olim arrived from Russia; 14,680 from Ukraine; 3,500 from North America, with assistance from Nefesh B'Nefesh; 2,049 from France; 1,993 from Belarus; 1,498 from Ethiopia as part of Operation Tzur Israel; 985 from Argentina; 526 from Great Britain; 426 from South Africa; and 356 from Brazil.
Approximately 27% (about 19,000) of this year's olim are young people between the ages of 18 and 35, who will boost Israeli society and the economy, including professionals in fields where there is a labor shortage in Israel such as medicine, engineering and education. Around 24% (16,500) of the olim are ages 0-17; 22% are between 36 and 50 years old; 14% are aged 51-64; and 13% are 65 and over.
"It was a dramatic year that emphasized the value of mutual responsibility among the Jewish people and during which the Jewish Agency helped strengthen the resilience of Jewish communities, empowered weaker populations in Israel, brought tens of thousands of olim, saved lives from all over Ukraine and brought them to a safe harbor in Israel," said Jewish Agency Chairman Maj. Gen. (res.) Doron Almog.
"Aliyah is of existential importance to the State of Israel, both at the practical and moral level. It expresses the nature of Israel as the state of the entire Jewish people and the strategic partnership between Israel and world Jewry. The tens of thousands of olim who came to Israel this year will help build the resilience of Israeli society and will be a major growth engine for the Israeli economy," he added.
It is predicted that by the year 2048, the 100th anniversary of the State of Israel, two thirds of the world's Jewish population, about 12 million, will live in Israel.
Originally published at
JNS.org
- reposted with permission.
---