The West Has Abandoned Iraqi And Syrian Christian Refugees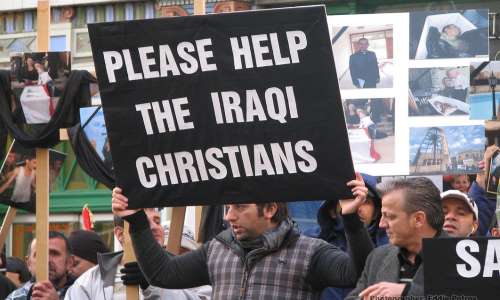 By Uzay Bulut/Gatestone Institute
April 22, 2023
Share this article:
---
The Christians of Iraq and Syria have for decades suffered from persecution and instability caused by oppression by the Ba'ath regimes, the 2003 US-led invasion of Iraq, the outbreak of Sunni-Shiite fighting in 2006, al-Qaeda terrorism, the 2014 genocide by ISIS, ongoing Turkish airstrikes on Iraq and Syria, and in many cases, pressures and harassment at the hands of their Muslim neighbors. All this persecution has forced many of them to leave their home countries and seek asylum elsewhere.
According to a report by Open Doors:
"Iraq is home to a number of traditional Orthodox and Catholic churches, but all are seriously affected by intolerance, discrimination and persecution from local leaders, government authorities and Islamic extremist groups....In the Nineveh Plains region, church leaders have been kidnapped in the past; those speaking out against local militias or political leaders are particularly at risk."
Since the 2003 US-led invasion of Iraq, the country's Christian community has dwindled from around 1.5 million to fewer than 200,000. The persecution of Christians peaked with the takeover of large areas of Iraq by ISIS in 2014.
After ISIS captured the Iraqi city of Mosul in June of 2014, Christians were given the option to either convert to Islam, pay taxes (jizya), leave, or be killed. ISIS marked Christian homes with the Arabic letter "N," for Nasrani, or Christian. Two months later, in August 2014, ISIS took control of Christian towns in the Nineveh Plains, resulting in a second wave of mass displacement, according to a report by the University of Minnesota.
In Syria, Christians also continue to face severe persecution. Open Doors reports:
"Christians in Syria still grapple with daily persecution that may become violent, despite the public threat from so-called Islamic State having largely subsided.... Sharing the gospel is very risky, and church buildings have often been completely destroyed. The abduction of church leaders continues to have a considerably negative impact on Christian communities.
"The number of Christians in the country continues to decrease, as many have fled conflict and persecution.
"All Syrians and Iraqis have experienced hardship in the past decade, but Christians have faced more than most. In many regions, they were targeted by Islamic militants - losing their jobs, their homes and even their lives. Many had to flee, displaced either within Syria or abroad."
Many persecuted Christians from Iraq and Syria, since they were forced to leave their home countries, are still looking for a new homeland.
At present, approximately 5,000-6,000 Iraqi and Syrian Christian asylum seekers live in Turkey, waiting to be resettled in the West. Many arrived in Turkey during the 2014 genocide by ISIS. They are currently living in 35 cities in Turkey, as the government has spread them across the country.
The Iraqi Christian Relief Council (ICRC) went to Turkey in late February to interview Christian families from Iraq and Syria on camera for an upcoming documentary on the refugee crisis. The author spoke with ICRC and its founding president, Juliana Taimoorazy.
Forgotten, abandoned people
Iraqi and Syrian Christian asylum seekers, stuck in Turkey for years, suffer from countless problems such as their children's lack of education, severe poverty, lack of religious liberty, lack of work permits, restricted freedom of movement, hostility of some Muslims against their faith and rejections of their asylum applications by Western governments.
A major problem they face is their children's inability to receive an education in Turkey. Middle East Christians deeply value education, but when their children try to go to school in some of the smaller Turkish towns, many are bullied for being Christian and for not speaking Turkish. Some of them go to makeshift schools that are not accredited in Turkey. Most, therefore, do not go to school at all.
In Iraq and Syria, the Christians who fled were mainly professionals, such as teachers, doctors, engineers, lawyers and business owners. In Turkey, however, they are just asylum seekers with minimal rights and - important in the Middle East - they feel it is "a loss of dignity". Although many are educated and capable, they cannot get work permits, so they cannot legally work. They, therefore, cannot provide for their families and struggle from extreme poverty.
Some resort to begging in the streets or borrowing money from families or neighbors - then end up in debt. In some instances, their relatives try to help, but most, even in the West, are refugees themselves and can only offer minimal help, if that.
The neighborhoods are bad, the homes are damp and infested with cockroaches. They cannot afford heat. Sometimes two families live together in one apartment with no privacy.
Many are ill, but many do not have access to healthcare.
They cannot travel freely: even to go from one town to another, they must first get permission (an official document) from state authorities.
Single mothers
Single mothers try to be both the mother and the father. Their husbands have either died or left their families because they were unable to handle the terrible situations that their families were going through. Unfortunately, there have been some cases reported of women not having a choice but to sell their bodies to provide for their families - but they say that goes against their faith, their morals, and everything they were raised to defend.
Hostility to Christians
In some towns, the asylum seekers are not able to socialize with locals: they are discriminated against for being Iraqi or Syrian and Christian. In smaller towns, because of the hostile environment against Christians, parents fear sending their daughters alone outside even to go shopping.
As most live in small towns, they are afraid of saying they are Christian. They hide their faith for fear of persecution and avoid open worship.
When asylum seekers live in the same neighborhood with Muslim refugees or migrants from Afghanistan, Iraq and Syria, they fear them as well. In bigger cities, their lives are a bit better: people are somewhat kinder and friendlier towards Christians and foreigners.
Turkey's responsibility towards Christian asylum seekers and refugees
The "EU-Turkey deal," signed in March 2016, refers to the "statement of cooperation" between EU states and the Turkish government. According to it, Turkey would receive €6 billion to improve the humanitarian situation faced by refugees there. In December of 2020, the European Union paid the final installment of a €6 billion fund to Turkey to host refugees.
According to a 2021 report by the Migration Policy Institute, however:
"The European Union agreed to provide 6 billion euros in humanitarian assistance, education, health care, municipal infrastructure, and socioeconomic support for Syrian refugees in Turkey between 2016 and 2019. Although the European Union says the full amount has been allocated and more than 4 billion euros have been disbursed, the Turkish government has taken issue with the pace and manner of the payments, which have gone to refugee-serving organizations rather than government accounts. In 2020, the European Union committed to providing an additional 485 million euros to see some programs continue through 2021."
So, what has happened to the 6 billion euros given by the EU to Turkey so that Turkey would help refugees more? If such a huge amount of money has been granted to Turkey to provide more for refugees, why are so many refugees and asylum seekers still suffering under horrible conditions in the country? And who are these organizations referred to as "refugee-serving"? Have they taken the money, embezzled it, spent it, and it wasn't enough? The international community, including the EU, urgently needs more transparency regarding how the money has been spent and how many refugees and asylum seekers have benefited from it.
Since 2018, the government of Turkey has been in charge of refugee work. The Turkish government authorities are thus responsible for the wellbeing of those asylum seekers.
In 2018, the U.N. refugee agency handed over the management of registration procedures for refugees in Turkey to the country's migration authority.
Turkey's Directorate General of Migration Management itself now oversees the registration of refugees and determines their status. Any foreigner seeking international protection in Turkey first has to apply to the local offices of the Turkish migration authority.
Hence, the government officials of Turkey could help asylum seekers and refugees more. They could provide them with healthcare including medicines and mental health therapy. And they could lodge Christian asylum seekers in cities and towns that are more tolerant towards Christians and other non-Muslims.
Asylum applications rejected by the West
Even though Syrian and Iraqi Christian asylum seekers in Turkey face harassment, poverty and discrimination, the asylum applications of many Iraqi and Syrian Christians are rejected by Australia, Canada, the US and other Western countries. Why? The Iraqi Christian Relief Council is launching an effort to discover the reason.
Around 22,000 Iraqi and Syrian Christian asylum seekers currently live in Lebanon Jordan, and Turkey. They have been exposed to genocide, terrorism, war crimes and crimes against humanity in their home countries. Where are the Western governments?
Why not issue non-refugee visas? Especially as, according to figures reportedly released by the Biden Administration, 5.5 million illegal migrants have crossed the Mexican border into the US as well as "more than 414 million lethal doses" of fentanyl just in 2022.
Currently, asylum seekers need humanitarian visas to be resettled in the West. But many Christian asylum seekers are educated or have skills, so they would be qualified to receive work permits to reside in Western countries. They hope to safely migrate for work, using their skills to provide for their families and live dignified lives.
Western governments and international human rights organizations could cooperate with and form partnerships with other organizations such as the Iraqi Christian Relief Council to help asylum seekers and refugees urgently and effectively.
Rt. Rev. Bashar Warda, the Archbishop of Irbil, the capital of Kurdistan Regional Government of Iraq, said in London in 2019:
"Christianity in Iraq, one of the oldest Churches, if not the oldest Church in the world, is perilously close to extinction. Those of us who remain must be ready to face martyrdom."
Referring to ISIS jihadists that displaced Christians from their historic homelands in Iraq, the archbishop said:
"Our tormentors confiscated our present while seeking to wipe out our history and destroy our future. In Iraq there is no redress for those who have lost properties, homes and businesses. Tens of thousands of Christians have nothing to show for their life's work, for generations of work, in places where their families have lived, maybe, for thousands of years."
The archbishop criticized Britain's Christian leaders of failing to do enough in defense of the vanishing Christian community in Iraq.
Nearly four years after the archbishop's plea, nothing has changed. Where are the UN, international women's organizations, the International Rescue Committee and children's rights organizations? These asylum seekers are facing extinction in their homelands, suffering in places such as Turkey, Lebanon and Jordan, and hoping someday to find safety in the West.
---