Blasphemous Easter Production Ignites Debate Over Artistic License In Church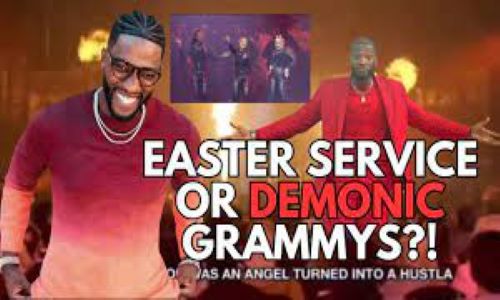 By PNW Staff
April 22, 2023
Share this article:
---
It's not the first time Pastor Mike Todd's mega church in Tulsa Oklahoma has come under fire for controversial actions but his Transformation Church service for Easter earlier this month has reignited the debate about how far creativity and art can go in the church without crossing a line that should not be crossed.
The musical performance of the resurrection of Jesus called "Ransom" was put on by the church for Easter services April 8 & 9th. Todd claims the artistic performance was to show how 'God's love conquered sin, death and the grave' and points to 500 people who gave their lives to Christ after the services as justification for it's questionable presentation which according to Todd go "right to the edge" and do everything "short of sin" in order to reach people. This type of worldview thinking appears to be working as they have a following of almost 2 million YouTube subscribers.
However, those who have seen clips of the performance online have other words to describe it, including demonic, irreverent, and blasphemous.
Todd has previously come under scrutiny for crowd surfing during his church's worship service and spending a lot of money. In the last two years, he's given away $3,500,000 in houses, cash, and cars, spent $65,000 to buy 168 pairs of shoes, gave $600,000 in "reparations," and purchased $66,000,000 in real estate. He cuddled a mannequin in bed onstage while preaching about relationships and his church recently hired disgraced former Hillsong Pastor Carl Lentz who has yet to come clean on all the details regarding his extra marital affairs while pastoring such stars as Justin Beiber.
He's also known for giving the world perhaps the grossest modern illustration in church after he snorted and then hocked a loogie full of spit and snot into his hand and rubbed it in another man's face.
The Ransom Easter Service which ran for over 2hrs and featured dozens of dancers in tight outfits, a light show, pyrotechnics, flames, demon characters, dry ice, suggestive secular music and a female representing Jesus Christ on the cross.. The production used songs from pop stars such as Ke$ha, Beyoncé, and Justin Timberlake--sometimes with lyric changes.
In one skit, performers talked about the size of their rear ends. During another part of the show, a singer wore trendy and very expensive red boots and rapped, "I been getting to the money. Everybody mad."
Large churches creating professional shows with a Biblical message is something that is to be proud of, but from what we can see in the video clips below, this one is different. Professional is one thing, but when the church morphs into the world and there is no difference, we have crossed a line that we must never cross. A quote from Charles Spurgeon would seem to be prophetic in light of this performance:
"A time will come when instead of shepherds feeding the sheep, the church will have clowns entertaining the goats!"
There are many clips circulating of the performance with commentary. Here are some of the better ones (this is not an endorsement of these YouTube channels but they handled the topic manner well):
---