From SatanCon To After School Satanic Clubs - Evil Is Being Celebrated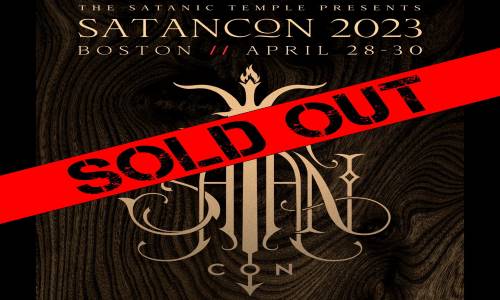 By PNW Staff
May 03, 2023
Share this article:
---
The largest Satanic gathering in history may be over but efforts by Satanic organizations to reach new followers across the country is picking up steam.
SatanCon, a sold-out three-day event in Boston was held last weekend to celebrate the 10 year anniversary of the Satanic Temple and was replete with numerous guest speakers and lectures, many of which were dedicated to far-left identity politics.
Satanists cheered as two leaders opened SatanCon 2023 with a formal ceremony renouncing "symbols of oppression" by ripping up a Bible and a "Thin Blue Line" flag representing police.
"We stand here today in defiance of their siege and destroy their symbols of oppression," a female leader told the crowd before ripping pages out of the Bible and throwing them on the floor, video showed.
A male leader joined her in then tearing a "Thin Blue Line" flag in two, which they also tossed on the floor while the crowd cheered. Satanists in attendance later picked some of the ripped pages off the floor and posed with them for pictures.
The conference didn't go without pushback as numerous Christian groups protested and prayed against the event. With the event now over the next major push by Satanist groups is to target schools with Satanic Clubs and the courts are supporting their right do so.
A school district in Pennsylvania must allow students to convene an After School Satan Club, a federal judge ruled on Monday.
"In a victory for free speech and religious freedom, a federal court has ruled that the Saucon Valley School District must allow the After School Satan Club to meet in district facilities," the American Civil Liberties Union (ACLU) announced.
In a Monday filing, issued in the U.S. District Court for the Eastern District of Pennsylvania and shared by the ACLU, a judge found that "here, although The Satanic Temple, Inc.'s objectors may challenge the sanctity of this controversially named organization, the sanctity of the First Amendment's protections must prevail."
The school district must allow the After School Satan Club, which is sponsored by The Satanic Temple, to meet during the school year.
This is one of many After School Satan Clubs that have popped up around the country.
The Satanic Temple's After School Club at Paonia K-8 in Colorado recently held its first meeting after a parent requested the club for her son.
June Everett, campaign director for the After School Satan Club program and ordained minister of The Satanic Temple, told the Daily Caller News Foundation that the first meeting was a great success.
"We had 7 children in attendance, and you could hear the laughter from clear down the hall coming from the room," Everett said. "The school principal was welcoming and very professional, there were no protestors on site, and we all had a great time. We played games, did some coloring projects, and made bookmarks!"
Satanic Temple leaders see their clubs as a direct response to any religious after-school clubs, especially Christian Good News Clubs.
According to the Satanic Temple they are just getting started and have recently launched a club at Golden Hills Elementary School in Tehachapi, a city in Kern County about 115 miles north of Los Angeles. Some other active After School Club locations include; Moline, Illinois, Lebanon, Ohio, Wilmington, Ohio, Eaton, Ohio, Chesapeake, Virginia and Endwell, New York.
Since its founding in 2012, the Satanic Temple claims to have grown to over 700,000 members.
---