Shock Ruling By Judge - Pride Parade For Students Can Be Mandatory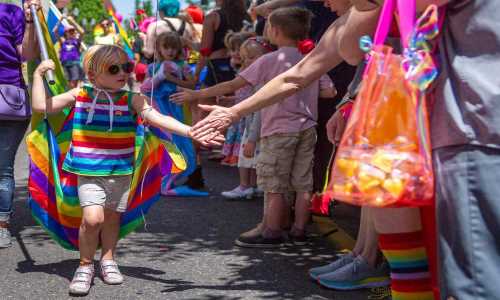 By Bob Unruh - WND News Center
May 17, 2023
Share this article:
---
A parental war against a school's decision to forcibly indoctrinate 4-year-old students into the LGBT ideology is continuing – even though a judge in the case already has issued a radical ruling that the agenda for alternative sexual lifestyle choices essentially is "Christian."
Watch the shocking video below:
The fight developed when Christian parents Izzy and Shane Montague objected to their child's former school, Heavers Farm Primary School in London, forcing the 4-year-old into an LGBT-themed Pride Parade.
The Christian Legal Center helped in the fight after the school mandated participation in the ideological agenda.
Told of the "Pride" events only shortly before the promotions occurred, the parents were accused of being bigoted, and even were told that participation was a legal requirement.
Ultimately, 182 students were withdrawn from the activities by their parents.
But when the dispute reached an initial court level, Circuit Court Judge Christopher Lethem plunged headfirst into LGBT advocacy.
He issued a ruling wildly claiming that there was little in the Pride parade that was inconsistent with the Montague's Christian beliefs, and even claimed a poster, "Some people are gay. Get over it!" actually what Christian teaching advocates.
School officials, during testimony, claimed Christian views about homosexuality are "homophobic," and in their emails to each other, charged Christians with concerns about the school's leftism were "bigots."
According to the legal team, "The headteacher also commented on the views of one parent who objected to their child's participation in the Parade on religious grounds, stating that it was because of such parents that the Pride parade must be mandatory."
The school, in fact, smeared The Montagues' beliefs, stating, "This parent really does have a strange and offensive take on the world; we are working hard to make sure that the children in our schools don't share these views!"
The family accused the school of breaching the Equality Act 2010 and the Human Rights Act, but the judge ruled against that argument.
Mrs. Montague said, of the initial court conclusions, "This judgment bears absolutely no resemblance to the truth of what happened at the school and in the court room. This judgment props up a carefully fabricated defence put forward by the school which put the thinnest veneer of what they were doing. It turns black into white and white into black."
Andrea Williams, chief of the Christian Legal Centre, said there will be an appeal, "and rightfully so."
"Today's judgment is remarkable for all of the wrong reasons. While the government has recognized the pitfalls of leaving the content of LGBT and sex education to the discretion of schools, and called for a review, this court has gone the other way.
Despite finding that the school put too much emphasis on LGBT issues and normalized them for primary school aged children, it ruled that the Pride event was actually about tolerance and diversity, and not LGBT."
---