Biden Grant Recipient: Christian Broadcasting Path To White Supremism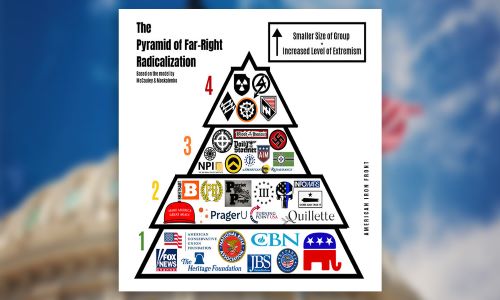 By Ben Johnson/The Washington Stand
May 30, 2023
Share this article:
---
The Biden administration approved tens of thousands of dollars in grants to a program that once taught watching the Christian Broadcasting Network (CBN) eased conservatives onto the path to become a neo-Nazi, a new report has found.
The University of Dayton applied for a grant from the Targeted Violence and Terrorism Prevention Grant Program (TVTP), administered by the Department of Homeland Security (DHS), to combat viewpoints it considers extreme. In the application packet, the Catholic-affiliated university included a link to a webinar title "Extremism, Rhetoric, and Democratic Precarity," according to a new report.
That presentation featured a "Pyramid of Far-Right Radicalization," which shows conservatives being led into white racialist violence or radicalism by interacting with CBN or the GOP, according to documents uncovered by the Media Research Center.
The first layer of the pyramid shows CBN, the Heritage Foundation, the Tea Party, the John Birch Society, and the Republican National Committee. The next step toward embracing anti-Semitism includes clicking on Jewish conservative Dennis Prager's PragerU, Turning Point USA, or supporting the Make America Great Again movement, said the graphic designed by University of Cincinnati researcher Michael Loadenthal.
The next two rungs of the "far-Right" pyramid consist of white nationalist and "race realist" groups that span from ideologically or intellectually oriented websites -- including American Renaissance, Richard Spencer's National Policy Institute, and the neo-Nazi website Daily Stormer -- to extremist "accelerationist" groups seeking to foment chaos and terror.
TVTP ultimately furnished the University of Dayton's Human Rights Center with a $352,109 grant to facilitate similar presentations and workshops through the "PREVENTS-OH" project (which stands for "Preventing Radicalization to Extremist Violence through Education, Network-Building and Training in Southwest Ohio").
"This chart was among others included in the original grant application submitted by the University of Dayton to DHS to successfully secure TVTP funding," says the MRC report, written by Luis Cornelio and Tim Kilcullen.
"The Biden administration's weaponization of government continues," said Jenny Beth Martin, the honorary chair of Tea Party Patriots Action, in a statement emailed to The Washington Stand. "We peacefully mobilize our members to advocate conservative values. To have DHS funds be in an anti-terrorism program that links us to Nazis and puts us on a 'pyramid of far-right radicalization' is offensive and disgraceful."
The Tea Party "has already suffered from government abuse of power," said Jenny Beth Martin. "During the Obama era, Tea Party Patriots was deliberately targeted and persecuted by the IRS in one of the biggest government scandals of the modern era."
The presentation seemed to open half of the political spectrum up to DHS investigation, critics said. The entire Republican Party, "Fox News and many others are identified as 'far-right' extremists and linked to militant Nazis in the same seminar, painting an implied bullseye on the organizations," said MRC founder Brent Bozell.
CBN's inclusion, and a statement from the PREVENTS-OH webinar seemingly tied evangelicalism to the KKK and modern racialist extremism. "My research and writing have focused on among other things Protestant fundamentalism, the Christian Right in the 1920s, [and] the Ku Klux Klan, so it makes sense that I serve as moderator for this roundtable," said UD History professor Bill Trollinger.
The references raise the specter that evangelical Christians could fall under the surveillance of domestic spy agencies, much as the FBI's Richmond field office recently produced a report warning of "violent extremists in radical-traditionalist Catholic" parishes celebrating the Traditional Latin Mass.
In a separate University of Dayton webinar, Loadenthal suggested ways to deny financial services -- and possibly employment and housing -- to his political opponents.
"We contact employers, landlords, commanding officers, school officials, family" of targeted individuals, he said. "We pressure service providers" to cancel services. In the era of "2021, CYA, 'I want to appear like a loving social justice corporation,' people will kick people off," he said at the "White Nationalism Workshop" sponsored by UD.
He specifically listed GoFundMe, Patreon, PayPal, and Venmo.
Although he said he targeted "fascists," the graphic he chose for his presentation specifically listed former Trump adviser and talk show host Steve Bannon.
He also stated the organization would attempt to involve churches in their pressure campaign: "We would contact his pastor," said Loadenthal.
The story came just as famed evangelist Rev. Franklin Graham warned that Bible-believing Christians face a wave of cancellations, being denied basic banking services and use of virtual hosting space.
"If you can't store your data and you can't retrieve your data, your organization is not going to last much longer," Graham warned the National Religious Broadcasters convention on Monday.
Lukewarm organizations need not worry, he said. "If you don't preach the Gospel, you don't have anything to worry about. If you're not going to talk about sin, you don't have anything to worry about. But if you're going to try to preach and proclaim the Gospel, they're going to try to shut you up."
The TVTP grant program has proven so controversial to non-Christian religious groups that, in the 2020 presidential race, candidate Joe Biden promised to "end the Trump Administration's Targeted Violence and Terrorism Prevention Program." But on his watch, the TVTP delivered $39.6 million "across 80 grants to teach 'media literacy and online critical thinking initiatives,' among other initiatives, in an effort to weaponize TVTP against conservatives, Christians and the Republican Party," said MRC.
After the report broke, the Biden administration attempted to distance itself from the online presentation and its incendiary graphic. "This seminar was not funded, organized, or hosted by the Department of Homeland Security," said a DHS spokesperson in a statement. "Similarly, the presented chart was not developed, presented, or endorsed by the Department of Homeland Security and was not part of any successful grant application to the Department of Homeland Security."
But the MRC did not accuse the DHS of organizing this webinar or developing the graphic; it said the Biden administration approved PREVENTS-OH's grant application after DHS employees saw the pyramid and associated presentations.
Furthermore, an employee of the DHS division that administers the TVTP grant process -- J.R. Masztalics of the Center for Prevention Programs and Partnerships (CP3) -- served as one of Loadenthal's fellow three presenters in the webinar featuring the pyramid linking Gordon Robertson to Heinrich Himmler.
Forcing U.S. taxpayers to underwrite propaganda designed to besmirch or criminalize conservative views should be one item in DHS Secretary Alejandro Mayorkas' articles of impeachment, said Jenny Beth Martin.
"Prior to today's revelations, we had called for Secretary Mayorkas to be impeached because of his willful refusal to enforce our immigration laws, causing the historic crisis on our southern border," Martin wrote TWS. "Today, we are once again demanding that Secretary Mayorkas be impeached and for DHS to return to its original mission of protecting our country, instead of trying to intimidate conservative Americans."
---