Record Number Of Illegals On Terror Watch List Entering U.S.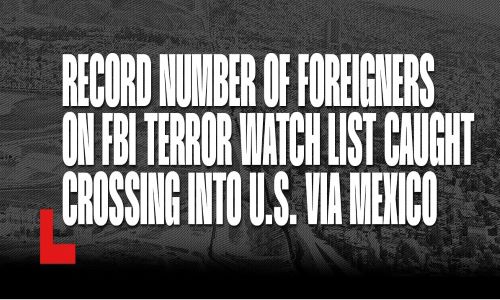 By Ben Johnson/The Washington Stand
June 26, 2023
Share this article:
---
U.S. agents reported a record-breaking number of people on the terrorist watchlist crossing the uncontrolled southern border last month, thanks to policies that Republicans say are "emboldening terrorists," constitute a "dereliction of duty," and constitute impeachable offenses. All the while, the Biden administration considers the border closed and under control.
U.S. Customs and Border Protection (CBP) announced that Border Patrol agents encountered 29 people on the terrorist watchlist in May at the southern border, the most in U.S. history -- and a total of 127 non-U.S. citizens at the border since last October.
Altogether, agents encountered a total of 464 people illegally entering the U.S. whose names are on the Terrorist Screening Dataset (TSDS), which includes known or suspected terrorists and their associates, during this fiscal year which began in October.
"Biden's open border policies are emboldening terrorists to infiltrate the U.S," said Senator Marsha Blackburn (R-Tenn.).
CBP documents "a massive surge" of 10,000 "Chinese nationals, many of whom are military-age men, many with known ties to the [People's Liberation Army], ties to the [Chinese Communist Party], who have crossed the southern borders and just been released" into the United States this fiscal year, said Rep. Mark Green (R-Tenn.) on Wednesday. "It's very likely, using Russia's template of sending military personnel into Ukraine, China is doing the same in the United States."
"I know dereliction of duty when I see it," said Green.
Federal agents also encountered a total of 442 known members of gangs -- including MS-13, 18th Street, and the Border Brothers -- attempting to enter the U.S. illegally since last October. "It's almost like the federal government is participating in organized crime," Attorney General Ken Paxton of Texas told "Washington Watch with Tony Perkins" last summer. "And the reality is a lot of Americans are dead because of it."
The flow of dangerous actors merges seamlessly with the flood of humanity crossing the border, as illegal border crossings at the southern border exceeded 150,000 for the 27th consecutive month in May, another lawless first.
CBP reported a total of 273,141 illegal border encounters nationwide in May -- a number the administration and its allies portray as a success, since numbers on paper remained relatively static after the repeal of Title 42. But at the same time the Biden administration repealed the successful border security measure that expelled potential COVID-19 carriers from the United States, it allowed otherwise illegal crossers to schedule an asylum hearing with the government over a phone app called CBP One. The "refugees" would then be paroled into the United States en masse, a policy Green says violates a federal law requiring parole to be determined on a case-by-case basis.
Lower official numbers are "smoke and mirrors," said Rep. Clay Higgins (R-La.), chairman of the House Border Security and Enforcement Subcommittee. "You still have the same numbers of people coming into the country. They're just not classifying them the same way."
While the Biden administration points to figures showing a 25% decrease in southern border encounters compared to the surge last May, they still represent a 337% increase compared to average May apprehensions during the Trump administration, 2017-2020.
"In typical fashion, the administration is attempting to divert attention from the total number of encounters by drawing attention to Southwest border encounters only," said Dan Stein, president of the Federation for American Immigration Reform (FAIR). "The number of migrants encountered by the Border Patrol crossing between ports of entry from Mexico dipped in May, however, the number of migrants who were encountered at ports of entry continued to grow, as did the number of migrants who were encountered at our Northern border and those who were illegally paroled in."
Official numbers do not include at least 60,327 "gotaways" who evaded capture while crossing the border, a U.S. Border Patrol agent told The Center Square. Those come in addition to the 989,155 gotaways that entered the U.S. in the 2021 and 2022 fiscal years, excluding the eight months of the 2023 fiscal year and partially capturing lower Trump administration numbers.
An increasing number of illegal immigrants have shifted tactics, crossing America's 5,500-mile border with Canada. The Biden administration has reportedly left ports of entry at the northern border open without supervision for up to 24 hours a day.
Meanwhile, agents reported four times as many illegal immigrant encounters at America's northern border with Canada in the 2022 fiscal year than in 2020. "Now that the Biden administration has dismantled our southern border security, they have moved to dismantle our northern border security," said Rep. Andy Biggs (R-Ariz.), co-chair of the House Border Security Caucus.
"Since President Biden took office nearly two years ago, there has been a 1,498% increase in Northern land border encounters," noted the Northern Border Security Caucus, formed by 28 Republicans in February. "Drug smuggling has increased by 596% along the Northern border since Fiscal Year 2021, including a 26% increase in fentanyl."
Drugs also cross America's porous borders in ever-expanding amounts. Since last October, border agents nationwide have seized:
821 pounds of fentanyl;
eight pounds of heroin;
5,014 pounds of methamphetamine;
1,602 pounds of cocaine; and
4,430 pounds of marijuana.
All told, the CBP has reported 6,451,768 illegal border encounters nationally since February 2021, the first full month of Joe Biden's presidency. That includes 5,459,123 encounters at the southern border. Illegal border crossings broke two million in one year for the first time in U.S. history under the Biden-Harris administration.
Those mammoth numbers could have gargantuan consequences for areas far removed from the border. New York City Mayor Eric Adams (D) has called on the White House to evenly redistribute illegal immigrants crossing the southern border to every city, village, and hamlet in the United States.
"We have 108,000 cities, villages, towns. If everyone takes a small portion of that, and if it's coordinated at the border to ensure that those who are coming here to this country in a lawful manner is actually moved throughout the entire country, it is not a burden on one city," said Adams last month.
Illegal immigration also takes a toll on the nation's wallet, border security advocates have demonstrated. FAIR calculated "total government expenditures on illegal aliens" at the state and local level at more than $182 billion: $66,449,136,000 at the federal level and $115,608,730,000 at the state and local level. Subtracting the total tax contributions made by illegal immigrants, illegal immigration imposed a net financial deficit of $150.7 billion in 2023 -- "greater than the annual GDP output of 15 U.S states." Each illegal immigrant costs U.S. taxpayers an average of $8,776.
One of those costs comes from U.S. taxpayer-funded abortions. President Biden ordered the HHS Office of Refugee Resettlement to transport pregnant women who violated U.S. immigration law out of Texas to have a "free" abortion. Ten Republican senators introduced the "No Taxpayer Funds for Illegal Aliens Abortions Act" last year to curtail Biden's policy. "His priority seems to be increasing abortions in America, rather than stopping illegal immigration or protecting the lives of children," said Senator James Lankford (R-Okla.) at the time.
The issue remains important to voters. A Reuters/Ipsos poll found immigration ranked second among the issues Americans want Biden to focus on, behind only the U.S. economy: 66% of Americans favor "sending active-duty soldiers to the U.S.-Mexico border to support border patrol agents," and a majority (54%) oppose "[r]aising the number of immigrants allowed into the U.S. each year." A new Pew Research Center survey shows 73% of Americans say the Biden-Harris administration is doing a "bad" job handling the crisis at the U.S. border with Mexico.
As the numbers, and the negatives, pile up, Biden border officials have made their own exit. Biden's Deputy Secretary of Homeland Security John Tien, Customs and Border Protection chief Chris Magnus, Immigration and Customs Enforcement (ICE) acting chief Tae Johnson, and U.S. Border Patrol Chief Raul Ortiz have all resigned in the last few months.
"The administration's goal at the border has never been to stop the flow of people who have no right to come to the United States," wrote Mark Krikorian, executive director of the Center on Immigration Studies, in the New York Post. "Rather, the White House just wants the problem to stop being in the news."
"Over? The border crisis is just getting started."
"What the administration is attempting is nothing more than an elaborate shell game designed to make their policy of mass illegal immigration less conspicuous. But the numbers don't lie," said Stein. "Less conspicuous illegal immigration is not the same as less illegal immigration, and has the same devastating effects to the interests and security of the American people."
Border security is a message embraced by Republicans from the highest offices in the land to the lowest. "Border security isn't apathy for immigrants," said Trent Staggs, mayor of Riverton, Utah. "Border security is empathy for those here at home."
---