Average American Has Over $54,000 Of Debt - Home Ownership Out Of Reach For Many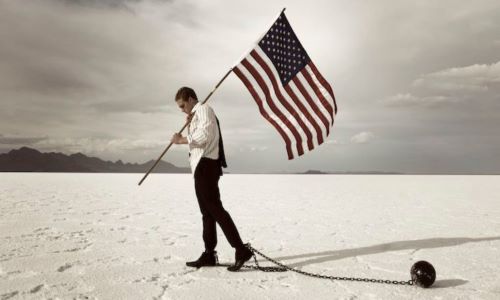 By Chis Malore/Activist Post
June 27, 2023
Share this article:
---
What would you do to be completely debt-free? A new survey finds Americans would give up social media for a year (32%), spend a night on a remote island (31%), and even go a month without internet access (29%).
According to the poll of 2,000 U.S. adults, the average person feels they could only stay debt-free for eight-and-a-half weeks (less than 3 months) before accruing new debt.
The research also measured people's confidence in their ability to remain out of debt, revealing only 38 percent feel "very confident" in this regard. The most uncertain respondents (384) shared some of the reasons, including the rising cost of living (54%), unexpected expenses (46%), rising interest rates (29%), not having enough support from others (20%), and feeling the need to spend to keep up with others (16%).
People's biggest debt hurdles include credit card debt (57%), mortgages (30%), automobile loans (30%), and medical debt (28%). Conducted by OnePoll on behalf of Beyond Finance for National Financial Freedom Day, the survey also found the average person has $54,767 worth of debt, with 56 percent saying they owe more for necessities than for "nice-to-haves."
For some, their debt has stood in the way of making significant life changes, such as buying a home (33%), a car (30%), and setting up their child's savings (24%).
What would people do if they woke up debt-free?
Thirty-two percent would add money to their emergency fund, while 27 percent would purchase their dream home and 26 percent would take a long-awaited vacation. Others would "pursue a different career," "start my own business," finance their children's education, and "help my parents with their debts."
"Debt can sometimes deter people's short- and long-term goals for themselves and their families," says a spokesperson for Beyond Finance in a statement. "Learning to manage it effectively can be life-changing, but 49 percent admit to feeling anxious about their debt, which may make it challenging to focus on finding solutions."
What can make debt stressful for many? Interest rates (24%), the inability to pay it off (22%), and seeing how much they owe increase (20%). Not all debt is created equal, however, as nearly half the poll (48%) believes some of the debt they had taken on was worth it. That includes a mortgage (38%), car loan (33%), and home improvement or repairs (28%).
People are also seeking support to manage their debt, with about a third (31%) crediting their family as being the most helpful resource. However, only 29 percent are "very confident" in their ability to pay off their current debts on time -- including fewer women than men (19% vs. 41%). Four in 10 (41%) also say it will take them years to be debt-free.
Meanwhile, home affordability is so out of reach right now that two out of five Americans think they'd need to win the lottery to become homeowners. That's according to a recent survey of 2,000 current non-homeowners, only 53 percent of whom are confident in any way that they'll be able to own their own home someday.
In addition to the 40 percent who think hitting a jackpot is their best chance at home ownership, one in four (26%) believe they'd need to inherit money from someone in order to ever own a home. One in five (19%) even believe they'd have to marry someone rich.
Overall, the average American thinks it would take them between three and four years to afford a home - and a third believe it would take them five years or more. Another 20 percent expect that they'll never be able to afford one.
Conducted by OnePoll on behalf of Divvy Homes, the survey also revealed that almost six in 10 (57%) non-homeowners would find it difficult to afford a house in their current neighborhood. Despite that, 67 percent are still hopeful about the possibility of one day owning a home - more than five times as many as the number of people who actively described themselves as hopeless (12%). Another 19 percent describe themselves as frustrated and 11 percent feel desperate.
Most Americans say the housing market is too unstable
The changes in market dynamics and rise in interest rates are weighing heavily on would-be buyers. While over half (52%) believe the current housing market is unstable, 46 percent believe that things will level out within the next two to five years. However, 17 percent feel the market will never return to stable, affordable levels.
Respondents think they'd need to make an average of $76,000 a year to afford a starter home, and that they'd need at least $45,000 to afford a down payment on a starter home. Nearly half of respondents (44%) are willing to get a second job or side gig in order to get closer to their goal of homeownership.
The ideal downpayment size would be, on average, eight percent of the overall purchase price, which would make their ideal home worth just under $570,000.
Those who dream of being able to buy a home in the next few years prioritize affordable monthly payments (69%), the home being the right size for now and the future (39%), and the location being ideal for their family's needs (37%). However, 56 percent think they'd be denied if they tried to apply for a mortgage right now.
"Potential buyers are looking for alternatives to traditional mortgage financing or are stuck waiting for a reprieve from the rising rates and prices that keeps so many of them renting and locked out of homeownership," says Adena Hefets, Co-founder and CEO of Divvy Homes, in a statement. "There are so many factors putting downward pressure on a potential homeowner's buying power -- high interest rates, a lack of supply, increasing cost of living -- that the starter home seems to be on the verge of extinction."
Out of those respondents who currently rent, 47 percent worry about home prices getting more and more expensive before they can afford to buy.
"Throwing money away on rent" was also considered one of the biggest drawbacks to not owning a home among 46 percent of respondents, in addition to feeling uneasy about the stability of their long-term living situation (41%) and watching interest rates rise before they can afford to buy (34%). Affordability is an overall problem: 63 percent of respondents say they often struggle to make ends meet, most commonly because of the high cost of living (69%) and rising inflation (56%).
"The traditional mortgage process was designed in the 1940s when the norm was a single breadwinner with a steady W-2 income. The system hasn't changed, even though the way we work, live and form families is dramatically different. But today's younger buyers often lack long periods of income history and are increasingly non-salaried, working as a 1099 contractor, gig worker, or self-employed individual," Hefets adds.
A majority of aspiring homebuyers feel that homeownership is always just beyond their reach, that the 'American Dream' of homeownership is slipping away, and that it would take luck, extraordinary circumstances, or a serious change in the mortgage process to make it possible for them to own a home in today's economic climate.
Originally published at
Activist Post
- reposted with permission.
---