Israel Looks To Repel Iran's Plans To Encircle It On All Sides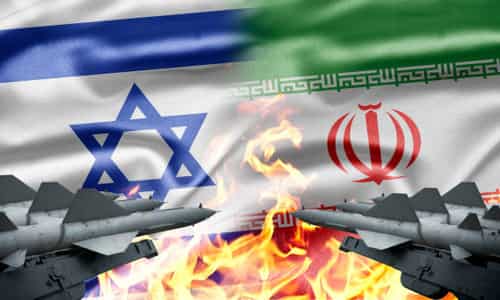 By Dan Diker/JNS.org
July 04, 2023
Share this article:
---
There has been a tendency in the West to categorise Palestinian terror assaults on Israel as "intifadas." The nomenclature derives from the 1987 violence that raged across Palestinian Arab cities in Judea and Samaria, which were triggered initially by local Arab demands for greater socioeconomic freedom and a higher standard of living, similar to those of Israeli Arabs.
Within months, the intifada was co-opted by Tunis-based Palestine Liberation Organization (PLO) leader Yasser Arafat as a continuation of his decades-long commitment to total warfare to destroy the Jewish and democratic state, as stated in the 1968 PLO charter. The brand "intifada" would be carved on to the consciousness of the international media.
It would also be misapplied to future suicide terror campaigns by Hamas, Fatah and Palestinian Islamic Jihad (PIJ) in the 2001-2004 second intifada. That campaign was known as the "Al-Aqsa Intifada"--an Islamic war centered on the 100-year old Palestinian claim that the Jews were defiling the Al-Aqsa mosque, as the first Palestinian clerical leader, Haj Amin al-Husseini, had declared in the 1920s.
In 2023, the latest upsurge in Palestinian terror in the northern Samarian cities of Jenin and Nablus is easier to recognise. That's because Iran's Supreme Leader Ayatollah Ali Khamenei has openly called for the regime's Islamic revolution to be exported to the hills of northern Samaria. This is no intifada. It's a premeditated Iranian regime "pincer" war now executed from the northern Samarian hills.
Iran now outflanks Israel on three sides: From Gaza in the south, Islamic Revolutionary Guard Corps (IRGC) operatives Hamas and PIJ have targeted Israel with tens of thousands of rockets and terror tunnels. From Israel's northern neighbors Lebanon and Syria, IRGC Quds forces and Hezbollah's proxy terror army have about 180,000 rockets and laser-guided missiles directed at Israeli cities. Hezbollah has even set up outposts on Israel's side of the border with Lebanon.
Now, the Iranian regime has taken its 44-year-old war to the Samarian hills that overlook Ben Gurion Airport and Israel's main cities along the Mediterranean coast.
The evidence is overwhelming. The week of June 18, 2023, Hamas and PIJ leadership visited Tehran for a meeting with the Quds force, the foreign arm of the IRGC, to discuss the IDF's Operation Shield and Arrow in Gaza and to coordinate militant actions against Israel, continuing the multi-arena strategy devised by former IRGC commander Qassem Soleimani, who was killed by a U.S. drone strike in 2020 but whose strategic legacy remains.
The high-level meetings coincided with a surge in terrorist attacks in Judea and Samaria, including some perpetrated by PIJ and Hamas. It encouraged Iran, which seeks to establish Judea and Samaria as an additional battleground in its escalating war against Israel. A recent terror attack that killed four Israelis at the entrance to the Eli community in Samaria is just the latest Iran-backed assault. Since Jan. 2023, about 30 Israelis have been killed in Iranian-backed terror attacks.
Iran's terror campaign isn't occurring in a vacuum. Historical context is important. Since 1979, Iranian leaders have branded Israel "the Little Satan" and vowed its destruction. The Iranian regime has persisted in that aim. For years, the IRGC has supplied weapons and directed PIJ and Hamas. The IRGC weapons ships Karine A (2002); Calypso (2003); and Klos (2014), sent to supply the PLO and Hamas in Gaza with thousands of tons of weaponry, were soon forgotten by the international community.
Until recently, the Iranian regime's IRGC and its Quds terror-export force mostly focused their presence in the Gaza Strip, where IRGC agents have been on the ground since the 2014 Gaza war, assisting Hamas in drone and rocket production. Soleimani advised Hamas on its Great March of Return campaign, paying Gazan teens thousands of dollars to commit suicide by storming the Gaza-Israel border fence, drawing Israeli fire. IRGC terror operatives were also involved in the building of Hamas' terror tunnels, built to kill or capture Israelis, of which it currently holds four in captivity.
Significantly, Iran views the collapse of the secular, Fatah-dominated Palestinian Authority's governance as an opportunity to pounce on Samaria. Ironically, recent Palestinian polls reflect public support for Iranian-backed local terror militias such as Lion's Den as a function of public frustration with the highly corrupt P.A. Since the aging Abbas is unlikely to have a clear successor, chaos will ensue as these armed groups vie for control, while Iran will exploit the power vacuum to its own advantage.
The Iranian penetration in northern Samaria marks the most far-reaching sign that Iranian terror forces have penetrated Israeli territory and pose a strategic threat. IRGC officials assured PIJ leader Ziyad al-Nakhalah that Iran would smuggle additional weapons to Judea and Samaria through Jordan, and that PIJ would receive more financial support. Iran also demanded the establishment of rocket production facilities in northern Samaria.
Nakhalah praised Iran's unwavering support for the Palestinians, saying, "No other country in the world takes such a stance so explicitly", which is "a testament to Tehran's support for the Palestinian resistance factions" that also "highlights strong ties between PIJ, Hamas and the Islamic Republic." Nakhalah also met Mohammad Baqer Qalibaf, the Majlis (Iranian parliament) speaker, on June 17.
Hamas leader Ismail Haniyeh has met with Supreme Leader Khamenei and Iranian President Ebrahim Raisi. Haniyeh stated that the June terror attack in Eli that killed four was "just the beginning" of a renewed campaign against Israel. Haniyeh's deputy, Saleh al-Arouri, the head of Hamas' military wing in Judea and Samaria responsible for the attack, has also been to Tehran.
In Iran, Hamas official Osama Hamdan mentioned the important role of Israeli Arabs in the battle against Israel, evidenced in events during IDF's Guardian of the Walls operation in May 2021. He said Judea and Samaria were entering a new stage of "resistance," referring to Iran's creation of 20 to 30 new "battalions" of 2,000 militants in Samaria, which aim to spread to the area around Ramallah.
As intelligence analyst Micky Segal has noted in a recent Jerusalem Center for Public Affairs analysis, Khamenei reiterated the importance of Judea and Samaria, saying that "Gaza is the center of resistance, while the point that will bring the enemy to its knees is the West Bank". Khamenei, who meets often with PIJ, said, "The growing power of the resistance groups in the West Bank is the key that can bring the Zionist enemy to its knees, and it's crucial that we continue along this path."
Israel isn't standing idly by. The IDF has been planning for the IRGC terror encampment and campaign on its three borders. The IRGC's penetration into the hills above central Israel will probably be met in the near term with a massive, uncompromising counterterror campaign to secure Israel's major cities and protect its citizens from Iran's jihad.
Originally published at
JNS.org
- reposted with permission.
---