A Baptism Of Biblical Proportions: 4,500 Dunked At Site Of Jesus Revolution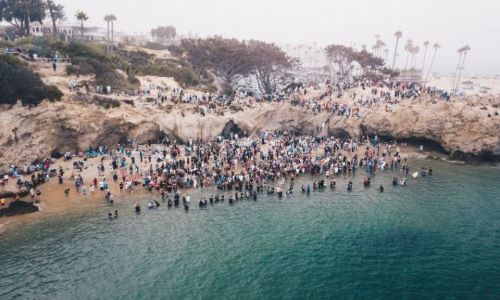 By Bob Unruh - WND News Center
July 12, 2023
Share this article:
---
Evangelist Greg Laurie, a longtime columnist at WND, has held what is being called a baptismal service of "biblical proportions" at one of the locations in California where the Jesus Revolution was filmed, in Newport Beach.
Media reports reveal that over the weekend, at Pirates Cove, the Harvest Crusade and Churches, Laurie's organization, held a service for the baptism of some 4,500 people.
"On the day of Pentecost, after Peter preached, we read in the Bible that 3,000 people were baptized. At Pirates Cove, we are looking at a baptism of biblical proportions," Laurie told the Washington Times.
"They were here, there and everywhere," Laurie tweeted of those attending the event, estimating the crowd at 20,000. "There was a line that was like half a mile long of people waiting to be baptized."
What an amazing day we had at the Jesus Revolution Baptism at Pirate's Cove. We baptized over 4000 people! I met people from all around the nation and even the world that came to town for this special event. May God bless everyone of them as they made this public stand for their... pic.twitter.com/Ndq6fOvgzH— Greg Laurie (@greglaurie) July 8, 2023
Pirate's Cove is memorialized as the site of thousands of baptisms during the Jesus Movement of the late 1960s-1970s. Laurie was himself baptized during the 20th century movement, telling his story in his 2018 book "Jesus Revolution," the subject of the box office sensation of the same name.
"We never had a baptism (during the Jesus Movement) on the scale of this one," Laurie tweeted. "This is new. This is fresh. This has never happened before. And it happened where? In California.
"We give God all the glory for this," Laurie said. "I this is a real sign of spiritual awakening."
He told the Times, "For me this is a place that's filled with memories. This is where we also filmed the Jesus Revolution movie. It's funny because Pirates Cove has been here forever, now it's taking on a whole new meaning for a lot of people. They not only want to be baptized, they want to be baptized here."
The Jesus Revolution movie, about Laurie's life, showed "the power of baptism and more significantly, what salvation looks like visually," Laurie explained.
"By watching someone get baptized the way it was done in the film it really conveyed what conversion can look like. It really resonated with a lot of people."
The report quoted Shawn Raybourn, 61, from Tustin, California, who said, "To be born again. It's hard to describe. I've been wanting this for a long time."
Laurie said those at the beach expressed joy in attending.
"My son Jonathan was talking to people and they were happy and enjoyed it," Laurie tweeted. "They said, 'Oh, we wait in lines longer than this for Disneyland. We're happy to do this.' And people literally came from all around the world, all around America, of course, as well."
Baptism by immersion represents the death of the old person, and with it the sin in that life, and the emergence from the water to a new life in Christ.
Laurie explained, "You're saying goodbye to the old you, buried with Christ in baptism so you might walk in newness of life, that's what the Bible says, so you're coming out saying, 'I'm making this commitment' and you're doing it publicly in front of friends and family."
The SoCal Harvest Crusade leading up to the baptism drew 32,500 over the two-night event, with 6,794 making decisions for Christ.
The baptism is estimated to be one of the largest baptism by immersion events nationally if not worldwide.
---