Israel And The New America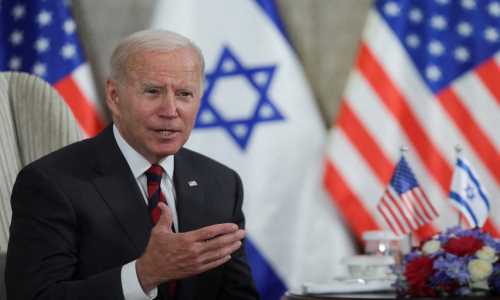 By Caroline Glick/JNS.org
July 20, 2023
Share this article:
---
On the surface, Israeli President Isaac Herzog's visit to the White House on Tuesday felt like old times. U.S. President Joe Biden warmly greeted Israel's ceremonial head of state and repeatedly stated that the U.S.'s commitment to Israel is "ironclad." Biden mentioned that he spoke with Prime Minister Benjamin Netanyahu the day before and arranged a visit for Israel's actual leader.
So, are we back to normal? Were the last seven months of unprecedented U.S. hostility towards Israel, its elected government, its parliamentary deliberations, its senior ministers and its prime minister a blip on the screen, now undone?
Apparently not. Shortly after Herzog left the White House, New York Times columnist Tom Friedman wrote that Biden met with him at the White House after Herzog departed and claimed that Biden read Netanyahu the riot act in his conversation with the premier on Monday.
Biden did so because of the Netanyahu government's intention to pass parts of its judicial reform program without the support of its political opponents. The White House also told reporters that Biden didn't invite Netanyahu to the White House, he just agreed to meet him somewhere.
Israeli National Security Adviser Tzahi Hanegbi told reporters that Friedman's report of the Biden-Netanyahu conversation is simply wrong. It probably is. All the same, it's hard to imagine Friedman invented the story out of whole cloth. In all likelihood, Biden decided to put out a hostile readout of the conversation at odds with both the White House account and the Israeli Prime Minister's Office's account of the phone call.
In other words, the hostile policy geared towards undermining the Netanyahu government at home and abroad remains in place.
For close observers of the Biden administration, this is not surprising. From the outset, like the Obama administration, the Biden administration has distinguished itself for its institutional hostility to Israel and other U.S. Middle East allies, particularly Saudi Arabia.
In an important analysis by the Endowment for Truth in the Middle East (EMET) published this week under the title, "Robert Malley and the Call from the Third World," EMET demonstrated two important aspects of the Obama-Biden foreign policy worldview.
The analysis focused on Robert Malley, Biden's envoy for negotiations with Iran and Obama's chief Middle East strategist, who was recently compelled to leave his position due to undisclosed security breaches.
The article showed first that Malley is the product of a radical anti-American upbringing. Second, it demonstrated that Malley's radical views have become the establishment views of the Democratic Party.
Malley's father Simon Malley was a leading advocate and true believer in Leninist anti-imperialism, which perceived the U.S. and its allies--as well as the Jews of Israel--as evil corruptors of mankind. Malley's father championed anti-American Third World dictators and terrorists including Yasser Arafat as paragons of the new humanity who would purify the world of its Western imperialist roots.
In his key roles in both the Obama and Biden administrations, Malley transformed his father's anti-American belief system into U.S. policy.
Until Obama rose to power, a man with Malley's pedigree and professional record would never have received a security clearance, much less serve as the architect and chief executor of U.S. Middle East policy. But under Obama and in the intervening years, Malley's positions became the establishment position of the Democratic Party. As the EMET analysis noted, Malley was even made a fellow at the Council on Foreign Relations, ground zero of the liberal foreign policy establishment in America.
Malley is not a fringe figure in the administration. His childhood friend is Secretary of State Antony Blinken. Malley's views are shared by every senior administration official responsible for Middle East policy. Even after Malley was forced out for unnamed security violations--and is allegedly the subject of an FBI investigation--U.S. National Security Adviser Jake Sullivan stood by Malley and defended him in an appearance on CBS's "Face the Nation" last weekend.
Malley's radical, anti-imperialist worldview guides and shapes the Biden administration's analysis of events in the Middle East. Under these circumstances, temporary political conditions may force the administration to drop its boycott of Netanyahu and reaffirm its "ironclad" commitment to the U.S.-Israel relationship before elections. But the fundamentals of the policies and the hostility that informs them won't change.
In practice, this means the administration's Iran policy entails empowering the Iranian regime through nuclear appeasement and sanctions relief. With the Biden administration not enforcing U.S. economic sanctions against Iran, Iran's energy exports rose to a five-year high in 2023. According to The Wall Street Journal, Iran shipped 1.6 million barrels per day in May and June, up from 250,000 barrels per day in 2019 and 2020 after the U.S. imposed sanctions on its oil and gas exports.
The money has made no impact on Iran's economic woes. So, there is reason to believe that Iran is spending its oil wealth on its proxy armies and terror groups--first and foremost Hezbollah in Lebanon and Palestinian Islamic Jihad and Hamas in Judea, Samaria and Gaza--as well as its nuclear program.
Last week, for example, the Associated Press reported that Iran is building a nuclear installation a hundred meters underground in the Zagros mountains in central Iran near Natanz. The site is allegedly so deep that it is immune to conventional bombing. These actions are enabled by the Biden administration's non-enforcement of sanctions.
In Lebanon, the Biden administration continues to skirt U.S. law prohibiting funding of foreign terrorist organizations in order to pay the salaries of Lebanese soldiers and officers in the Hezbollah-controlled Lebanese Armed Forces. The U.S. similarly pays the salaries in cash of members of Lebanon's intelligence service, whose chief occupation is rooting out Israeli spies and spy networks.
In response to Hezbollah's cross-border penetration of Israel and other provocations on the border, Biden's envoy Amos Hochstein has begun pressuring Israel to bow to Hezbollah's territorial demands, just as he coerced the Lapid-Gantz government to surrender to Hezbollah's maritime border demands following Hezbollah's drone assaults on Israel's Karish gas platform last July.
As for the Palestinians, in recent weeks, the Palestinian Authority's security forces and Fatah faction terrorists have bragged on their official media outlets that their personnel carry out the majority of terror attacks against Israel from northern Samaria. All the same, after the IDF carried out a brief counterterror operation against the growing terror infrastructure in Jenin two weeks ago, the administration demanded that Israel agree to carry out no further operations in the terror hub and stand back as those same P.A. forces "assert control" over the city.
In his remarks at the Oval Office, Herzog played up Israel's close military and intelligence ties with the United States and used them to send a message to Israel's enemies.
"There are some enemies of ours that sometimes mistake the fact that we may have some differences as impacting our unbreakable bond. And I truly believe that had they known how much our cooperation has grown in recent years, and it's achieved new heights, they would not think that way," he said.
Statements like Herzog's made sense a generation ago. At the end of the Cold War, Israel's position as Washington's favored client state was the basis of an unprecedented diplomatic upgrade. Nations like China, Russia and India, who believed that the road to Washington went through Jerusalem, reinstated diplomatic relations with Israel that they had abrogated in the 1960s and 1970s in submission to the Arab boycott.
Today, the situation is different on many levels. First, Israel is much more powerful than it was a generation ago. In terms of what it has to offer the states of the Middle East and the world, Israel is far more comparable to Japan than to Taiwan.
Second, under the Biden administration, the U.S. has lost its strategic credibility as an ally in the eyes of its spurned Arab allies--first and foremost Saudi Arabia. Saudi Arabia agreed to have China mediate its dispute with Iran because it does not trust Washington to protect it from Iran.
The more Israel behaves as a U.S. client, the more profusely Israeli leaders thank the U.S. for its military support and "ironclad" commitment to Israel's security, the less the Saudis and others view Jerusalem as a credible ally against Iran.
Likewise, to the extent that China believes the U.S. has Israel under its thumb in relation to Iran, the regime in Beijing will be unwilling to take Israel's concerns and warnings about Iran's nuclear weapons program into consideration as it expands its strategic ties with the Islamic Republic.
Clearly recognizing this state of affairs, speaking at a memorial ceremony for Zionist leader Ze'ev Jabotinsky on Tuesday, Netanyahu said, "Like Jabotinsky, who believed that the Jewish state's natural alliance was with the Western powers--so we believe that our first and most important alliance is with the U.S. However, we always remember that the ultimate responsibility for our destiny and our security lies with us--with the sovereign Israeli government in Jerusalem."
The path forward in U.S.-Israel ties was carved out this week by authors Jacob Siegel and Liel Liebowitz in an article in Tablet magazine calling for an end to U.S. military aid to Israel. As Siegel and Liebowitz demonstrated, the opportunity costs of the $3.8 billion annual assistance outweigh its benefits across the board. Not only does Israel take a direct and devastating hit to its military industries and strategic independence, the aid is tied to U.S. platforms like the F-35 that are ill-suited to Israel's threat environment.
The aid is used as a weapon by anti-Israel lawmakers and policymakers to coerce Israel to toe the line on U.S. policies in relation to the Palestinians, Iran and Lebanon that are antithetical to Israel's security and national interests. Rather than empower Israel, particularly in light of the Biden administration's foundational hostility towards Israel, Israeli dependence on U.S. military aid undercuts Israel's standing as a regional power and empowers its enemies to attack, with the knowledge that the U.S. stands with them against Israel.
The U.S. veto on Israeli technology and arms sales owing to the aid constrains Israel's freedom to develop security ties with states like India.
Just as importantly, Israel and the U.S. have complementary capabilities and interests. To maintain healthy relations, Israel must end its position as client state and act instead like a junior partner, along the lines of Britain, in its cooperative dealings with Washington.
Such a transformative shift would shield Israel from sudden shocks to its long-term strategic planning and procurement goals that are currently vulnerable to election results.
On Wednesday, The Wall Street Journal declared that "vilification of Israel has gone mainstream in the Democratic Party." Israel's challenge is to adapt its relationship with the U.S. in a manner that factors in this state of affairs. The first step towards accomplishing that goal is to quickly wean Israel off U.S. military assistance.
Originally published at
JNS.org
- reposted with permission.
---