Islamic Germany - Only A Generation Away?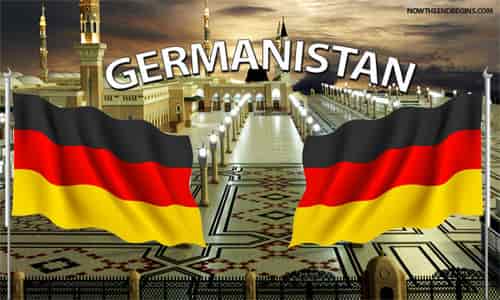 By Tom Olago
January 26, 2016
Share this article:
---
What do Iraq, Egypt, Pakistan, Morocco, Syria, Lebanon, Saudi Arabia and Jordan have in common? Any casual observer with a basic knowledge of geography, politics, religion or current affairs should know. These nations are predominantly Arab and are all Islamic by religion and culture, which also strongly reflects their political structures and societal norms.
How about adding Germany to the list? Today, it would clearly be the odd country out. Yet, it has recently been projected that the next generation of Germans will be predominantly Muslim, and there is good reason to believe so.
Devin Foley explains why in an article for intellectualtakeout.org while quoting German Adorjan Kovacs, as published in The European. Kovaks makes the argument that, based on demographics, the primarily-Muslim migrants from the Middle East and North African will actually become the dominant German population group within a generation.
According to his analysis, most of todays 80 million Germans are in older age groups. In contrast, the migrants are generally in their 20's and 30's. So when you compare the population of Germans who are in their 20's and 30's to the current and expected population of migrants who are in their 20's and 30's, you expect a future lopsided demographic in which the numbers of immigrants will exceed those of indigenous Germans living in the next generation.
Kovaks caveat to his line of reasoning is that "...there is some uncertainty in this extrapolation, namely the level of immigration, the right to stay and the award of family reunification in the next few years. Nevertheless, it is very likely."
All this is courtesy of Chancellor Angela Merkel's open-door immigration policy. Her strategy was globally hailed as an act of leadership and courage in the face of a humanitarian crisis, but also attracted harsh criticism locally. The scale and potential adverse impact on Germanys social, legal and political structures was generally decried by Germans and left many of them jittery and pessimistic, especially following the recent attacks in Paris and San Bernardino.
The comparison is also made of Germany with the United States, which has a large portion of its population aging, but also large populations of youth who will be able to fill the void. Germany, on the other hand, does not.
So what are the implications of this? The Gatestone Institutes Soeren Kern reviewed the possibilities and likelihoods late last year. Based on his findings, it can be deduced that Germany may not need to wait for a full generation to find out for sure.
Kern quoted a demographic forecast by Bavarian lawmakers in which Germany's Muslim population is set to nearly quadruple to an astonishing 20 million by 2020 just four years from now.
He further reported that of the 800,000 migrants and refugees arriving in Germany in 2015, at least 80% (or 640,000) are Muslim, according to a recent estimate by the Central Council of Muslims in Germany, a Muslim umbrella group based in Cologne. This estimate is not in dispute.
Some of the predictable outcomes of the tilt in German demographics have been described as follows by various observers:
- Loss of Majority Rule by local Germans: Since Muslims will be in the majority, social norms, values and laws would become overtly Islamic by the democratically exercised will of the majority. This would include the spread of Sharia-based norms and values throughout Germany.
- Economic Instability: At a press conference on August 19, German Interior Minister Thomas de Maizière said that although many of the migrants are from the Middle East and North Africa, a large number (40%) are from countries in the Balkans, including Albania and Kosovo. This implies that nearly half of those arriving in Germany are economic migrants, not refugees fleeing war zones. Hungarian Prime Minister Viktor Orbán warned: "Europe is not able to accept everyone who wants a better life. We have to help them to get back their own lives with dignity and we have to send them back to their own countries..."
- Legal Challenges: The demographic tilt would cause clashes with existing laws and regulations. An example is that polygamy, although illegal under German law, is reportedly commonplace among Muslims in all major German cities.
- Security Fears: This is especially worrying due to an acknowledged inadequacy in the vetting and screening of immigrants. Former Interior Minister Hans-Peter Friedrich (CSU) concluded: "We have lost control&It is totally irresponsible that tens of thousands of people are flowing into the country uncontrolled and unregistered, and we can only unreliably estimate exactly how many of them are Islamic State fighters or Islamist sleepers. I am convinced that no other country in the world would be so naive and starry-eyed to expose itself to such a risk."
- Social & Political Unrest: According to Uwe Brandl, president of the Bavarian Association of Municipalities, resentment from indigenous German families could boil over a when migrants seem to get preferential treatment at their expense, or cut into limited government supplies and amenities.
In Brandls narrated example: "A four-member refugee family receives up to 1,200 Euros per month in transfer payments, plus accommodation and meals. Now go to an unemployed German family man who has worked maybe 30 years, and now with his family receives only marginally more. These people are asking us whether we politicians really see this as fair and just."
Kern adds that Brandl's concerns are echoed in a leaked intelligence document, which warns that the influx of more than one million migrants from the Muslim world this year will lead to increasing political instability in Germany.
Viktor Orbán, President of Hungary, probably captured dominant German sentiment when he said: "For us today, what is at stake is Europe, the lifestyle of European citizens, European values, the survival or disappearance of European nations, and more precisely formulated, their transformation beyond recognition. Today, the question is not merely in what kind of a Europe we would like to live, but whether everything we understand as Europe will exist at all."
No wonder that Germans have been left biting their nails and crossing their fingers over whether Germany as theyve known it will exist at all, in just a few short years.
---