Twisting The Faith - "Christian" Abortionists Promote "Blessed" Practice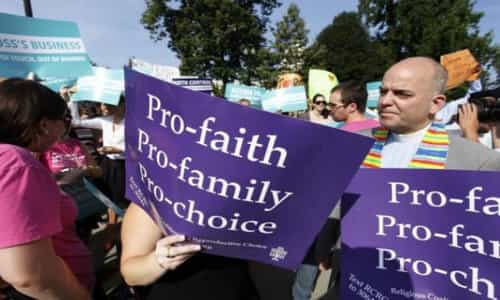 By PNW Staff
April 25, 2017
Share this article:
---
For Christians, there are few acts more clearly immoral than the killing of unborn babies.
Abortion is a major political issue for which Christians have fought for decades against opponents who favor the right of a mother to choose to kill her unborn children, but the newest adversary to Biblical morality and human decency is not a radical atheist group or far-left feminist organization.
No, there are now groups and even abortion doctors claiming to be Christians who support and even encourage carrying out abortions.
It was in October of 2015 in Ohio that a group of fifteen apostate clergy staged a demonstration outside an abortion center. Representing Methodist, Episcopal and Church of Christ congregations, the group held signs and delivered speeches in support of the abortions taking place inside.
The group declared their gathering an attempt to "bless" the abortion center in opposition to Christians who would denounce the sin of killing the unborn.
Declaring that God's love is steadfast, Harry Knox, leader of the Religious Coalition for Reproductive Choice, addressed the crowd at the event by saying, "Im here today standing alongside my fellow clergymen and clergywomen to say, Thank God for abortion providers.'"
Some of the signs that day were blazoned with such contradictory messages as "Good Women Have Abortions" and "Pro-Faith, Pro-Family, Pro-Choice", betraying the deep flaws in both their Biblical theology and their morality.
Like the snake in the garden, these false Christians whisper in women's ears, telling them that abortion is not a sin, that God gave them choice and that all choices are equally moral.
Disguised as the voice of Christian wisdom, these false clergy pose a grave danger to both the body of the Church and the morality of young men and women who may be led astray.
Doctor Willie Parker is another vocal proponent of abortions, but he does not stop at simply blessing the abortion facilities.
Doctor Parker is responsible for performing hundreds of abortions over a span of decades, and has gained notoriety for claiming that his Christian faith calls him to murder fetuses and vacuum out of women's wombs their unborn children.
Hiding behind Christianity as if it were the cause for his sin, the doctor has recently published a book that lays out his case for killing the innocent and unborn.
For abortion supporters in the media, Dr. Parker has become a poster child of what a Christian should be, without all of those annoying details of God, the Bible and morality to get in their way.
Held up as an example of what Christians "should be" by radical abortion supporters, Parker portrays a twisted version of Christianity that is both dangerous and illogical.
His justification which he never tires of sharing in the media, is that since God gave man free will, any choice that we make is therefore morally good.
To add further insult to this already nonsensical line of reasoning, Parker claims that abortion is as sacred as the birth of a child.
First, the parallels to the stories of Satan in the Garden of Eden are too close to miss in Parker's reasoning. The claim that all choices are equally moral undercuts the entire foundation of any system of morality, divine law or the value of choice.
It is this tempting lie that Satan whispered to Eve in the Garden and it is this message that Parker and others like him, wolves in sheep's clothing, now whisper to frightened, vulnerable women.
Worse, Dr. Willie Parker has made a living from killing these children and grown famous for claiming a Christian basis for his actions both in print and on television.
Second, there is no room for doubt that the Bible clearly condemns the act of abortion as a sin in the God's eyes.
While abortion apologists point out that abortion is never mentioned in the Bible by name, God's word does indeed establish the death penalty for an assault on a pregnant mother that results in the death of her unborn child (Exodus 21:22-23), clearly making the life of an unborn fetus equal to that of any adult.
If we accept that the Bible tells us that murder of another person is wrong and that unborn children are people, then clearly the choice to murder an unborn child is morally wrong.
Some abortion supporters claim to hate abortion while supporting a woman's right to choose, but this too is as illogical as a Christian claiming that such sin is Biblical.
To do so, would be akin to supporting the rights of men to rape while claiming to be against rape simple because the choice to rape or not rape is "sacred", a word that becomes meaningless in the mouths of apostates such as Dr. Parker and the pro abortion clergy of the Religious Coalition for Reproductive Choice.
Make no mistake: abortion is murder and it is grave sin. For decades, radical progressives have argued for a woman's right to kill her children over the inalienable right to life and Christians have been at the forefront of the defense of the innocent.
But now the enemy has wrapped himself in the guise of fellow believers, holding up faith as a justification for sin in a twisted version of Christ's gospel.
Don't be fooled, there is nothing blessed or righteous about the killing of innocent life.
---