Trumps Ultimate Negotiation - Israel/Palestinian Peace Deal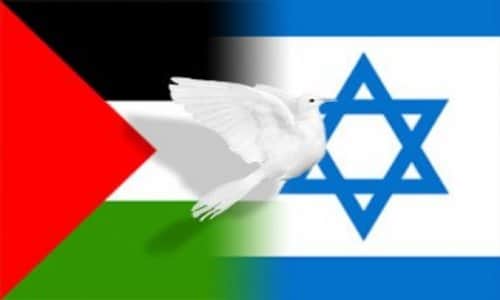 By Sean Savage/JNS.org
May 04, 2017
Share this article:
---
President Donald Trump and Palestinian Authority (PA) President Mahmoud Abbas met for the first time at the White House Wednesday as Trump's nascent administration ventures down the road of its predecessors, making a fresh bid to broker an Israeli-Palestinian peace deal.
"We want to create peace between Israel and the Palestinians. We will get it done. We will be working so hard to get it done," Trump said alongside Abbas during a press conference.
Later, in a luncheon with senior advisers, Trump expressed even greater confidence in achieving peace.
"It's something that, I think, is frankly maybe not as difficult as people have thought over the years," he said.
Trump made a similar claim in an interview last week with Reuters.
"I want to see peace with Israel and the Palestinians," the president said. "There is no reason there's not peace between Israel and the Palestinians--none whatsoever."
In his remarks at Wednesday's press conference, Abbas flattered the American leader, expressing confidence in Trump's "great negotiating ability" and saying he looks forward to working with Trump to "come to that deal, to that historical agreement to bring about peace."
Yet Abbas also reserved some airtime for criticizing Israel, saying, "It's about time for Israel to end its occupation of our people and our land."
Abbas proceeded to lay out familiar negotiation parameters that most Israeli leaders have dismissed, including a Palestinian capital in eastern Jerusalem and borders based on the pre-1967 lines.
Grant Rumley, a research fellow at the Washington-based Foundation for Defense of Democracies (FDD) think tank, told JNS.org it was apparent in the language of Trump and Abbas how far apart the two leaders might be on the Israeli-Palestinian conflict.
"I think it's noticeable that Trump referenced peace, while Abbas referenced the two-state solution," Rumley said.
"I think fundamentally, the two sides are going to have divergent views on just where they see this relationship going," he said. "Trump wants a deal, however that may look. Abbas wants the traditional two-state solution peace process."
Ahead of the Trump-Abbas meeting, senior administration officials, including CIA Director Mike Pompeo and international negotiations representative Jason Greenblatt, had what many viewed as surprisingly positive meetings with Palestinian officials in Ramallah, with Abbas telling Greenblatt he believes a "historic" peace deal is possible under Trump's guidance.
Meanwhile, in State Department documents published last month by Foreign Policy, the Trump administration is planning a 4.6-percent increase in American aid--amounting to $215 million for the fiscal year of 2018--to Palestinian-controlled areas in the West Bank and Gaza.
Direct Israeli-Palestinian negotiations have been stalled since 2014, when peace talks brokered by the Obama administration collapsed, marking the latest setback for American involvement in the Middle East peace process.
"Here we go again. The same old pretense that the Palestinians are morally equal with the Israelis, the same ignoring of Palestinian rejectionism, the same illusion that another signed agreement will end the conflict, another president believing he can succeed where his predecessors failed," Daniel Pipes, president of the Middle East Forum think tank, told JNS.org after Trump and Abbas met Wednesday.
During his meeting with Prime Minister Benjamin Netanyahu in February, Trump expressed openness to Israeli-Palestinian conflict resolutions other than a two-state solution, breaking with American presidential administrations' longstanding exclusive support for two states.
"I'm looking at two state and one state, and I like the one that both parties like...I can live with either one," Trump said at the time.
Hamas's political maneuvering
Amid the Trump-Abbas meeting, Hamas has also been stepping up its political maneuvering. Earlier this week, the Gaza-ruling Palestinian terror group released a policy document indicating its willingness to accept the premise of a future Palestinian state within the pre-1967 borders.
In an interview with CNN following the document's release, Hamas's outgoing political leader Khaled Mashaal said Trump has a "historic opportunity" for peace, mirroring Abbas's language.
"This is a historic opportunity to pressure Israel...to find an equitable solution for the Palestinian people," Mashaal said. "And it will be to the credit of the civilized world and the American administration to stop the darkness that we have been suffering from for many years."
Experts have dismissed Hamas's policy document as a smokescreen by the terror group to gain greater appeal among the international community and the Palestinian population.
"This is not a sign of moderation so much as a ploy to end the faction's international isolation," the FDD think tank said in a policy memo. "The other element of this new document is the internal Palestinian political angle. In acknowledging the 1967 borders and dropping its call for Israel's destruction, Hamas is making a play at the rival party Fatah's supporters."
Hamas drove Fatah forces loyal to Abbas, the latter faction's leader, out of Gaza in 2007. Since then, the Palestinian factions have waged an ongoing struggle as repeated reconciliation efforts failed.
The latest tensions between Abbas and Hamas flared Wednesday, when Abbas's PA announced it would stop paying for electricity Israel sends to Gaza, worth at least $11 million per month. Hamas leaders accused Abbas of attempting to "dry up" the terror group's financial resources.
The Israeli government also dismissed Hamas's stated policy changes, with Netanyahu spokesman David Keyes saying Hamas is "attempting to fool the world, but it will not succeed."
"Daily, Hamas leaders call for genocide of all Jews and the destruction of Israel," he said. "They dig terror tunnels and have launched thousands upon thousands of missiles at Israeli civilians. Schools and mosques run by Hamas teach children that Jews are apes and pigs. This is the real Hamas."
Originally published at
JNS.org
- reposted with permission.
---