Church of Sweden To Force All Pastors To Perform Same-Sex Weddings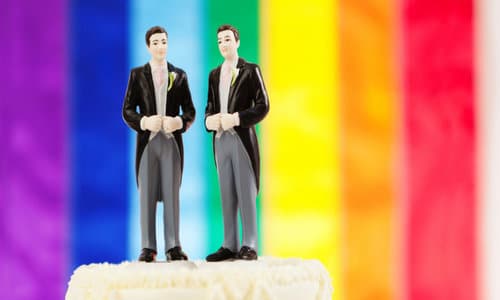 By PNW Staff
July 17, 2017
Share this article:
---
The Church of Sweden, already known as among the most liberal in the world, will soon be requiring all its pastors to perform marriage ceremonies for same-sex couples.
This comes as the Swedish Prime Minister Stefan Lofven pledged his support for a proposal to use government power to force the change.
According to PM Lofven, "no priest in the Swedish Church can refuse to marry same-sex couples" no matter their theological or moral objections, and in the future only pastors who support homosexual marriage will be eligible to be ordained.
The Swedish Church has 6.1 million baptized members and is the largest religious organization in Sweden.
Until 1996, all Swedish babies were automatically registered with the church unless their parents took steps actively to cancel their children's memberships.
Until their separation in 1999, the Church of Sweden was an official part of the State. In recent years, the church membership has been on a steady decline of 1% per year and only 2% of Swedish church members regularly attend services.
Performing same-sex marriages in the Evangelical Lutheran Church of Sweden is old news, but forcing pastors individually to perform the rite is entirely new.
The synod of the church, its elected ruling council, recently committed to marrying same-sex couples but up until this point has allowed pastors to decline performing various ceremonies such as weddings, baptisms and funerals based on personal objections.
This right to individual moral judgment will soon come to an end.
Same-sex marriage has been legal since 2009 in Sweden under the ruling Social Democratic Party and abortion, for any reason, up until week 18 of a pregnancy has been legal since 1974 (even after the 18th week if either the mother or fetus is unhealthy).
It was with this in mind, perhaps, that the Prime Minister compared priests refusing to wed same-sex couples as being as unethical as a midwife refusing to perform an abortion.
Lofven was referring to Swedish Christian midwife Ellinor Grimmark, who was forced to seek work in another country because she refused to participate in abortions. Grimmark has taken her case to the European Court of Human Rights.
The lesbian Bishop of Stockholm, Eva Brunne, can be safely assumed to support the new policy as she herself is now married to another female clergy member.
Bishop Brunne garnered international attention in 2015 by removing Christian symbols, including crosses, and preparing churches for Muslim immigrants to pray in.
Sweden is a country that prides itself on its intensely democratic and feminist tradition. Church governance, though no longer officially under the control of the national government in a direct way, is itself an elected democratic system that closely mirrors Swedish society.
The result are policies not based on centuries of carefully cultivated wisdom but instead the progressive politics that are destroying the West.
Thus, we now see protests from Pastors against Sweden's "National Day" holiday as a "poisonous" display of patriotism and a church that seems to welcome Muslims more than its own Christians.
Furthermore, democracy brings a Church that relies on a popular referendum to vote God right out of its doctrine, as it is doing with same-sex marriage.
This decision has no basis whatsoever in the Bible but instead in liberal politics and could very well spell the death knell for a church that is testing the limits of how far a church can go and still be a church at all.
It should come as no surprise that part of this death march by the church has resulted in a shortage of pastors in several communities as people abandon this radical leftist church.
Some local dioceses are now being forced to import pastors from abroad.
Could the same thing happen in the United States?
It is very unlikely such action would ever be taken directly, but back-door issues such as church building rentals and insurance coverage could sidestep the issue with the same consequences.
So far there have been no meaningful judicial precedents that would permit such dramatic interference with churches' core First Amendment rights, however lawsuits challenging church liberties are slowly popping up and more are believed to be inevitable.
The Iowa Civil Rights Commission has declared that prohibitions against discrimination on the basis of sexual orientation and gender identity "sometimes" apply to churches and has stated that a "church service open to the public" is not a "bona fide religious purpose" that would limit application of the law.
In 2012 a New Jersey administrative-law judge ruled that a religious organization "closely associated with the United Methodist Church" wrongly denied access to its facilities for a same-sex wedding.
Churches, like virtually every functioning corporation, protect against liability risks and the potentially ruinous costs of litigation through liability insurance.
With same-sex marriage now recognized as a constitutional right -- and with Oregon's Bureau of Labor and Industries awarding a lesbian couple $135,000 in damages for "emotional, mental and physical suffering" after a Christian bakery refused to bake their wedding cake -- pastors are reaching out to insurance companies to make sure they're covered.
And at least one insurer has responded with a preemptory denial: no coverage if a church is sued for refusing to perform a same-sex wedding.
---