Church Of England Affirms Transgenderism With 'Gender Transition' Service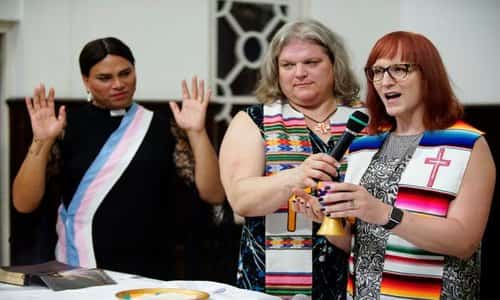 By PWN Staff
July 21, 2017
Share this article:
---
In a landmark move, the Church of England has voted to allow a ceremony reaffirming a parishioner's baptism under a new name. These type of re-christenings for transgendered people were a compromise for those who requested second baptisms but were told that a Christian can only be baptized once.
A re-christening has the similar effect of inserting gender-identity politics into the centuries-old traditions of the Church as part of the latest move to liberalize and subvert the Church and its doctrine.
The Vicars of the Anglican Church will use the "services of welcome" officially to pronounce a transgendered person's name before God.
The Church has come under intense pressure in recent years from liberals who would like to see all rules and customs connected with gender either abolished or rewritten and whereas this may calm some of the clamor for a time, it will also ignite the conflict between conservative and liberal factions as it emboldens liberal Church members to seek further changes.
Chris Newlands, Vicar of Lancaster Priory Church, was the clergy member to propose the motion on behalf of transgendered people who are not represented in Church leadership.
His statement said, "I hope that we can make a powerful statement to say that we believe that trans people are cherished and loved by God, who created them, and is present through all the twists and turns of their lives."
The vote was overwhelmingly in favor of the change. The House of Bishops came down 30-2 in favor with two abstentions, the House of Clergy voted its assent with 127-28 and 16 clergy abstaining and the House of Laity showed 127 votes in favor with only 48 in opposition and 8 more marked as abstentions.
Newlands came up with the motion to propose the re-christening ceremonies in 2015 when he was approached by a girl who had chosen to identity as a boy after she had been baptized.
She requested a second baptism, which the vicar told her was not possible, but it set him to think of other ways in which the Church could recognize changes in gender identity.
Not alone in this new movement, Vicar Chris Newlands is joined by others, such as the Archbishop of York, Dr. John Sentamu who recently said that it is necessary that vicars "welcome and affirm, in their parishes, transgender people" and that "theology has to be done [by the House of Bishops] and can be done very quickly."
The Archbishop of Canterbury Justin Welby announced that the Anglican Church will plan three years to draft a new position on human sexuality. Current rules banning same-sex weddings and civil blessings, allowing gender-conversion therapy and not fully recognizing new gender-identities will all be up for consideration.
The Bishop of Liverpool Paul Bayes stated recently that "LGBTI+ orientation and identity is not a sickness and it is not a sin," with regards to the debate on banning gender conversion therapies.
In light of this, the Church has moved from tolerance to acceptance and now celebration of the new gender theories, even so far as to deny and reclassify what is sin in God's word.
The Anglican Church has demonstrated itself to be among the most liberal and willing to change what is long established church teaching. In it we see an institution that looks to cater to the whims and desires of its members rather than honor and carry out the will of unchanging God.
At a time when medical science, education systems and government institutions are all under attack from those on the left who would like to see gender identity and family disintegrate, it is the Church's responsibility to stand firm, to guard against changes that could forever undermine society and put humanity outside the grace of God.
This is the value of Biblical tradition and this is the role of the Church, not to cave to whims and bend whatever direction the breeze of politics may blow.

---