The Rise And Fall Of The Christian Bookstore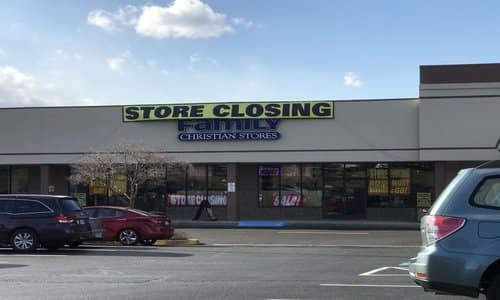 By PNW Staff
September 01, 2017
Share this article:
---
Starting in the 1950s with Bibles and Gospel tracks, the Christian bookstore would soon grow in popularity on into the 80s as Christian literature achieved mass marketing success.
The end-times genre burst onto the scene in 1970 with Hal Lindsay's The Late Great Planet Earth that sold more than 30 million copies and paved way for the fictionalized Left Behind series of novels.
Between 1973 and 1983, the market for Christian literature of all forms expanded by 25% and by the 1990s, the country was dotted with the Christian bookstores that many of us now remember.
For Christian bookstores, the 90s saw breakout successes such as The Prayer of Jabez, The Purpose Driven Life and a surge of Christian fiction that succeeded in crossing over into the secular world.
Those were the days when you could walk in off the street to find shelves filled with thousands of carefully curated titles, an array of Bibles and enough educational material to equip a school.
Many stores became a central point of their local communities, offering not only books but a rich literary and didactic experience. Sadly, those days are quickly drawing to a close.
The revolution in online shopping and increasing competition from superstores such as Walmart ate into the bottom line of Christian bookstores. Slowly, these stores began to peddle what Christianity Today recently called "Jesus Junk".
For many, the Christian bookstore had lost its way as it struggled to stay relevant.
Desperate to stay profitable, quality literature began to be pushed out by trinkets, decorations, toys and shelves full of coloring books, self-help titles and joke books.
Early this year, author Jared Wilson tweeted a list of the top 100 best-sellers from the Evangelical Christian Publishers Association.
Included in the top 20 were "three versions of Sarah Young's controversial Jesus Calling, two kids joke books, two adult coloring books, titles by HGTV stars and athletes, and, of course, the latest from Joel Osteen."
Wilson called the list "proof American evangelicalism traffics mainly in superficiality, sentimentalism, and superstition."
In 2015, the largest chain of Christian bookstores, Family Christian Stores, declared bankruptcy. In an effort to keep the company afloat, a host of Christian publishers and other key creditors agreed to forgive $127 million of Family Christian Stores' debt and approved of a corporate reorganization.
Now, it seems that the measures weren't enough to bring the company back from ruin and it is now forced to shut down. This will mean shuttering 240 locations across 36 states and leaving more than 3,000 employees without jobs.
The Christian Booksellers Association, which boasted nearly 4,000 retailers in the mid 1980s, had already shrunk to 2,800 stores by 2008. That rate of closure has only accelerated.
In 2008, Christianity Today ran a cover story "How to Save the Christian Bookstore" which counseled offering something different that can't be bought online: a sense of community.
Christian bookstores are often affiliated with a specific denomination, such as LifeWay, which is organized under the Southern Baptist Convention.
This narrows the client base as the stores refuse to stock certain materials that may not line up with the denominations particular teaching on a subject, but it also provides a measure of identity that is lacking from a faceless mega-corporation like the aptly named Amazon.
A Christian bookstore, if it is living up to its mission, can be expected to stock a carefully selected catalogue of titles that ensure the reader won't be served simply the most popular "flavor of the month".
Customers should be able to trust these stores to provide a level of education and guidance that would be wholly out of place in the vast churn of star ratings that online booksellers like Amazon have become.
As Christian bookstores, the value-added benefit is curation to ensure that what they are promoting is theologically sound.
Blogger, Christopher Williams, pointed out, "There has to be a balance between respecting differing doctrines, protecting orthodoxy, and promoting growth.
That said, I think stores professing to edify Christians need to take a stance on what material they choose to sell." Truly, Christian bookstores are caught between a rock and a hard place with their margins pressed thin by online retailers.
According to Paul Wilkerson, a Christian bookstore owner in Ontario, "the problem isn't the filters the independent stores or chain stores are using. The problem is the part of the market that has been ceded to Amazon, which has no filters." Only the tyranny of public opinion.
The fall of the Christian bookstore is being replaced by an ever-widening selection of literature. Rather than reinforce the doctrine of a single publisher or book vender, online bookstores provide the customer with exposure to countless other viewpoints.
However, as the religious literature landscape broadens, owing to hundreds of new authors and their varying perspectives, it becomes more of a challenge to sort out the chaff.
Gone, too, are the days when a publisher could rely on its brand name or its relationship with bookstores to move lower quality material. Now Christian authors are competing on a more level playing field with all writers, including those that the big publishers had previously excluded.
And those who complained that Christian bookstores had resorted to selling trinkets and "Jesus junk" just to survive are not likely to shed many tears either, provided that the literature itself can survive and thrive.
In the end, the reality is that just as most secular bookstores and many large retail chains have closed their doors in the last decade, so too are Christian bookstores.
How this tectonic shift affects Christian communities across the continent remains to be seen, but the results promise to be significant.
---