Israel Prepares To Confront The Hezbollah-Iran-Syria Axis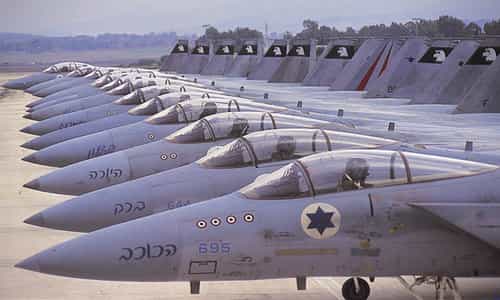 By Sean Savage/JNS.org
September 13, 2017
Share this article:
---
A recent purported Israeli airstrike against a Syrian chemical weapons facility has added another layer of complexity to an already combustible situation in Syria.
With the Sept. 7 airstrike of the "Scientific Studies and Researchers Center," believed to be producing chemical weapons and precision missiles in central Syria, fears are growing that Israel may be ready to act with greater impunity against Iranian, Syrian and Hezbollah targets which could ignite a larger regional war in an already devastated country.
At the same time, the Israel Defense Forces (IDF) has been holding its largest military exercise in decades aimed at the threat from Hezbollah.
The exercise, involving tens of thousands of soldiers from all branches of the IDF including reserve forces, is overseen by the IDF's Northern Command. The drill simulates a scenario involving a rapid escalation with the Iranian terror proxy Hezbollah that progresses into a full-blown war, necessitating the IDF to defend Israel on all fronts.
Tony Badran, a research fellow at the Foundation for Defense of Democracies, told JNS.org that Israel's airstrike in Syria and military exercises together shows Jerusalem's "seriousness and resolve, which backs up the statements Israel is making."
Aside from the significance of targeting a possible chemical weapons facility, Israeli strikes near the northwestern Syrian city of Hama is also consequential.
"[Israel's airstrike] was very important. Since the Russian intervention, they have not struck anywhere north of Homs, now they hit near a Russian base where there is frequent Russian activity," Badran said. "The idea is if the Iranians think they are going to establish military installations in close proximity to the Russias to deter the Israelis, they are wrong."
Badran added that Israel will not wait for the Russians and the Americans to cut a deal to accommodate Israel's core concerns.
"Israel is not going to shy away from taking direct action themselves."
Confronting Hezbollah-Iran-Syria axis
Israeli Defense Minister Avigdor Liberman has made it clear Israel will not tolerate Iran and Hezbollah's actions in Syria.
"We are not looking for any military adventure in Syria but we are determined to prevent our enemies from harming, or even creating the opportunity to harm the security of Israeli citizens," Liberman told Israel's Radio FM 100 shortly after the airstrike. "Therefore, everything will be done to prevent the existence of a Shi'a corridor from Tehran to Damascus."
The airstrike follows a consistent pattern over the last few years of striking at advanced weaponry to prevent a transfer by Iran or Syria to Hezbollah.
Last month, Israeli Prime Minister Benjamin Netanyahu asked Russian President Vladimir Putin during a meeting in Sochi to restrain Iran, saying he would take unilateral action to defend the Jewish state's interests.
At the same time, Israel has been urging Washington, which has been in negotiations with Russia over a Syrian ceasefire, to not allow a permanent Iranian presence in Syria.
In July, the U.S. and Russia agreed to establish two safe zones in Syria, including one near Israel's Golan Heights. However, Israel expressed unease about the agreement and disappointment that its security was not taken directly into consideration.
"[Israel's] position on Iran in Syria is far more comprehensive than the conversation between Russians and the U.S. That's too narrow as far as Israel is concerned," Badran said.
Similarly, in Lebanon the U.S. faces a challenge working with the Lebanon government, formally controlled by Sunni leader and Prime Minister Sa'ad Hariri, which is essentially controlled by Hezbollah, the most powerful actor in Lebanon.
The fundamental dilemma for the U.S. is any support for the Lebanese government or military ends up being unintended support for Hezbollah.
"Hezbollah dominates the Lebanese government from military officers to the cabinet and even the president," Badran explained. "The posture of the Trump administration vis-a-vie Iran and Hezbollah is different than Obamas, but the policy of U.S. support for the Lebanese government and armed forces continues."
Beefed up UNIFIL mandate?
While efforts to thwart Iran and Hezbollah's actions in Syria are ongoing, Washington and Jerusalem have attempted to target Hezbollah's activities in Lebanon as well.
Since the end of the Second Lebanon War in 2006, the mandate set by U.N. Security Council Resolution 1701 ends every year and is automatically renewed. This year, the U.S. and Israel demanded that United Nations Interim Force in Lebanon (UNIFIL) no longer turn a blind eye to Hezbollah's violations of the resolution.
U.S. Ambassador the United Nations Nikki Haley said, in a Jerusalem Post op-ed, the new changes to the mandate will make "UNIFIL step up its patrols and inspections which will help disrupt Hezbollah's illegal activity..." and also "require UNIFIL to report when it is prevented from seeing something it wants to inspect."
Despite Haley's optimism, Badran sees little positive change.
"Within the existing mandate, they [Security Council] asked for them to increase their visibility and do more to report should there be any obstacles to doing their job," Badran said. "There is an element of it being mildly strengthened, but it doesn't fundamentally alter anything, it doesn't mean they are going to disarm Hezbollah."
At the same time, it was also reported that Russia - heavily involved in the Syrian civil war since 2015 in support of the Syrian government - worked behind the scenes to protect Hezbollah during negotiations over the mandate, Haaretz reported.
Several new paragraphs related to Hezbollah's terror activity were initially added to the resolution's draft, but during negotiations, Russia reportedly threatened to veto it at the Security Council unless all references to the terror group were redacted.
While Israel remains deeply concerned about Iran and Hezbollah's actions both in Syria and Lebanon, Badran doesn't believe a major regional war looms on the horizon, at least not as we understand it.
"The way the Iranians will target Israel is how they always do it, through assets like Hezbollah, which use Iranian weapons, commanders, officers etc," he said.
Originally published at
JNS.org
- reposted with permission.
---