College Bias Response Teams Prepare For New Year Of Enforcement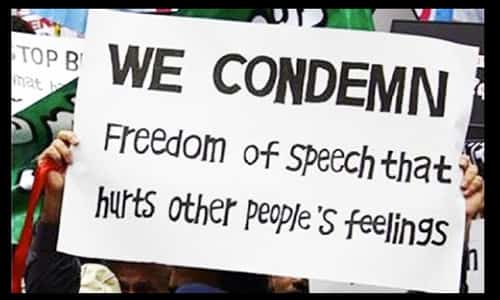 By PNW Staff
September 19, 2017
Share this article:
---
A new school year has started and with it the struggle has begun anew to protect the delicate minds of college students from any comments, images or insinuations that may offend their sensibilities, trigger their emotions or conflict with their sincerely held beliefs.
The danger has never been greater that a 18-25 year-old adult may, in the course of pursuing higher education, be subjected to hearing the opinion he or she disagrees with or be exposed to an image that triggers a powerful reaction.
Thankfully, the Bias Response Teams established at more than a hundred universities several years ago (and more each year) are here to provide re-education (or expulsion) whenever necessary.
Variously referred to as Bias Education and Response Teams (The University of Oregon) or Behavior Assessment Teams (Utah Valley University), this group of administrators is open to receive anonymous accusations directed at any student or faculty member and is equipped to respond with dire consequences, and with the full weight of the university.
The University of Utah is unique in publishing a list of the 85 bias accusations investigated by their BERT in 2016 since the offenses of other schools only become common knowledge when they hit the local papers. To get a real sense of the persecution that these fragile souls are experiencing, one only has to peruse a list of the reported incidents.
- Skidmore College: In 2016, an unknown student had written "Make America great again" on a classroom whiteboard. The bias response team was alerted to this illicit use of a presidential campaign slogan that was perceived as a "racial attack" by anonymous students. Political speech such as "I'm with her", "Change we can believe in" or "Stronger together is, of course, both sacred and protected in this great country.
- University of Oregon: Anonymous students reported that the student-run newspaper provided insufficient coverage of transgender people and transgender issues. In this case, we can rest easy knowing that the BRT met with the editors and mandated that they both attend re-education sessions and change the content of their publication, saving the anonymous student the trouble of contributing to the paper himself.
- University of Wisconsin-Platteville: An insidious form of discrimination known as able-ism was reported to and dealt with by the BRT when three female students decided to dress as the three blind mice for Halloween. For those who don't know, "able-ism" is the form of discrimination that either focuses on those less-able or assumes that no one has a physical impairment.
These young women now know that the visual impairment of nursery rhyme characters is no joking matter. At the same school, a professor was reported for using the offensive phrase, "on the other hand" which the horrified students took to mean that everyone has two hands, a clear-cut case of able-ism directed at hand-amputees. You may rest easy knowing that the professor was disciplined by the BRT.
- Framingham State University: A group of students, without Mexican heritage, had the temerity to celebrate Cinco de Mayo, prompting an anonymous report to the school's Bias Response Team, which shut down this offensive example of "cultural appropriation."
The Framingham State students learned that observing holidays of other cultures, in this case with Mexican cuisine, can be interpreted as threatening to those cultures because it robs them of their identity.
- University of Northern Colorado: Students in a freshman class on debate and controversial issues reported adjunct professor Mike Jensen to the BRT when that professor presented a Devil's advocate position by arguing that it was not possible for a man to identify as a woman because without being a woman himself, he has no way to know how that feels.
Students are now safe from such vicious assaults on their dignity because Jensen was not allowed to continue teaching the following semester upon the recommendation of the Bias Response Team.
- Catholic Loyola Marymount University: Similarly, a professor at this university was suspended for two weeks for the crime of denying transgenderism by removing signs professing LGBTQ+ facts in the conservative Catholic university.
The professor argued that not only were the signs not approved but that they violated the school's creed, but her hate speech was silenced by the BRT.
- University of Oregon: students who had been leaving garbage and food waste behind were greeted with a sign urging them to clean up after themselves. The university employee responsible for the sign, which can be assumed to have contained a witty comment along the lines of "your mothers don't live here, so clean up after yourselves", received a visit from the BRT for the use of sexist signage.
Now, the students may continue to leave food scraps and dishes in their wake free of the worry that gender stereotypes may be reinforced.
The unfortunate truth from all this clap-trap is that free speech and the open exchange of ideas is hanging by a thread. What we have is now the alarmingly common practice of using new rules against "hate speech" as a blunt weapon to bludgeon into silence anyone with differing opinions.
The effect has been a chilling of intellectual discourse. Some law schools now report that professors are refusing to teach classes on sexual violence since discussing case law may "trigger students" and thus bring complaints from the gallery of fragile snowflakes.
Though Voltaire may have never said the apocryphal quote attributed to him, "I disagree with what you say, but I will defend to the death your right to say it," he certainly would have no place in the modern university system where the preservation of self-image and an insulated world view are the modern excuses for tyranny.
---