All-Time High For Christian Girls Kidnapped & Forcibly Converted To Islam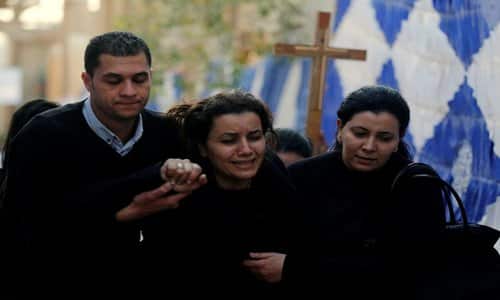 By Meira Svirsky/Clarion Project
September 28, 2017
Share this article:
---
Kidnapping and forcible conversion of Christian girls in Egypt are reportedly at an all-time high. A report from a former kidnapper who has since left Islam sheds light on this horrific phenomenon.
Identified only as "G" in an interview with World Watch Monitor, the former kidnapper says, "Salafist networks began in the '70s and it's reached its highest levels now, in the era of President Sisi ... A group of kidnappers meets in a mosque to discuss potential victims.
They keep a close eye on Christians' houses and monitor everything that's going on. On that basis, they weave a spider's web around [the girls]," he says.
Sometimes they use a strategy of false romance. "A Muslim boy tells a Christian girl he loves her and wants to convert to Christianity for her," he explains.
"They start a romantic relationship until one day they decide to 'escape' together. What the girls don't know is that they are actually being kidnapped. Most of the time they will not marry their kidnapper, but someone else ...
"I remember a Coptic Christian girl from a rich, well-known family in Minya. She was kidnapped by five Muslim men. They held her in a house, stripped her and filmed her naked. In the video, one of them also undressed. They threatened to make the video public if the girl wouldn't marry him."
Vulnerable girls from troubled families or where the father is absent are prime targets. If a girl is a minor, papers are forged claiming she is over 18, the legal age of conversion and marriage.
G says that the police are often complicit in the kidnappings - usually because they receive a payoff but also for ideological reasons. Even if they would like to do something to help the girl or her family, they refrain "because they are afraid of the militant groups," said Egyptian Human Rights Activist Ebram Loius.
"The kidnappers receive large amounts of money. Police can help them in different ways, and when they do, they might they might also receive a part of the financial reward the kidnappers are paid by the Islamization organisations," says G.
"In some cases, police provide the kidnappers with drugs they seize. The drugs are then given to the girls to weaken their resistance as they put them under pressure. I even know of cases in which police offered helped to beat up the girls to make them recite the Islamic creed.
"And the value of the reward increases whenever the girl has a position. For example, when she is the daughter of a priest or comes from a well-known family," he added.
Kidnappers can be paid as much as $3,000 per girl if they deliver the girl to an extremist organization.
While the kidnappers and the police are usually motivated by money, the aim of the Salafists behind the kidnappings is ideological - to strengthen Islam and weaken Christianity, G says.
"The networks have tens of thousands of members and are financed by wealthy Muslims, mostly from Saudi Arabia. Sometimes they also loot or steal from Christian companies to finance their plans," says a priest in Minya who has only successfully ransomed eight Christian girls in the past 10 years.
Considering the fact that 15 girls in Minya alone "go missing" every year, that number is very low.
"If all goes to plan, the girls are also forced into marriage with a strict Muslim," says G. "Their husbands don't love them, they just marry her to make her a Muslim. She will be hit and humiliated. And if she tries to escape, or convert back to her original religion, she will be killed.
"The most shocking thing is some girls find out that they are a second wife and are treated like animals. Some are sent to Saudi Arabia and the Gulf to work as domestic servants and they are exploited sexually and are seriously physically abused."
A researcher who requested anonymity, confirmed G's analysis of the situation. "These kidnappings are something that happen in Egypt almost on a daily basis.
But in 80% of cases, families prefer not to speak publicly to avoid shame which will make their other daughters less eligible to find a good marriage partner," he said.
---